Ahead of West Ham United women's team's pre-season friendly match against Bristol City, Rehanne Skinner penned her first Official Programme notes! 
You can read her notes below, or alternatively, read the full digital edition of Sunday's matchday programme by clicking here...
Good afternoon and welcome to Chigwell Construction Stadium for today's pre-season friendly against Bristol City. 
I'm delighted to be putting together my first Official Programme notes since joining West Ham United and am looking forward to meeting you all as we take on fellow Barclays Women's Super League opposition. 
It's been a very busy time for all of us behind the scenes as we prepare for the 2023/24 season. Since I arrived just over four weeks ago, my staff and I have tried to hit the ground running in getting the players up to speed with how we want to play. We've had some fantastic sessions out on the grass and the players are making great progress which I'm sure you will see on show today.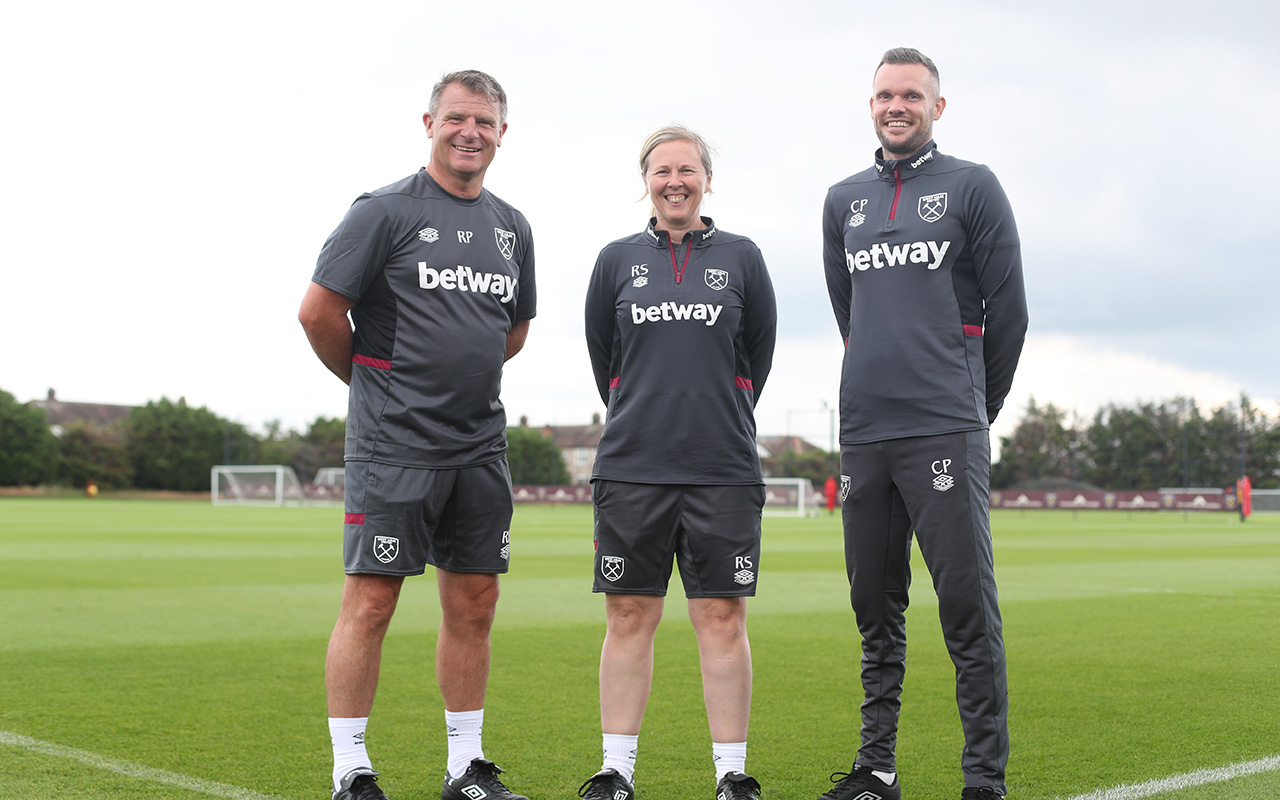 On the topic of staffing, I'm delighted to have both Rick [Passmoor] and Chris [Pipe] join the technical team as Assistant Manager and Goalkeeping Coach respectively. 
Rick has a huge amount of experience within the game at Leeds United & Notts County in the Women's Super League in the past and has helped develop an amazing pool of talent that has gone on to play for England throughout his coaching career. He will be a great asset to the staff & players at the club.
Meanwhile, Chris is somebody that I have worked with at my previous club and his development of the goalkeepers, and the set-play programme in particular was key for the team then & will be now. In the time between us working together, Chris has been involved with England in their U23 setup gaining further knowledge that will help us to be more successful this year. 
Since our last publicised fixture, we've taken part in a number of behind closed doors games in preparation for the new season. These games are really important because it helps players to understand how we want to play, gain crucial physical progress and allow us to look at how we get the most from the squad utilising their strengths within our systems & philosophy.
I have been impressed with their attitude, desire & commitment, something we can all expect as a true Iron
We're on a really positive journey this season that I am looking forward to. We are focusing on building the team and developing our style of play which will be a process we know won't happen overnight, but I can promise that our team will always give their all. I have been impressed with their attitude, desire & commitment, something we can all expect as a true Iron. 
I know how proud all you West Ham fans are of your team and we will endeavour to give you the football you enjoy & the hard work you expect throughout the new campaign. We will need you right behind us, cheering us on as loudly as possible through the ups & downs that football inevitably gives us as we head into this new chapter. 
Enjoy watching the team this afternoon and make sure you're there with us when the Barclays Women's Super League gets underway against Manchester City in just over three weeks time!
COME ON YOU IRONS!
Rehanne
Watch Skinner's West Ham United in action against Manchester City in the women's team's opening Barclays Women's Super League match of the season! Purchase your ticket by clicking on the graphic below!