West Ham United supporters bid farewell to a much-loved Newham-born Academy of Football graduate in the summer in the shape of legendary midfielder and captain Mark Noble.
Now, a player with a similar biography is hoping to emulate his recently-retired predecessor and make his name in a Claret and Blue shirt.
Like Noble was two decades ago, Divin Mubama – pronounced 'Divine' – is considered one of the brightest prospects in the Academy and has regularly played up age-groups on his journey through the schoolboy and youth ranks.
After finishing top scorer for the U18s as a 16-year-old in 2020/21, earning England U17 honours, Mubama did likewise last term, scoring 15 goals in just 20 appearances, while also breaking into the Hammers' U23 side and being capped by England at U18 level.
Not 17 until October, the versatile centre-forward has the size and all-round attributes that mean he can play a variety of roles in attack, while his positive attitude and willingness to learn have impressed his coaches and teammates alike.
Having consulted with Academy manager Ricky Martin and his coaches, first-team manager David Moyes invited Mubama to train with his squad in France, where he trained hard and finished the week with a goal in a 2-0 pre-season win over Swiss Super League club Servette.
The teenager remained with the first team at Rush Green, working alongside the returning internationals, and enjoyed another 45-minute run out in Saturday's 1-1 draw at EFL Championship side Reading.
Mubama reflected on a memorable fortnight with West Ham TV after the game, and expressed his determination to remain part of Moyes' plans in the weeks and months to come…
Divin, what a couple of weeks it's been for you!
"I've enjoyed a lot. I just want to thank the Gaffer and all the staff and they've just trusted me and the lads have been very good and encouraging. I was just learning every day since we got to Évian, just learning every day."
The training has been really intense with double and triple sessions most days, but you've given everything?
"I think it's good for me, you know, being young, early on in pre-season is about getting loads in and getting fit and I'm just enjoying it."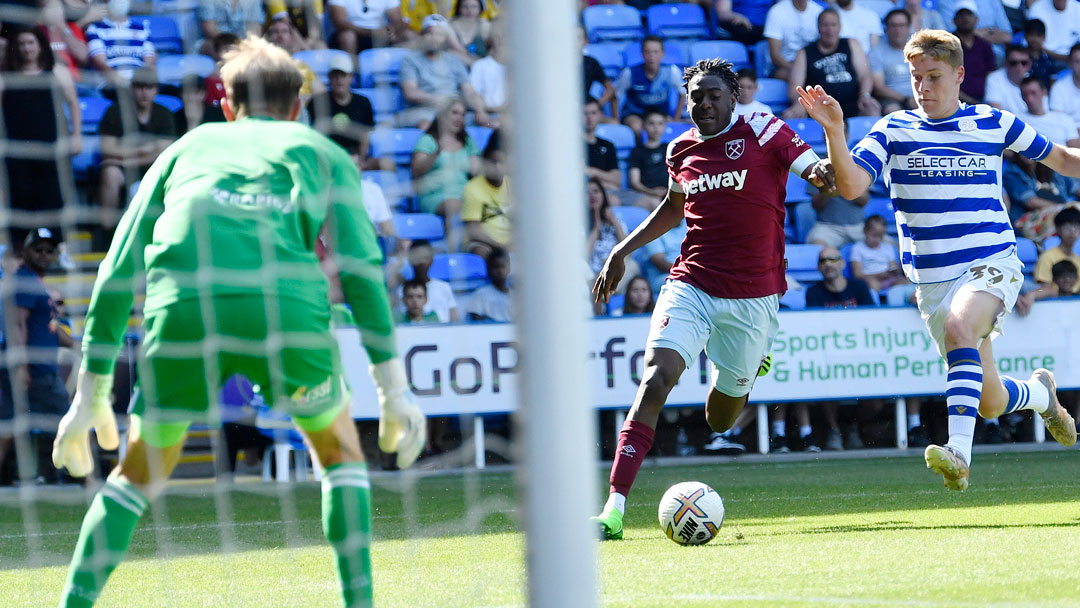 We don't have too many senior centre-forwards in the squad, so this is a big opportunity for you, isn't it?
"Like I said, whatever happens, I'm just going to be grateful and just take every step as it comes, not rush anything and not looking at anything too beyond, just living in the present moment and just keep going and do what I can."
You've already got a goal in pre-season too!
"Yeah, that was a bit of a dream moment. I was about to celebrate, but I forgot it was pre-season! It was a special moment and I enjoyed it and hopefully there will be many more to come for this Club."
When you look around, you can see players who have followed the same path as you like Declan Rice, Ben Johnson and Conor Coventry, who you'd love to emulate?
"There is always a chance and a pathway and it's up to you how much you really want it. I think there's a pathway here and I'm going to keep working hard and whatever happens, happens."
As a Newham boy, how special would it be to play for West Ham United?
"To make my debut for this special Club would mean the world to me. It would be a dream come true. West Ham is all I've known since the age of eight walking through the doors, so it would be unbelievable."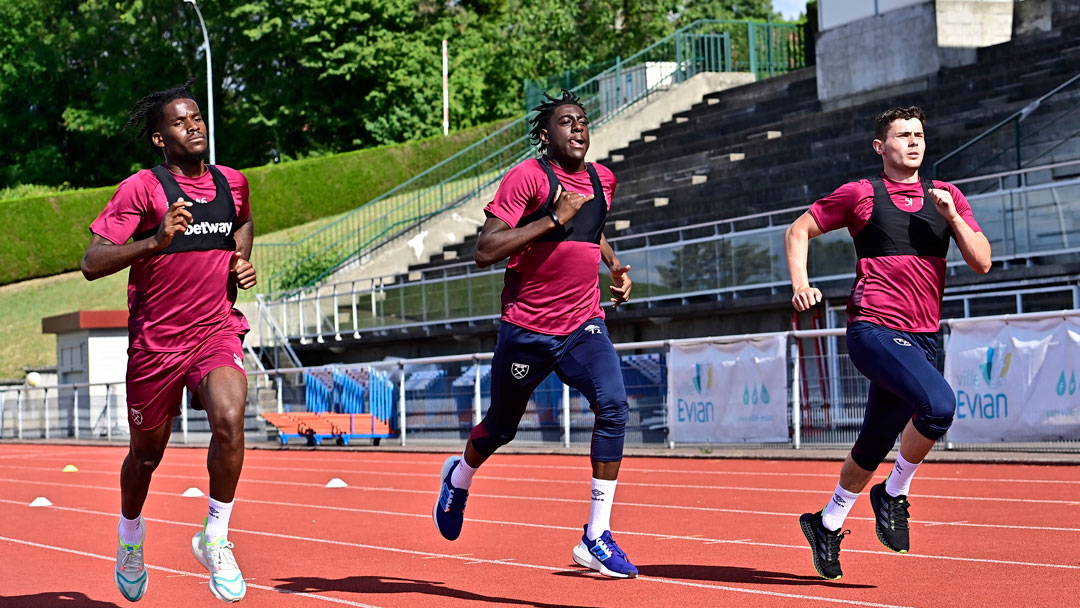 This Academy gives you such a good grounding in life, and you're living in the digs with your teammates?
"Yeah, 100 per cent. For the person that I've become, I just want to thank all the staff. I am still young, I'm still learning and I'm still going on my journey. I just want to thank everyone at Chadwell Heath and everyone that's helped me. I'm still going and I'm on an unfinished journey."
And finally, you could play in front of 45,000 against Rangers at Ibrox on Tuesday evening. What an experience that would be?
"That would be amazing! Obviously, I'm not going to look too far ahead and just keep doing what I can do in training and impress the Gaffer and the staff and anything could happen, so I just can't wait!"