David Moyes was happy to see his West Ham United team pick up another hard-fought and deserved Premier League three points. 
The Irons claimed a 2-1 win at newly-promoted Luton Town on Friday evening; a third consecutive victory for the Hammers, and one that puts them back at the top of the Premier League table on ten points from just four games played!
Jarrod Bowen's third goal of the season gave the visitors to Kenilworth Road the first-half lead before Kurt Zouma's header five minutes from time – thanks to James Ward-Prowse's third assist in as many matches – appeared to wrap up the contest.
Luton would keep pressing, however, and ensured a nervy conclusion when Mads Andersen scored late on. West Ham would hang on, though, and manager Moyes could take a lot of positives from a day that saw his team go four Premier League games unbeaten and learn their 2023/24 UEFA Europa League group stage opponents. 
The transfer window also closed late on Friday evening and the boss was full of praise for how quickly each new signing has settled into life at West Ham.
The important thing is getting the wins in the bag.
We're getting ourselves in a strong position and we're hoping we can continue that. There is a long, long way to go in this season and there are lots of things we have to do. We're putting ourselves in a good league position. Last year we didn't, so hopefully we can keep it going. 
I think different styles is what makes football so good.
If all football teams played the same then it would be boring. What we want is variety and teams to play differently, and I've got no problem with how Luton played at all in this game. 
It's a job dealing with them. You have to deal with the balls up and the knock-downs and I think we missed Tomáš Souček for his stature. From that point of view, as the game went on we were struggling a little bit more. But we got a brilliant three points tonight. 
The important thing is getting the wins in the bag. We're getting ourselves in a strong position and we're hoping we can continue that.
We needed the quality balls in for our goals. 
The first goal was a really good ball from Lucas Paquetá and it got us a good goal. We should have probably got a second one earlier, but we had one ruled out for offside and we also had three or four counter-attacks.
We were so slick with them last week but, this week, we just didn't quite get them. I praise Luton for working hard to get back in, too.
But we were a threat in the second half and the moment we got the second goal then we thought the game was probably over. Obviously it wasn't because Luton got their goal, so it was a bit scary for the last couple of minutes. But we had control and we deserved the victory.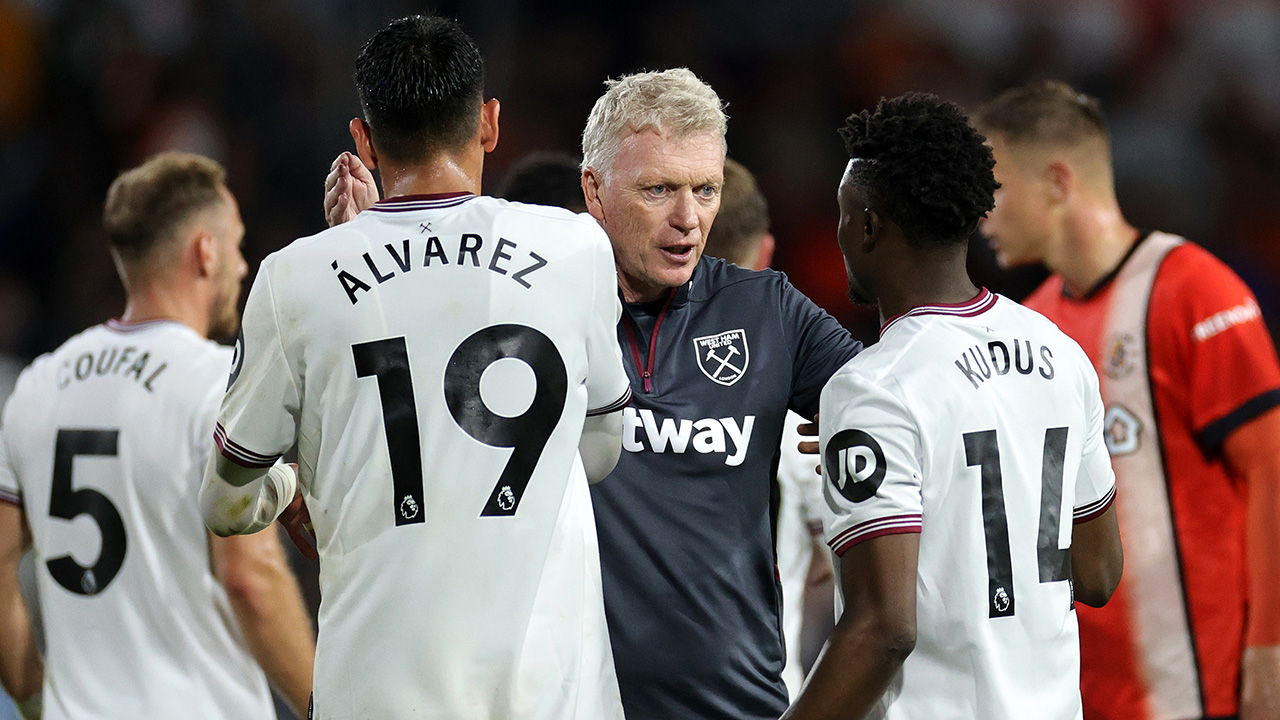 I'm really thrilled with this month. 
I'm more thrilled for the players because we've introduced a couple of new boys this month and they've all great characters. 
I've got some new staff members too which are making me feel good. We're looking at a lot of things and trying to do things. It's all like a new coat of paint really and we're enjoying it. 
We've done some good business, we hope, and we wanted to only bring in players we thought could improve us. 
We watched the UEFA Europa League draw on the bus up to Luton today.
I think it's a really tough draw! You only need to see the teams in this competition now to say 'wow' and realise the quality in this tournament. There are so many at a top level. 
I hope the supporters enjoy the trips though. Athens and Germany will be nice, as will Serbia too!