Mark Noble's career has spanned many times – 18 years, 549 appearances, 62 goals, eight West Ham United managers – and four different consoles generations!
And after our look back at the career of Europe's longest-serving one-Club man through the lens of popular game Football Manager, we thought we'd take a look back at our skipper's evolution through another worldwide sensation: EA SPORTS' FIFA titles.
Much like Nobes' career since his 2004 West Ham United debut, the games have come a long way since the 'FIFA Soccer 95' days, when isometric action, generic ratings and fictional player names abounded…
So without any further ado, let's boot up the Gaming time machine!
 
FIFA 2005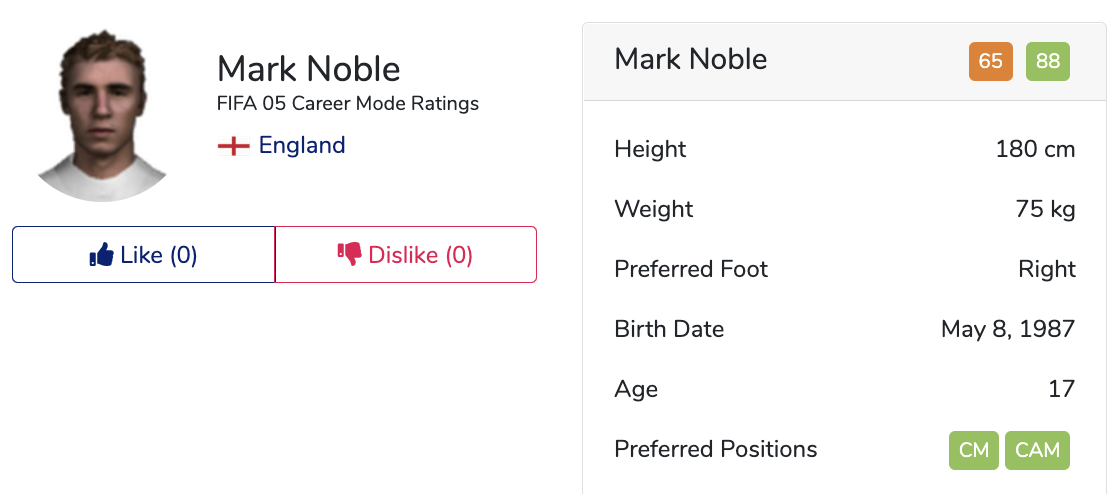 Who is this handsome chap here?! Not quite Mark Noble...!
In its earlier iterations, FIFA's scout ratings system arguably did not have the same depth and reach of Football Manager's, so perhaps the 17-year-old's facial representation - and initial rating of 65 out of 100 - can be forgiven.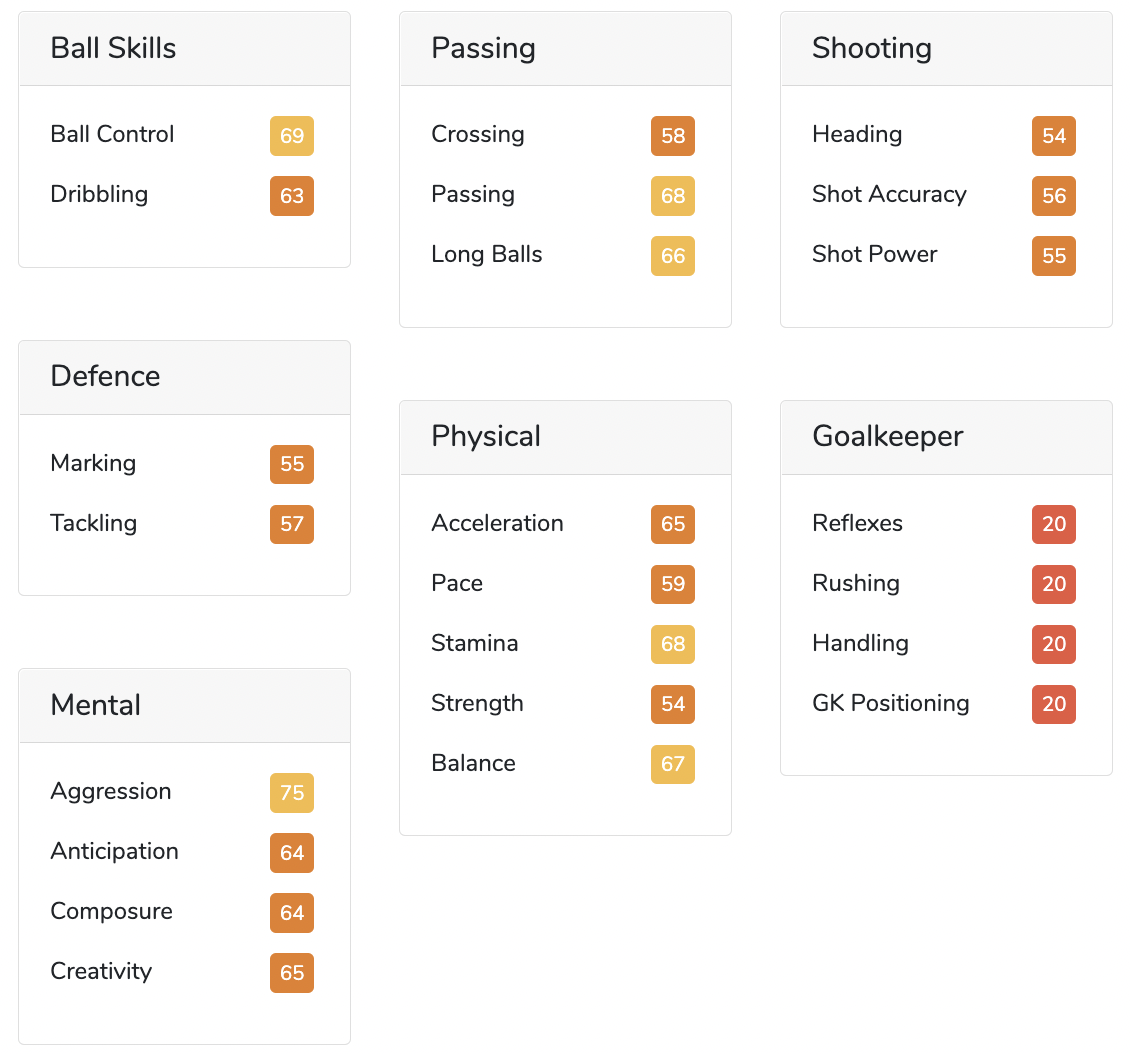 Having said that, what was clearly recognised in FIFA 05 – the first football gaming title in which Noble appeared, having been released in October 2004, a mere two months after the teenager's debut – was the young midfielder's early technical stats and his potential.
A 'potential' rating of 88 out of 100 was indicative of the fact that, despite having made just a solitary senior appearance at the time of its release, FIFA and the footballing world knew Noble would go on to become a special talent.
 
FIFA 07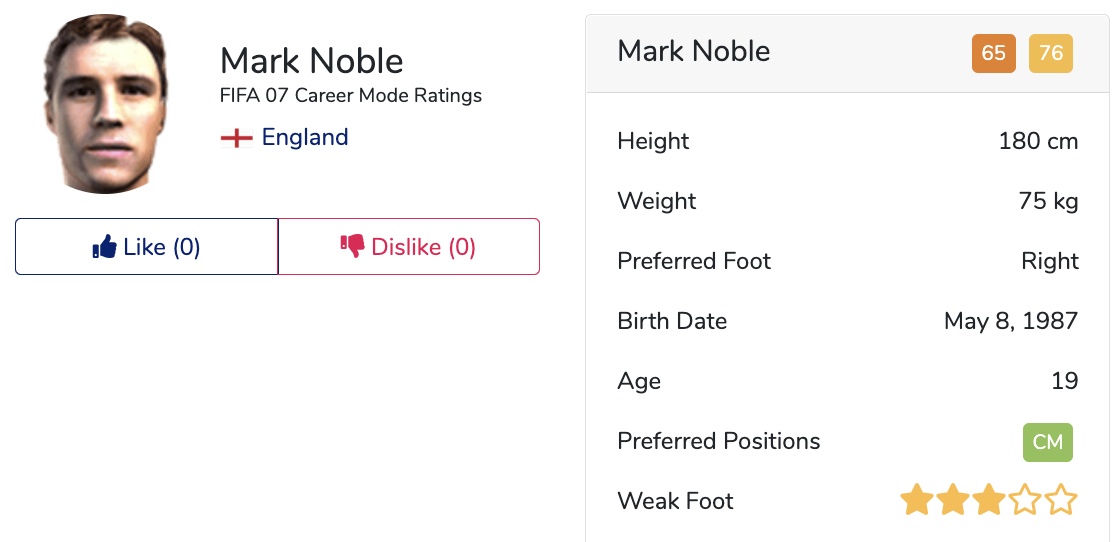 A little closer on the face model – albeit it would take until FIFA 12 for player images to be incorporated for the first time!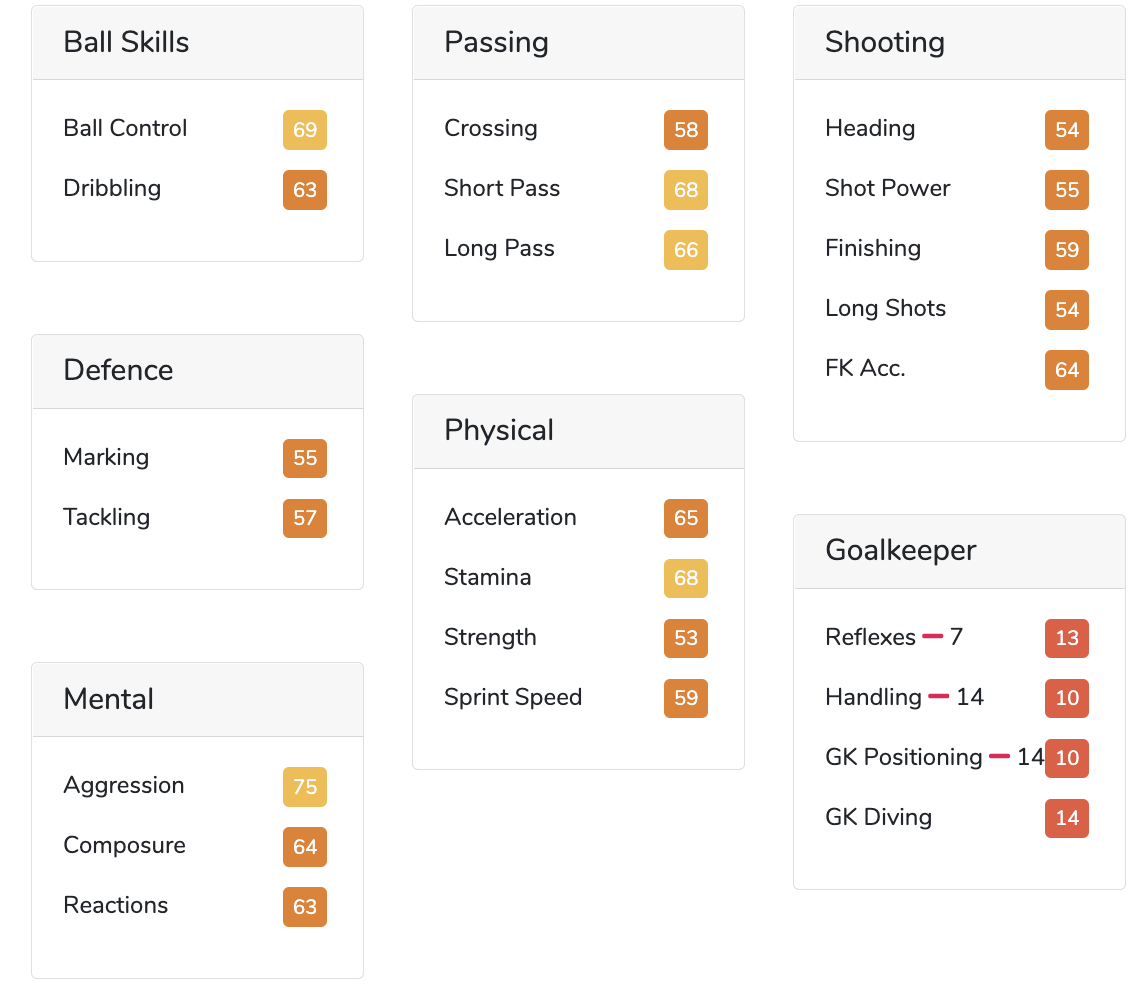 Noble's FIFA 07 rating arrived after loan spells in the EFL Championship with Hull City and Ipswich Town, and his first top-flight goals in Claret & Blue. It represents a decent return for the future Club captain, albeit one which would be better reflected in future FIFA titles.
 
FIFA 11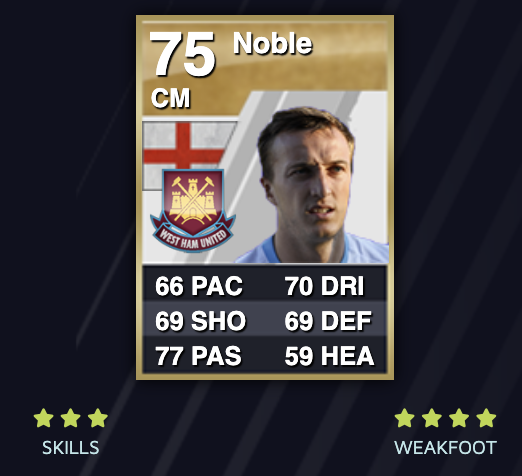 The first season in which FIFA's Ultimate Team mode – in which players bid to build their dream teams and compete against one another to rise through online divisions – came as part of the game, rather than a paid expansion, also saw Noble's second 'Item'.
Having been a 74-rated (and therefore Silver) item in FIFA 10, our future captain was upgraded to the gold status he deserved in the first widely-available Ultimate Team mode, having by that point passed 100 appearances for his boyhood Club.


Ranking chiefly among his statistics were his passing ability (specialising in Short Passing and Vision), as well as his reading of the game (with high ratings in Interceptions, Reactions, Aggression and Positioning).
His Penalties in the game were only rated at 78… although at that stage, Noble had only scored seven of the 40 overall on his career scoresheet (having previously missed two) by that point!
 
FIFA 14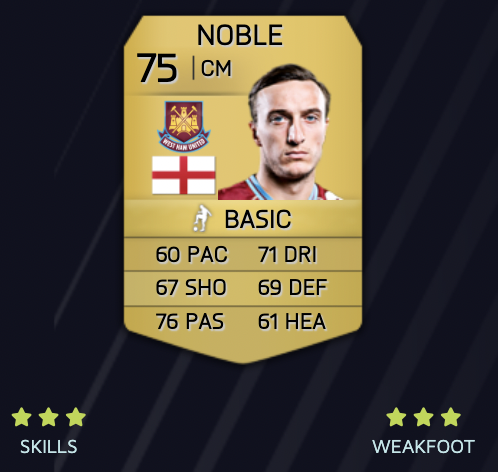 Noble's ratings would fluctuate as the Hammers first experienced relegation to the Championship, and then immediate promotion back to the Premier League.
His Item was rated as high as 77 in the latter campaign (2011/12), when he scored a career-best eight goals, but settled back to 75 for the 2013/14 season.

By that point, however, his Penalties rating had been corrected – an impressive 87 much more reflective of the captain's elite ability from the spot.
His 90-rated Stamina as well stood out – here stood a future skipper always tireless for his (virtual) team's cause.
 
FIFA 16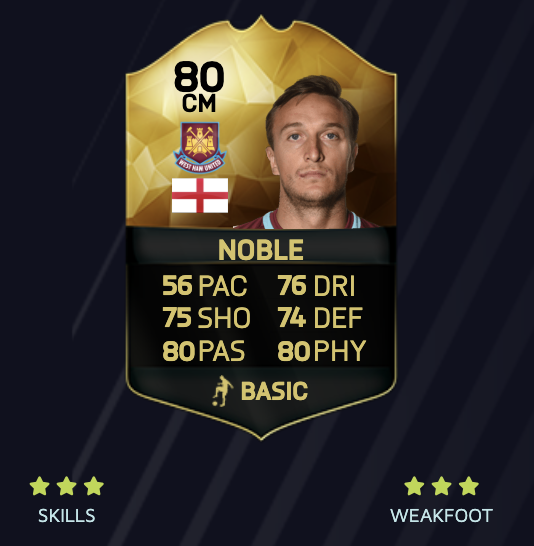 The first season Noble served as West Ham United's Club captain (2015/16) also coincided with the No16's first-ever 'Team of the Week' selection!
The captain was named in the 34th Team of the Week of the FIFA 16 title, boosting his base rating of 76 up to an impressive 80, having scored two goals in the Hammers' 3-0 win over West Bromwich Albion at the Hawthorns in April 2016.

As a result, Noble's 'In-Form' Item offered an array of enticing attributes, from excellent Passing (including high ratings in Short Passing, Long Passing and Vision), Physical (excelling in Stamina and Aggression) and Shooting – the latter seeing his Penalties maxed out at 99!
An outstanding campaign at the heart of the Hammers' final season at Boleyn Ground, during which the side recorded a then-record number of Premier League points with 62 (since bettered in 2020/21), saw Noble's ratings rise up to 78, 77 and 76 in the subsequent three games respectively.
 
FIFA 20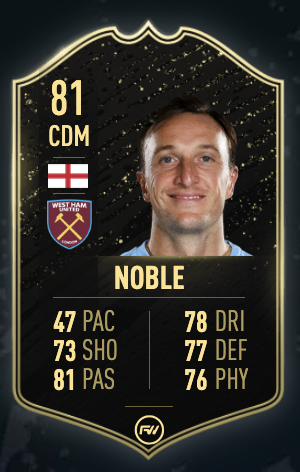 It would be another four titles until Noble would be awarded another 'In-Form' Item, this upgrade – boosting the captain up from an initial 76 in the title – arriving following the sixth brace of Noble's career, in a 4-0 win over Bournemouth at London Stadium on New Year's Day 2020.

The match – coincidentally the first game back in charge for manager David Moyes – was a triumph for the skipper, who led impeccably from midfield and earned hefty boosts to his all-round statistics, as well as the first 80-plus rated Item of his illustrious career.
 
FIFA 22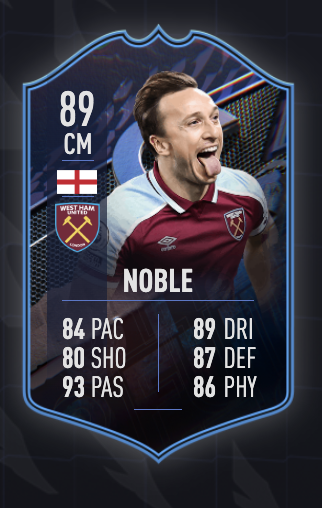 A FIFA presence fit for a legend to sign off on.
Whilst Noble's initial FIFA 22 rating saw him remain at 75, his FUT Captains card – released last month – was part of a celebration of heroes who have worn the armband for their Club and country – and few have been as heroic in Claret & Blue as the 35-year-old Canning Town-born skipper.
 


Fulfilling the criteria of the 'Gullit Gang' – with ratings of 80+ in all six of the midfielder's base stats – this playmaker can truly do it all on the virtual pitch, recognising an influential figure in the history of West Ham United Football Club.
 
For more exciting football gaming content, follow the official @WestHamGaming accounts on Twitter, Instagram and Twitch.