When a 17-year-old Mark Noble made his West Ham United debut back in August 2004, the PlayStation 3 console hadn't even been released yet. We're now on PlayStation 5!
Much like the gaming ecosystem itself, the longest-serving one-club man in Europe has come on leaps and bounds during that time, developing in many different ways to become such a legendary servant and leader to his boyhood team, and one beloved by everybody connected with the Hammers.
Those changes are encapsulated in many ways – the memories Noble has created with the fans, the friendships and affinities he has formed… and his in-game presence in numerous football gaming titles!
Indeed, Noble's first appearance in a West Ham squad in a Football Manager title – FM 2005, which encompassed the 2004/05 season – was actually the first actual game in the series!
Having split from the Championship Manager franchise at the end of 2003/04, Football Manager has been putting gamers in charge of a (virtual) professional football club ever since, offering players control over numerous broader details – who plays, who signs, your tactics – to the most minute of intricacies.
So without any further ado – let's check out how Noble's evolved within Football Manager!
 
Football Manager 2005

The very first Football Manager – and the very first in-game Mark Noble – coincided with the season of his debut against Southend United in August 2004, which he ended playing in an EFL Championship Play-Off final and being voted Young Hammer of the Year and runner-up for the senior Hammer of the Year prize.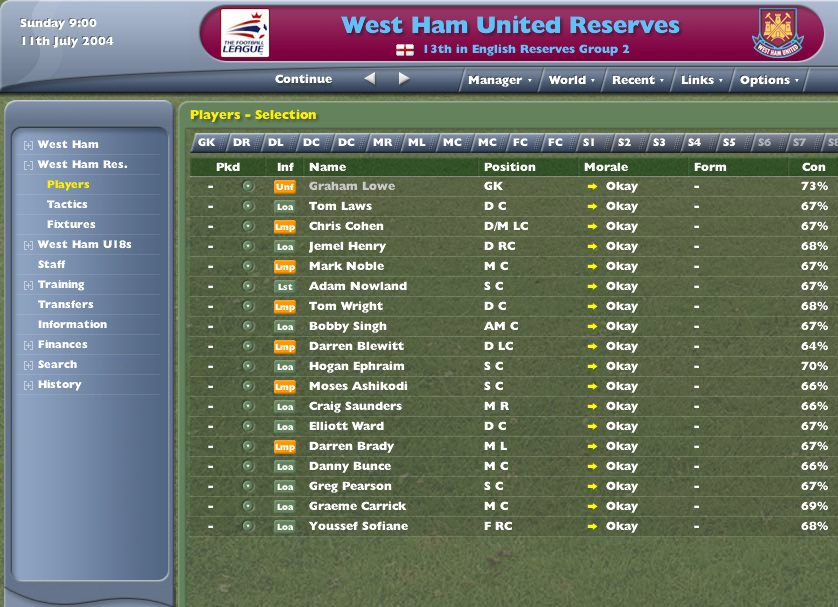 The 17-year-old starts off in this game within West Ham Reserves, alongside the likes of future first-team players and close friends Chris Cohen – now first-team coach at Luton Town – and Elliott Ward, a coach at the Academy of Football.
Noble's first set of stats make for interesting reading, with early FM scouts clearly identifying a player of immense potential and intelligence – high Passing and Decisions values – as well as a decent set of all-round attributes elsewhere.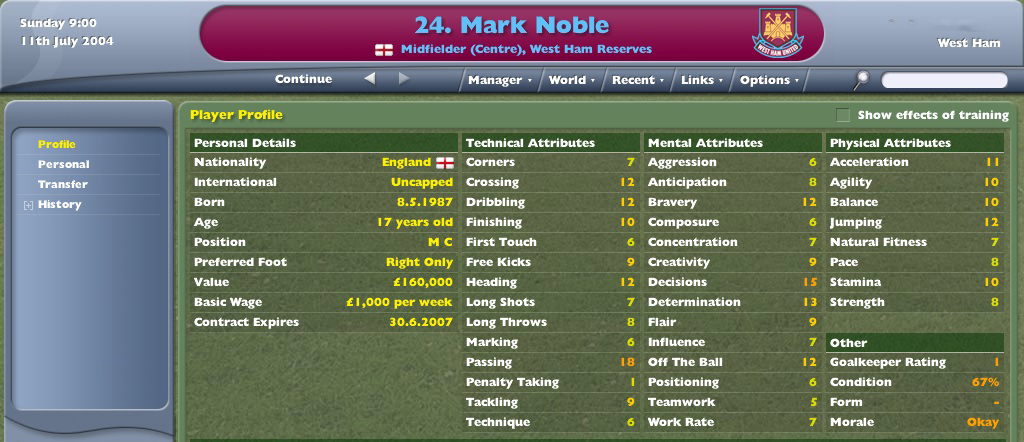 With the benefit of hindsight, however, those same scouts would probably revisit their Penalty Taking attribute!
It's worth noting, however, that in this gaming title, players' Potential rating – invisible on the stats sheet – can see them grow significantly over the course of a gaming session… and so, simulating ten years' worth of career, we can see how Noble grows into one impressive midfielder – for Club and country!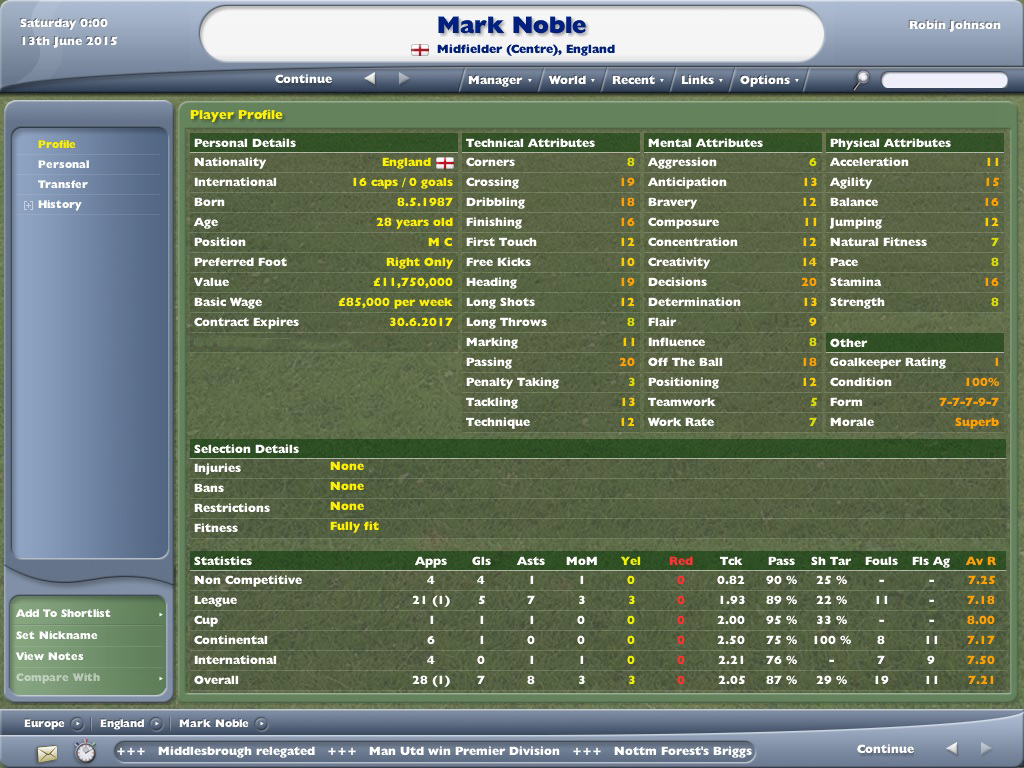 Football Manager 2007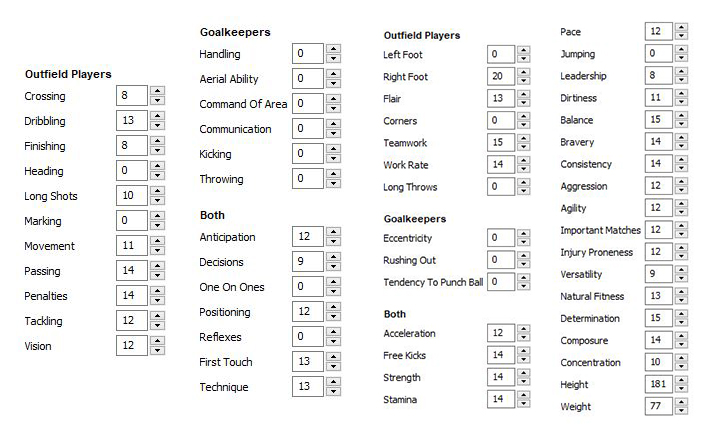 The joys of trying to retrieve retro footballing databases means that occasionally, one or two titles don't work on modern machines – so we've had to use the in-game Editor to access Mark Noble of FM 2007 fame!
You can already see the youngster's progression, however, with FM 2007 being the first title released after Noble's loan spells away at Hull City and Ipswich Town in 2006. 
Hammers fans will appreciate one of the invisible 'player traits' ticked under Noble's FM 2007 profile, labelled: "Gets the crowd going" – it was something he could do even back then!
 
Football Manager 2008
 


This is arguably the first FM title to arrive after Noble's status as a senior player had been solidified.
While he's still only 20-years-old as a player, FM 2008 came out following Noble's first professional goals for West Ham United, with the midfielder playing eleven games in all competitions – scoring three times – in the second half of the 2006/07 real-life season.
In FM terms, then, the playmaker's set-piece ability has come to scouts' attentions by now, but all-round, particularly in the Mental categories, his attributes are strong and – in keeping with his Potential Ability rating – he'll only to continue to grow from here.
As in real-life, an east London wonderkid. And just look at that Penalty Taking rating!
 
Football Manager 2012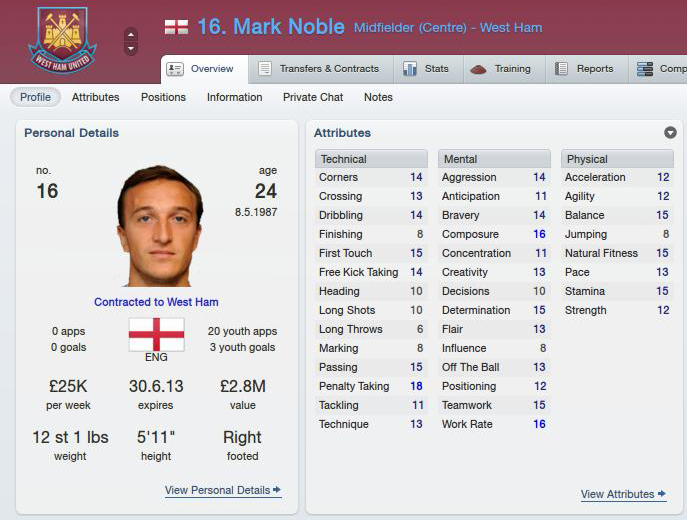 Players' attributes can often be scaled back by gaming scouts when teams drop down a division – but Noble remained an all-round impressive player in FM 2012, as he helped his boyhood Club bounce back to the Premier League at the first time of asking in real life.
Indeed, in a season in which his real-world counterpart won the Hammer of the Year award for the first time (2011/12), Noble's talents stand out at the heart of the West Ham FM squad, particularly, once again, his Passing, Work Rate, Teamwork, Composure and – of course – his Penalty Taking.
 
Football Manager 2013
 

Noble's achievements in the season prior are reflected in significant boosts across his FM skillset the following year – note, in particular, the jump in Influence and indeed the boost across his remaining Mental attributes.
His Technical qualities also receive healthy boosts across the board, reflective of the talents which had shown through as the Hammers won promotion back to the Premier League – a campaign in which Noble played 49 games in all competitions, missing just one league game.
 
Football Manager 2016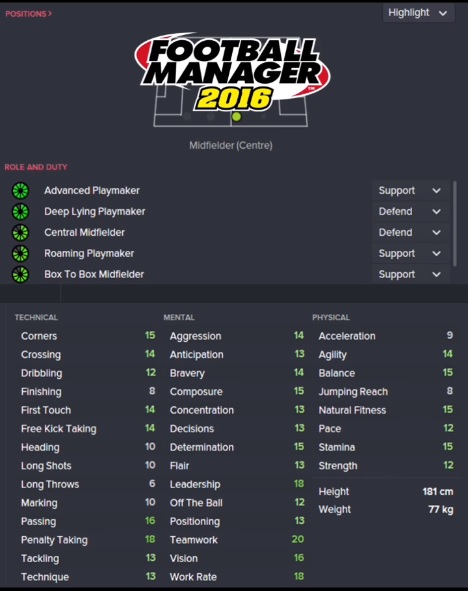 By the time FM 2016 was released, Noble – at that stage 28-years-old – had just been named Club captain by then-West Ham manager Slaven Bilić.
2015/16 was to prove another season to remember for Mr West Ham, who was not only granted a testimonial in recognition of his long service to the Club, but also became the final man to lead out an Irons team at Boleyn Ground in that stunning 3-2 win over Manchester United.
Noble's FM 2016 presence is reflective of FM's scouts now fully recognising his role as the heartbeat of West Ham, with high ratings in Leadership, Work Rate, Teamwork, Composure and Determination – and, physically, in Strength, Natural Fitness and Balance to boot.
 
Football Manager 2022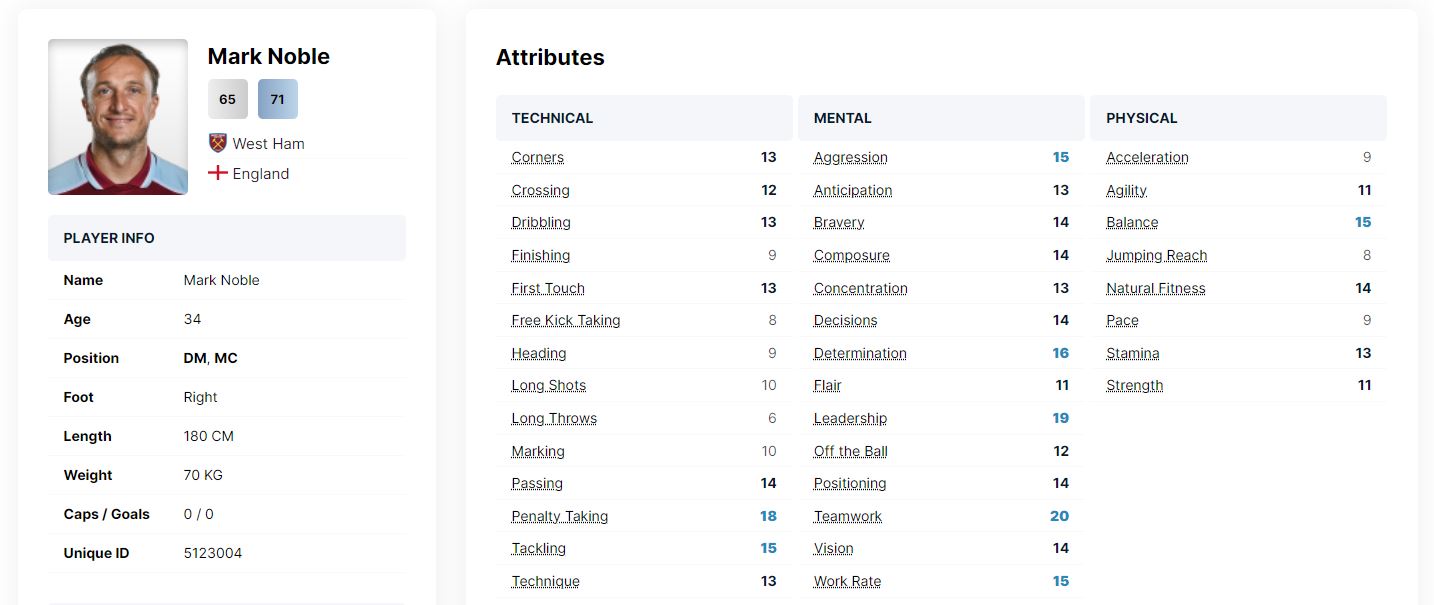 … which brings us onto the most recent iteration of Noble in FM!
Leadership, Teamwork, Determination. Composure, Bravery, Positioning, Vision, Work Rate.
Passing, Tackling – Penalty Taking.
All words which not only define Mark Noble in Football Manager – but also reflect many of the glittering memories a modern Club legend will leave us with.
 
For more exciting football gaming content, follow the official @WestHamGaming accounts on Twitter, Instagram and Twitch.