Łukasz Fabiański is backing his West Ham United team to continue improving over the closing stretch of the first portion of the season.
West Ham have eight games to play across the Premier League, UEFA Europa Conference League and Carabao Cup before the campaign pauses for the FIFA World Cup, and Fabiański is sure plenty of progress can be made.
After starting the season slowly, West Ham are now five games undefeated in all competitions, having only lost once in our last eight outings.
We head to Liverpool on Wednesday night looking to extend that record and the Hammers' goalkeeper says his team should have nothing to fear.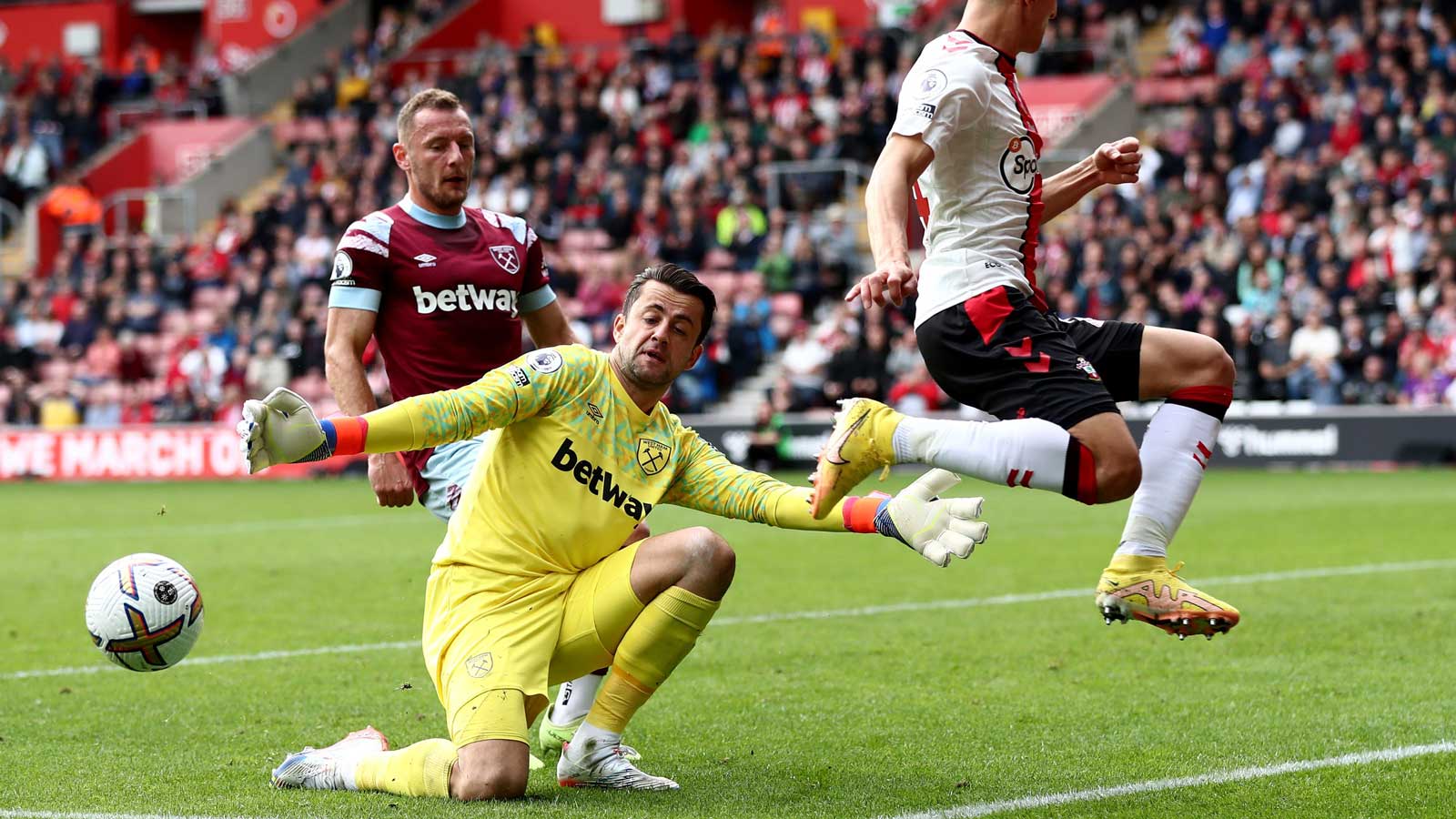 "You can see a clear improvement from the start of the season to the way we look now," he explained. "I hope that it will stay like that and we will continue to grow as a team.
"In the way Sunday's game at Southampton finished, we are a little bit disappointed [to draw] because, especially in the second half, we really dominated them and had some really good chances to score another goal.
"It's good that we've kept the unbeaten run going and I believe at the same time the performance was really good, so I think you can always build on that."
After a below-par start to the season themselves, Liverpool have recorded huge victories over Rangers and Manchester City over the last week, but in Fabiański's opinion, those successes will not alter his team's mindset.
"As a player, you never really think there is an ideal or a not ideal time to play an opponent," he continued. "That's the fixture you have to play, and when you look at their players and where they've been in the last few seasons, you always have a huge respect for them as a team and as a football club.
"You know it's going to be tough playing at Anfield and for us it's a great fixture, a great challenge. We want to be a very competitive team and when you look at the recent games we've played against them we always have been.
"We managed to get some good results as well, so I hope we will perform well and give them a good game."
We want to be a very competitive team and when you look at the recent games we've played against Liverpool we always have been
Now in his fifth campaign as a Hammer, Fabiański has witnessed first hand the growth of the Club in recent years, from scrapping to stay in the Premier League in 2019/20, to back-to-back European campaigns since.
He believes we are well placed to continue that upward trajectory, with the summer arrivals now beginning to bed in with the team.
"Being in Europe again just shows how we have improved in the past two years in all honesty," he added. "Not only being able to qualify for Europe, but at the same time we are being seen as a club from the outside, the way people look at us, or pundits, they see us a club who is very competitive.
"Not only just being in the Premier League but becoming a club who is challenging for something more. I think it's good and at the same time I think the players we are able to attract has improved as well.
"Most of the players who joined us this summer are international players, playing for really strong national teams. That's a good sign as well."