West Ham United and DT38 Foundation teamed up for a special training session in Perth on Thursday.
The Hammers and their charity partner welcomed young footballers from Stirling Lions SC, Wembley FC and Perth Glory FC to Macedonia Park, the complex where brothers Dylan and Taylor Tombides played as schoolboys for the Stirling Lions club nearly two decades ago.
There, they enjoyed a training session led by Taylor, former West Ham striker and current Academy coach Carlton Cole, ex-Hammer and Perth Glory manager Richard Garcia, and current first-team stars Kurt Zouma and Flynn Downes and teenage Academy of Football prospects Freddie Potts and George Earthy.
Expatriate coach and scout Mike Lee, who discovered Dylan and recommended him to then Academy Director Tony Carr, leading to a successful two-week trial at Little Heath and the late Australian striker's move across the world to east London with his family in 2009.
Dylan progressed quickly, impressing everyone at the Club with his talent and character, only for his career to be abruptly halted by a diagnosis of testicular cancer in 2011. Three years later, in April 2014, he sadly died at the age of 20.
Taylor and his family founded DT38 Foundation the following year, and in the eight years since the charity has educated young men in the UK and Australia to check themselves regularly, as spotting potential issues early can literally save their lives.
West Ham will wear the charity's logo on their shirt during two pre-season matches at Perth's 60,000-capacity Optus Stadium, with A-League side Perth Glory (Saturday 15 July, 6pm AWST) and Premier League rivals Tottenham Hotspur (Tuesday 18 July, 6pm AWST).
Speaking to whufc.com, Taylor was proud of the work the charity has done in his brother's memory on both sides of the world, and is thankful for the Club's support for DT38 Foundation in England and Australia.
Taylor, it must be a day full of emotion for you here at Macedonia Park, a place where you grew up and played football as a boy, and where today West Ham United are training and honouring DT38 Foundation?
"It's an honour to be back, as this is where I grew up, this is my hometown and I lived just around the corner. How West Ham is honouring the charity and honouring my brother's name is just a massive achievement of what West Ham do as a Club and how they look after their family and support their family, so it's a massive honour, for sure."
For you, it must be wonderful to see so many friendly faces?
"Yeah, it's always nice to see family and friends who I haven't seen in years. Look, it's always nice coming back home and Perth will always be home for me, so it's a lovely feeling coming back here and seeing all the regular faces."
Can you tell us about the DT38 Foundation and how it came about?
"My brother Dylan got misdiagnosed from testicular cancer and then, at the Under-17 World Cup [in 2011], he had to take a drug test and it was positive, so he was either doing steroids or had cancer, and he had cancer. He had a three-year battle with it, but unfortunately lost his life and we set up the DT38 charity to raise awareness of this horrible disease, testicular cancer, and erase the stigma around male health and educate men as to what is normal and not normal."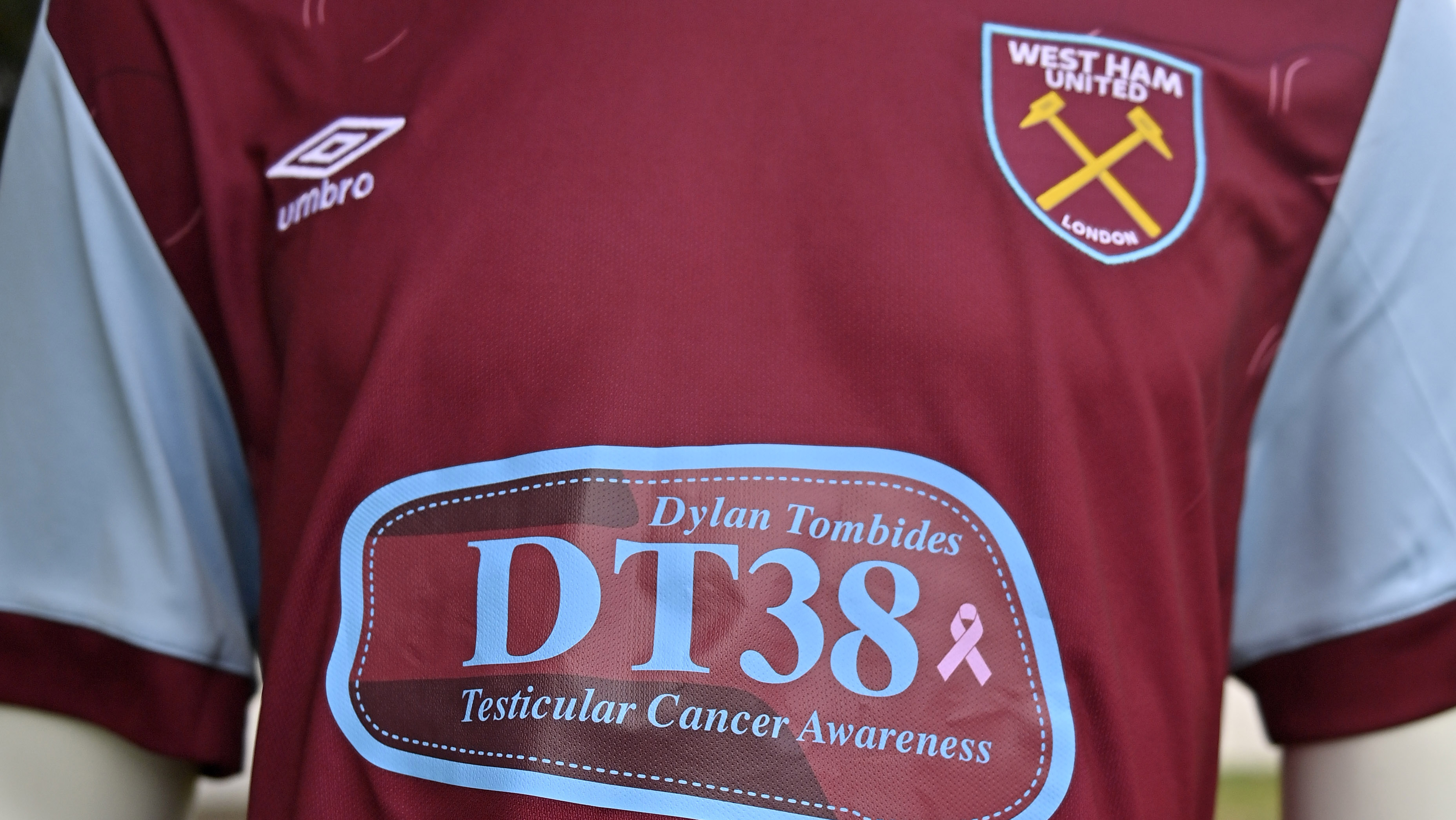 You are having a real effect now, as people know what DT38 and its message are, and that's the most important thing?
"That's the main message – we want to raise awareness and for people to know what's right and what's wrong, what feels normal and what doesn't, and we're hearing stories of how people have caught it early and saved their lives because of Dylan's story and the charity's message, which is a massive thing for us and that's the most beautiful thing about it."
When you're here, you realise just how loved Dylan and the Tombides family are loved in Perth?
"We've got a big name from my Dad (Jim) and Dylan and I playing football here, so the Tombides name is high and proud in Perth and for him to be recognised with a statue, there aren't many people in the world who have that, so it shows true dedication to how he was as a person and how big an influence he had on the Australian community as well."
Today, we have Carlton Cole, Richard Garcia and four men's first-team players here supporting DT38 Foundation at a coaching session at Macedonia Park. What a beautiful event!
"Just to have Coley and Richard Garcia is amazing, so to have the first team players come down and watch and support and talk to the kids shows how family-orientated West Ham is and how they support us in any way they can."
Finally, our famous Claret and Blue shirt will have the DT38 Foundation logo on it for our two games here in Perth thanks to a fantastic gesture from Betway?
"It's an amazing gesture from Betway. I couldn't believe it when they told me we'd have DT38 on the front of the West Ham shirt – that's the dream, and it's a massive achievement for us to be recognised in that way and for Betway to allow us to have it is an amazing thing."