DC Irons will be among the 68,000 fans in the crowd at Al Bayt Stadium for England's second 2022 FIFA World Cup Group B tie with the United States on Friday – but which nation will they be cheering on?
Members of the supporters' club, based in the American capital Washington, DC, since 2015, were pictured at England's opening 6-2 win over Iran at the Khalifa International Stadium on Monday, displaying their 'DC Irons' Cross of Saint George flag.
With members hailing from both sides of the Atlantic, their allegiances will be split when the Stars and Stripes taken on the Three Lions in Qatar, seeking to build on their 1-1 draw with Wales and boost their chances of reaching the round of 16, while harming England's in the process.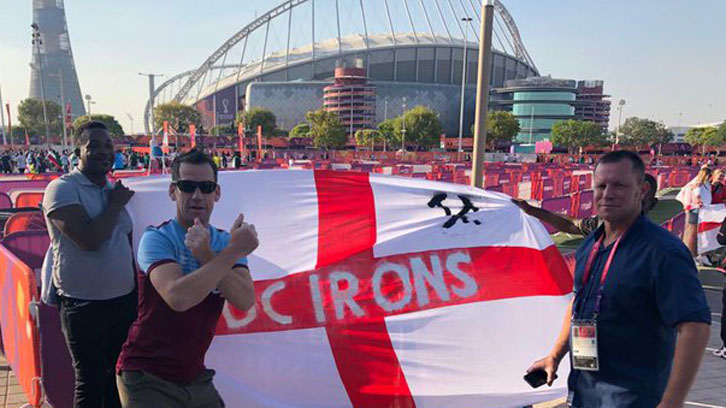 "The DC Irons began as a sighting of mutual West Ham colours at a Major League Soccer match for our local team; DC United," explained co-chairs Stephen Skippen, from Buckhurst Hill in Essex, and Stephen Swaby, from Canning Town. "This led to meeting up at a Downtown Washington, DC pub for the live broadcast of a West Ham match, and the group grew in numbers and popularity.
"The DC Irons is a mixture of ex-pats, American and international supporters and we are just a couple of lifelong Hammers in the group!"
While some DC Irons will be there in person for the big game, the majority of members will spend their Friday afternoon at the supporters' club's aptly named meeting place in Washington's Dupont Circle.
And with the big game kicking-off at 2pm local time on America's East Coast, there will be no need for the venue to open early on Friday!
"We meet for every match in Downtown Washington, DC just a stone's throw from the White House at Across the Pond Restaurant and Pub," Skippen and Swaby confirmed. "Our matchday routine is to meet for group watch parties at our home pub in Dupont Circle, NW, Washington, DC. We generally take a half-time photo and post to our social media channels which are routinely shown on the US broadcaster's live coverage each week to millions of football fans tuning in across America."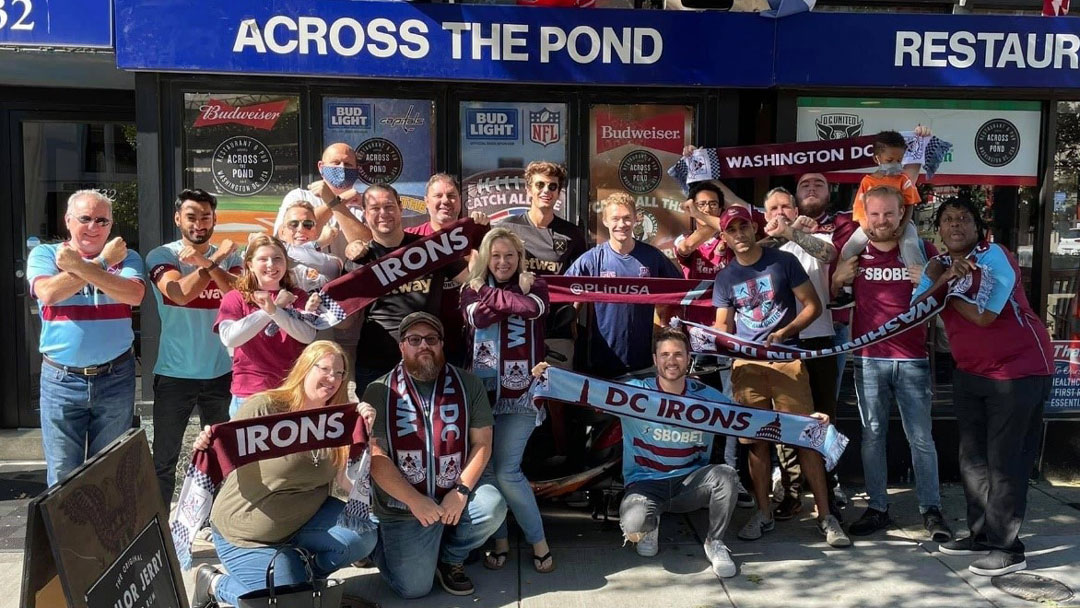 If you are in Washington, DC, and would like to join the DC Irons for the big game on Friday, Around the Pond opens at 12noon at 1732 Connecticut Avenue NW.
If you would like to find out more about the DC Irons, their planned visits to east London, watch parties and more, click here.
"Following us on social media is the best way to keep up with the DC Irons," Skippen and Swaby confirmed. "We have made trips back to London Stadium as a group, as well as to other US supporter's groups watch parties, and all are welcome to join. We always say the 'DC Irons is where friends become family'!"