West Ham United close a hectic October on Halloween when they head to Aston Villa and manager David Moyes isn't ready for the momentum to stop.
Following a week in which they were victorious in the Premier League, UEFA Europa League and Carabao Cup, the boss has been thrilled to see his squad compete so successfully on all fronts.
And while recognising that juggling the demands of all the competitions is a tricky task, he does not want to stop the east Londoners from giving it all each time they enter the pitch.
He faced the media on Friday ahead of Sunday's assignment in the West Midlands.
I have to praise the players who came into the team on Wednesday night.
It was a really, really tough game. Man City played ever so well but we did so well to get a draw and then we took five good penalty kicks. Great credit to all the players who played - some of them haven't played all the minutes this season, but when they've been asked, they've done really well.
We were able to get over the line on penalties, but I think it says more about the group and squad we have that they're all contributing, demanding they have to play with the games we have and the schedule. None of them have let me down at this moment in time - they've all come up trumps and played really well.
We're learning on the job. There is no magic formula in this game. We can only focus on a game at a time, and we're doing the best we can to use our squad.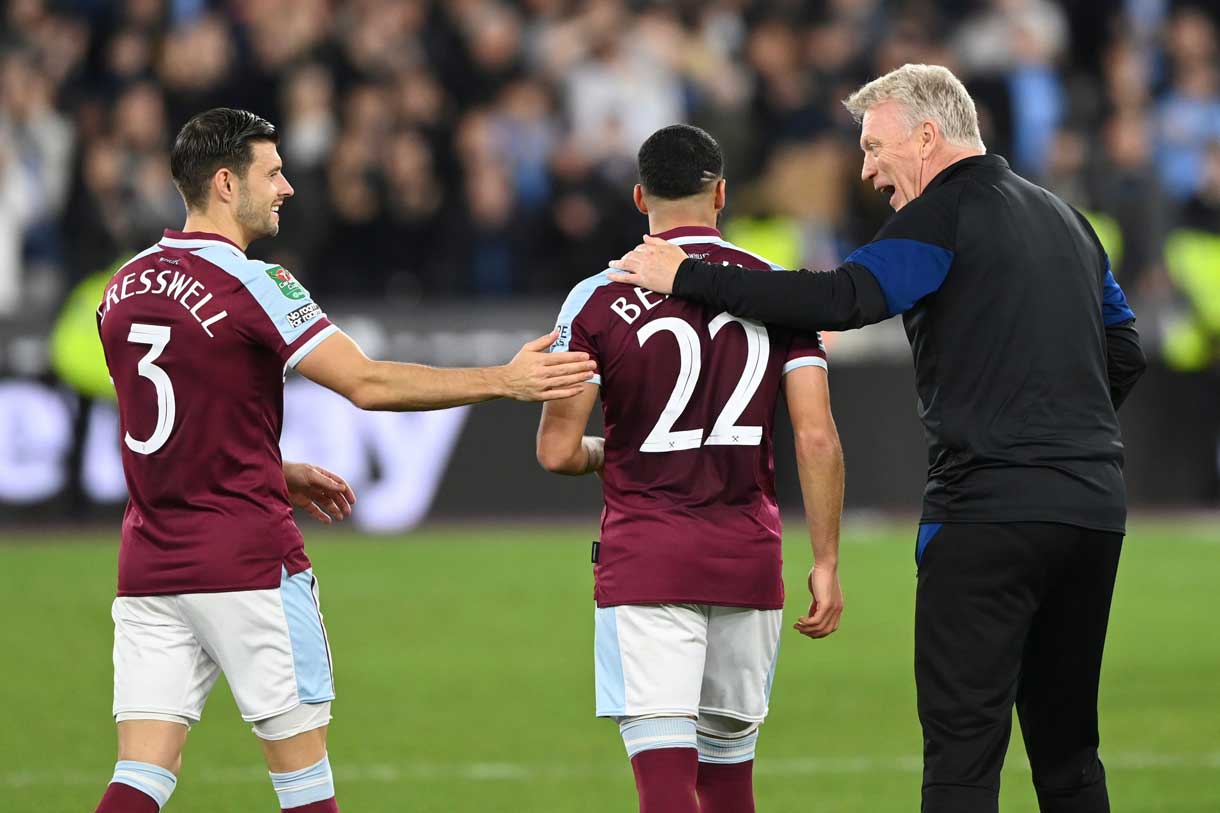 We've had the feelgood factor here for a while now, now just at the start of this season.
There's plenty of excitement around but we've had the feelgood factor for over 12 months now. Relegation had been hanging over West Ham for a couple of years but we're feeling much better than that now.
We're feeling like a side that can be competitive in the league and hopefully the Cup competitions as well.
Of course the demands of the schedule are easier when you're winning.
I think winning makes everything feel better, but we understand we've got to keep it right - we're not getting carried away with ourselves.
We're enjoying it - why shouldn't we - but we want to build on it. We have to play even better now and I think there are signs we can do that.
We head to Aston Villa unbeaten away from home this season and that's a record we're proud of.
Last year, I think people thought our away form was to do with [the COVID restrictions on] crowds, but we've started this season away from home well.
I also want to have a great home record because I think London Stadium with 60,000 fans in it is a great place to play your football.
Dean Smith is doing an excellent job with his Aston Villa team.
I don't see how Dean Smith is under any pressure with how well he's done at Aston Villa. From where he took them to where they were last season. He's had to sell maybe their best player and I think they've bought really well.
I think he's done a brilliant job at Aston Villa.