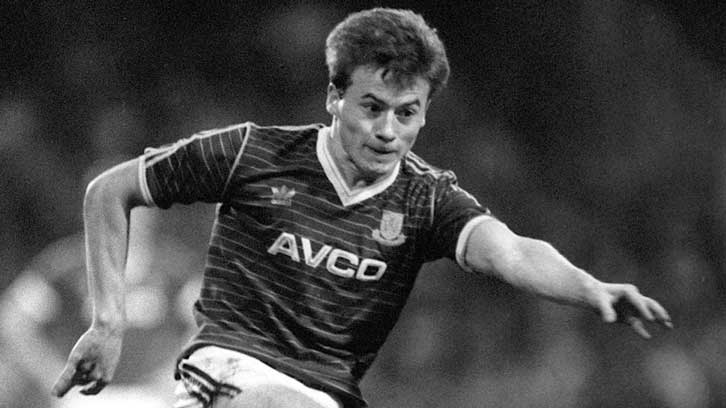 Wing wizard Mark Ward, who celebrates his 59th birthday on Sunday 10 October, made 209 appearances for West Ham United between August 1985 and December 1989, scoring 14 goals and playing his part in dozens more...
BOLEYN BLISS 
Released in 1981 by my boyhood heroes, Everton, I'd rebuilt my career combining weekend appearances for non-league Northwich Victoria with the day job at the local Roberts Bakery, before then joining Oldham Athletic.
My move to West Ham United came out of the blue, when John Lyall signed me for £225,000, three days before the start of the 1985/86 season. It was a massive step-up and I didn't get a kick out of Alvin Martin or Tony Gale in my first training session. 'I might be out of my depth here,' I thought. I needed to learn. And quickly.
We lost our opening game at Birmingham City before I made my home debut against Queens Park Rangers, three days later. The closest I'd ever got to Upton Park was when Northwich played at Dagenham & Redbridge but now I was running out at an iconic stadium and, although there were only 15,530 inside the Boleyn Ground that night, the Chicken Run looked rammed.
Fellow new-signing Frank McAvennie put us ahead before I crossed for Alan Dickens to make it 2-0. Rangers pulled one back but Frank - who had a blinder – scored again to give us a 3-1 victory. And when both of us had a little skirmish with Ian Dawes, the Hammers fans got to see the Wardie 'What's your problem?' stare given to many defenders over the years.
Before the match, Alvin Martin had warned us 'Give this crowd 100% and they'll get right behind you', Those Hammers supporters had certainly done that.
OFF THE MARK
I'd created some goals for Frank and Tony Cottee in our opening 18 matches but still hadn't scored for my new club.
Mind you, I should've had one at Manchester United in the Milk Cup on 29 October 1985, when I let fly with a 25-yard, indirect free-kick that Gary Bailey tipped into his own net but the referee somehow insisted the 'keeper hadn't touched it. Arguments raged on the pitch…and in the stands, where two balding, ageing men had jumped up in celebration.
Alvin and myself had organised tickets for our dads, Albert and Billy. Scousers at Old Trafford are never a good idea, never mind West Ham supporting ones! Meeting them afterwards, Dad had a thick lip, while Albert's forehead was grazed. 'What happened?' we asked. 'Let's just say there was an altercation with the United fans!' replied Dad.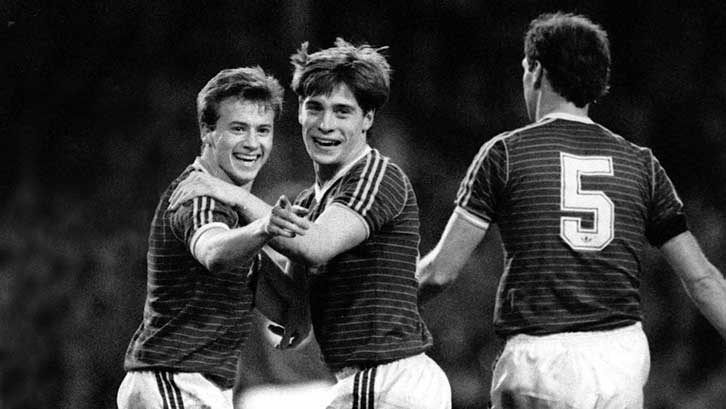 Eleven days later, though, I did get my goal at Oxford United's tough, tight little Manor Ground, where Tony Cottee had wiped out John Aldridge's opener. I wasn't a prolific goal-scorer and concentrated more on defending and creating. But I could find pace and power from distance and, with 20 minutes left, I won a free-kick. Tony Gale moaned: 'Don't shoot from 30 yards, Wardie!' But I was confident and, sweet as a nut, it sailed straight into the net.
Yet again, I'd forgotten to check whether or not it was direct but luckily the referee just ran back towards the centre-circle. My first-ever Hammers goal would give us a 2-1 victory.
SWEET REVENGE
We'd really found our feet by the time Manchester United arrived at the Boleyn Ground on 2 February 1986. Having only lost five of our opening 25 matches, we were in fifth spot, seven points behind Ron Atkinson's league leaders.
The match was televised live and England boss Bobby Robson was in the Sunday afternoon crowd of 20,170, who saw Bryan Robson put United into an interval lead. We were losing but still playing well and really putting in a shift. Kevin Moran was in possession but I wanted it so badly that I wasn't wasting any time as I sprinted over towards the Chicken Run touchline before taking both man and ball into the boards. There was a huge thud and, as we walked off at the break, Robbo warned me to be careful in the second half because United hadn't been happy with that challenge.
But on the hour, Alan Devonshire laid a perfectly-weighted ball into my path and I didn't even have to check my stride as I hit a low, 20-yarder past Bailey to equalise. That was the best of the 14 goals I scored in my 209 appearances for West Ham and it made up for my disallowed one at Old Trafford. After Robson had, ironically, hobbled off with a twisted ankle, Tony Cottee then scored our winner.
We'd beaten Manchester United live on TV, I'd scored and the phone just didn't stop ringing. Roberts Bakery suddenly seemed a million miles away. I'd finally landed.
RED DEVILS RE-VISITED
Five weeks later, we found ourselves travelling to Old Trafford to face Manchester United for the fifth time of the 1985/86 season. Having lost up there in both the league and that controversial Milk Cup clash, we now faced them in an FA Cup fifth-round replay after drawing 1-1 at Upton Park, just four days earlier.
But having also beaten them at Upton Park, we weren't one bit overawed. By now, Tony and Frank were scoring for fun, we had creativity and stability in midfield plus steady rocks in defence and were backing ourselves to win every game. On 20 minutes, I miss-kicked my corner kick – I was chipping towards Tony Gale on the near post! – but it looped towards the edge of the area, where Geoff Pike, of all people, sent an 18-yard bullet header under the crossbar, before Ray Stewart made it 2-0 with a penalty after the break.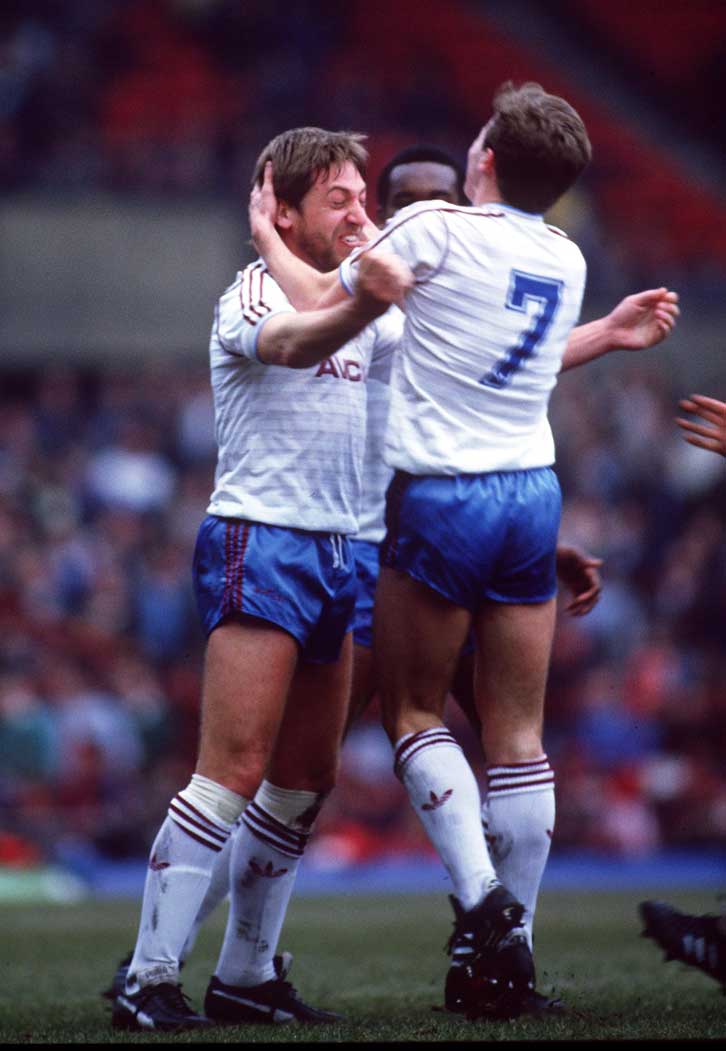 We then found ourselves in an almighty battle and the tackles really started flying in. I got booked for a challenge on Jesper Olsen – there was only going to be one winner there – and although Ron Atkinson protested I should've been sent off, I argued I was only getting stuck in!
With the matches now coming thick and fast, that set up a quarter-final at Sheffield Wednesday just three days later and, although we lost that one, we were still in the mix in the title race…
BLUES BATTERED AT THE BRDGE
Chelsea were in fourth-spot, three places above us, when we met them at Stamford Bridge with 13 matches of the 1985/86 campaign remaining.
By now, we were so confident as a team that I'd look around the tunnel and ask myself: 'How many will we win by today? How many goals will Frank and Tony get? How many will I make for them?' It was the equivalent of what Manchester City's players probably think today.
Although Chelsea were higher than us in the table, that counted for nothing as we put in the best away performance of my entire career. West Ham were simply on a different level to the Blues.
Alan Devonshire put us ahead when he ended a thrilling run with a 25-yarder and, while I was always telling Dev to have shots from distance, it's Galey who still claims the assist because he rolled the ball to him on the half-way line!
Tony Cottee then got two before Frank made it 4-0. Looking at that result, everyone in the football world must've sat up that evening and thought: 'Crikey, West Ham have got a chance of winning the league now!'
Afterwards, John Lyall described the performance as a 'manager's dream' and a 'display not to be forgotten.' He always kept us grounded and never, ever admitted that we were in the shake-up for the title but, deep down, surely John must've been getting excited, by now?
RECORD BREAKERS
On 5 May 1986, I could've been at Boundary Park playing Oldham's final game of the season against Carlisle United but, here I was, back at Goodison Park with West Ham, needing to draw to finish runners-up.
Winter postponements meant we'd played 13 matches in 38 days, winning six on the spin, including an 8-1 victory over Newcastle United, who unluckily lost their goalkeeper, albeit somebody was always getting tonked that year.
Despite our victory at West Bromwich Albion two days earlier, Liverpool clinched the title at Chelsea. The whole club was disappointed but our fans didn't show it, travelling north on a Monday night to back us with Bubbles, Hokey Cokey…everything.
I've never seen away support like it - even Everton's fans applauded - and while we ended up losing 1-3, they were thanking us for giving them such a great season after pushing two great Merseyside teams all the way and finishing a best-ever third.
With Mexico 86 looming, Bobby Robson had watched me, while Brian Clough also argued that I should go to the World Cup but, sadly, England never called.
After joining Manchester City in 1989, I then fulfilled my life-long ambition to sign for Everton. It's well documented that I fell into the wrong company after retiring but, thankfully, I'm rebuilding my life with the help of family, friends and the football world. I host match-day events with former Hammers and work as a matchday ambassador at London Stadium, which I thoroughly enjoy.