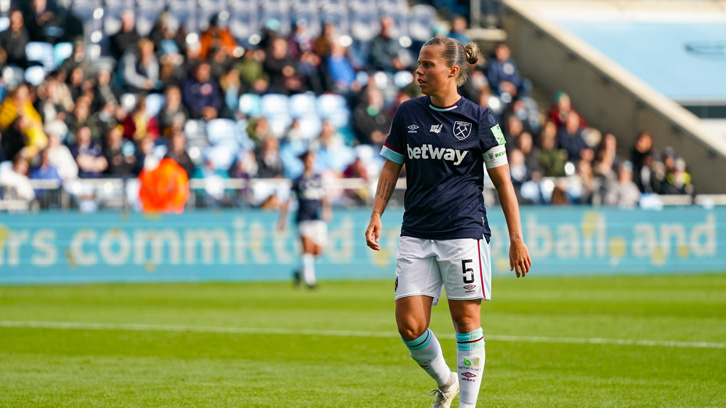 Gilly Flaherty believed that West Ham United Women deserved their 0-2 victory over Manchester City on Sunday afternoon. 
Goals from Dagný Brynjarsdóttir and Yui Hasegawa secured a memorable win on an afternoon where the east Londoners had to be structured in their approach to beat a side that finished 2nd in the Barclays FA Women's Super League. 
And Flaherty was really pleased with the final outcome after such a disciplined performance at the Academy Stadium. 
"I think you know that when you play against City, they're going to have a lot of the ball, and you have to respect them in that way. 
"They're a very good team and we obviously didn't have a lot of the ball, but we worked so hard off the ball to frustrate them and make it hard for them to play through. 
"We defended for our lives today and I truly believe we deserved to come away with the win and the three points, especially with a clean sheet as well." 
Both Brynjarsdottir and Hasegawa scored their first goals in Claret & Blue against the Cityzens, with the former having to wait a long time to fulfil her dream of scoring for the club that she has supported since she was a child back in Iceland. 
And Flaherty revealed that the midfielder has been getting some stick in the changing room and is delighted to see her finally on the scoresheet. 
"We all 'take the mick' out of Dags [Dagný Brynjarsdóttir] because we say, 'come on, how many chances do you need', but I think as soon as she scored that today, it was a relief for her. We all banter about it, but for me I don't care if she missed all of them chances for her to score today. 
"I'm really pleased that she's got her goal, you could see how much it meant to her and hopefully that's the first of many this season. 
"Yui [Hasegawa] really showed her class at the end and in all honesty that's the person you want the ball to fall to in them moments. She had a great finish and sealed it which took the pressure off us going into the last few minutes."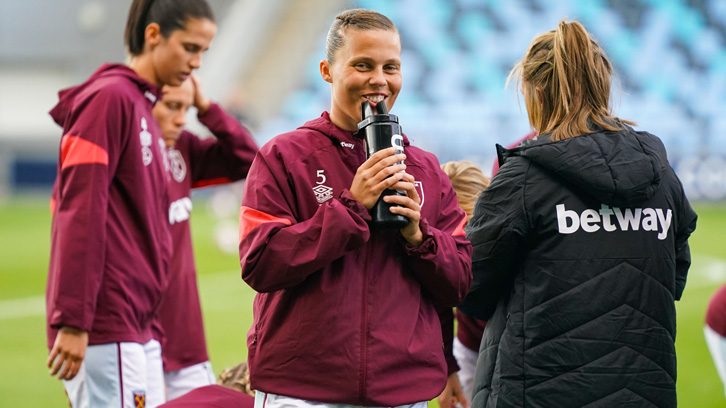 There was a clear sense of togetherness on the pitch from West Ham United, battling for every ball and working hard as a team to limit the amount of chances that Manchester City could create. 
It's a performance that personifies the way that Harder want's his team to play, with his Captain, Flaherty sharing in the sentiment that everyone was together out there on the pitch. 
"We had high player turnover in the off season and it's just about making sure we have the right people. We have such a good group of girls, there's no egos,  no one think they're better than anyone else. We work for each other and fight for each other off the ball and I think you could see that today.
"This is one of the toughest places to play in women's football, she said. "Even when I was at Chelsea, I've suffered so much pain here, I don't think I've ever managed to come away with three points from this ground in my career. 
"The times we've been here with West Ham, we also lost heavily, so I think we're seeing what we're capable of with this group of players. We deserved it today and it is huge for this club; it's one of the best wins of my career and probably one of the biggest in the clubs professional history."

*You can watch the Hammers in action this coming weekend, as they take on Birmingham at the Chigwell Construction Stadium on Sunday 10 October at 3pm. Click here to purchase your tickets now!