Taking a look back at a classic West Ham United moment on this day in history, in association with Heineken...
Bobby Zamora may not have been the most prolific of goalscorers but, when he did hit the back of the net, it usually mattered.
The centre forward scored the goals that secured back-to-back promotions for Brighton & Hove Albion in 2001 and 2002, the goals that fired Fulham to the UEFA Europa League final in 2010, and the goal that secured Queens Park Rangers a place in the Premier League in 2014.
In between, Barking-born Zamora returned to his native east London to spend four-and-a-half memorable seasons with West Ham United.
He scored yet more vital goals in Claret and Blue, including three against Ipswich Town to fire the Irons to the 2005 Championship Play-Off final at Cardiff's Millennium Stadium.
There, on this day 17 years ago, the striker was on target yet again, converting Matty Etherington's 57th-minute cross with a bouncing finish into the bottom corner and sending the Hammers back to the Premier League after a two-year absence.
"I do like a Play-Off!" he smiled, reflecting on his historic heroics in the much-hyped most-valuable match in world football. "The 2005 final was a cagey affair to be honest and one goal was always likely to be enough to win it for either side.
"Matty got down the left and put the ball over and the fact I didn't make a great connection with it is probably what done the 'keeper!
"I'd had a bit of a taste of it before with Spurs, but to be able to get the team you love and support up into the Premier League was magnificent.
"That's where all of us wanted to play, so to score and do it in front of so many friends and family, including people I'd gone to games with as a kid, was a great feeling."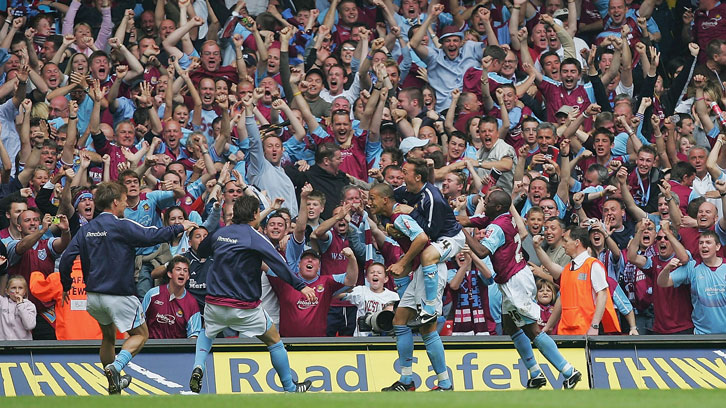 For Zamora, scoring such a vital goal for his boyhood club was one thing, but to do it playing for a team filled with players he had bonded so tightly with over the previous 18 months made the moment even more special.
"We had a great team spirit," he confirmed. "I loved going into training, the banter with all the lads was brilliant. It was just a great set of lads who enjoyed a laugh and a joke, but we also put in the hard work so we could get the results we needed."
The following season, 2005/06, Zamora was at it again, scoring ten goals to help the Hammers make an eye-catching return to the Premier League.
Then, in 2006/07, he bagged eleven more, including important goals against Blackburn Rovers, Middlesbrough, Arsenal and Everton as West Ham pulled off the greatest of escapes from relegation.
But it remains that day in late May 2005 that, above all, Bobby Zamora will never, ever forget.