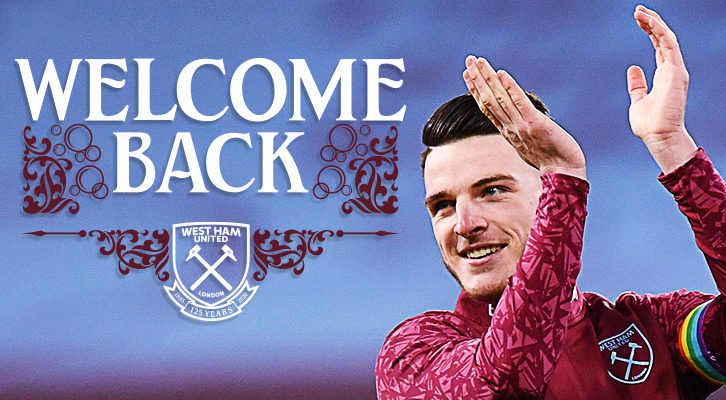 Everyone at West Ham United would like to warmly welcome you back to London Stadium for Sunday's final fixture of the 2020/21 Premier League season against Southampton.
It is quite possible that this will be your first visit back to the stadium for a match since we last faced the Saints here – way back in February 2020, our most recent home fixture in front of a full crowd. We are delighted that you will be here with us and hope you enjoy what will hopefully be a memorable finish to an excellent campaign for the Hammers. For all matchday information please visit the Hammers Hub page for the following topics:
Ballot/bubble information
Code of conduct
FAQs
Matchday guide
COVID-19 guidelines
Travel information
Matchday information
Digital programme
Accessibility
The Club would like to thank every member of the Claret and Blue Army for your continued understanding, cooperation and support throughout the past 14 months, and we hope Sunday will be a hugely positive step towards the return of full stadiums from the start of next season.
Fans are the beating heart of every football club and nowhere is that more the case than here at West Ham United – a Club that has been embedded deep in the community for more than 125 years. It means everything to have you with us again, giving your fantastic backing to the team.
David Moyes' squad challenging at the top end of the Premier League table only adds to our excitement of being able to welcome you back, and while we know it isn't all of our fans just yet, it will be a special and emotional day, with the hope that 60,000 of you will be back with us in person very soon.
We hope you have a safe and comfortable journey to London Stadium. The Club has been working in conjunction with all relevant stakeholders, including continuing consultation with the Independent Supporters Committee throughout, to put an efficient and effective plan in place, with the main aim of giving supporters a safe and enjoyable matchday experience at London Stadium – the first time this has been permitted since West Ham United were the first Club to host supporters in the Premier League when restrictions were temporarily lifted for the visit of Manchester United in December.
Please continue to follow the Code of Conduct and guidelines that are in place for your own safety and wellbeing. This includes wearing a face covering at all times, respecting a distance of at least two metres from fellow supporters where possible, and regularly using hand sanitiser.
As well as protecting your own welfare, you will also be playing your part in helping us to host a safe and secure matchday for all, which will hopefully lead to many more of your fellow Season Ticket Holders, Club London Members and Hammers fans returning to London Stadium from the beginning of next season.
It has been a challenging year. Our thoughts continue to be with all of those whose lives have been directly affected by the pandemic, particularly those who have lost loved ones and friends. We hope the opportunity to watch the Hammers live again will give you a welcome boost, and that your attendance will inspire the players to finish the season on a high.   
Thank you again for your patience, co-operation and, most of all, your loyal and passionate support of West Ham United.
It simply hasn't been the same without you.
COME ON YOU IRONS!