Carlton Cole believes this weekend's social media boycott has been a long time coming.
West Ham United – and football as a whole – has come together to demand change to the unacceptable current situation, which sees ongoing and sustained abhorrent racist and discriminatory abuse received online by players, fans and many others connected to football and beyond – every single day.
Cole, a former Hammers forward and current Academy of Football coach, has all-too-often experienced such abuse during his time in professional football – and has echoed the Club and wider game's calls that it simply has no place in society.
Speaking to whufc.com ahead of the boycott, which began at 3pm on Friday 30 April and will run until 11.59pm on Monday 3 May, Cole called on social media companies to better grasp their responsibilities, both in eradicating online hate, and in educating people in the ongoing fight against discrimination.
His message was simple: more can be – more must be – done.
"I was playing for England Under-21s once, and I got a banana thrown at me," Cole recalled. 
"I used to take it with a pinch of salt, and I brushed it under the carpet because I knew nothing would get done, even if I did complain, and that was in real life.
"Fast forward ten years and I'm still getting abuse. It's easier to access me because I'm online [on Twitter and Instagram], I'm in the public eye and people just want to have a little go at you. 
"I knew what was going to be the case. I know society is not fully polished away from racism but, at the same time, these people have a voice, and it's the social media platforms who are giving them a voice but not doing anything about it.
"I've been abused, and it's not that I can't handle it, I just think about my son and when he goes online. He doesn't know anything about racism yet, but why does he need to know about racism? 
"We've got to go past this now. My son is mixed-race, his mother is white and I'm black, so he's from that background, and these boys don't know anything about racism. But when he starts getting racist abuse, his whole vision of the world will go down. 
"I want him to look at the world and think he's got a bright future ahead of him, not look at the world and think he's got to deal with racism because there's a few people out there that don't like him because of the colour of his skin. It's just not on."
 

Claret and Blue through and through, Cole has witnessed first-hand, on multitudinous occasions, the role which West Ham United, football and the community it creates can have in bringing people together.
These include the work of the West Ham United Foundation, supported by Show Racism the Red Card and funded by the Shared Endeavour Fund, which delivers the Stop the Hate project to educate and empower young people around the issues of racism, discrimination, extremism and hate crime.
Stop the Hate has engaged thousands of young people at schools and youth centres across east London and beyond through free interactive social media workshops and health and wellbeing sessions since it was introduced in September 2019.
Without further action and accountability for social media companies – which football hopes could be enforced by the UK Government's Online Safety Bill – the former No9 feels the influence of abuse threatens to tear those achievements apart.
Cole continued: "The Club has always had a support network. We do a lot in the community around the Newham area. We've got the West Ham United Foundation which does so much.
"When you go to these places, there are so many different backgrounds there – white kids, Asian kids, black kids, all sorts of kids in one place, enjoying each other's company – and that's what West Ham is about, and we support that all the way.
"Since I was a player, and now as a coach, I've been supporting these same things at West Ham and I believe the same thing as West Ham: everyone being together as a community makes the world better, and that's where we have to go to every day.
"When you wake up, you've always got to think about inclusion – and that's what we're about at West Ham."
 

West Ham United were awarded the Premier League's Equality Standard Advanced level, recognising the Club's ongoing dedication and commitment to equality, diversity and inclusion (EDI), in March 2021.
Such principles are threaded into the very fabric of the Club's history, values, identity and – as Cole recognises as an Academy coach – future.
He explained: "I look at Clyde Best and when you look at our history, he was one of the best players to play for the Club. I know a load of older supporters and fans love Clyde Best too.
"You have heroes at West Ham who are black and when I look at them, I see them as heroes as well. I'm sure Mark Noble looks at them as heroes and they're black. You've got to look at the whole picture of it.
"When I think back to my era, there were young black boys and young white boys looking at me, and they didn't see colour, they just saw a good footballer – they saw someone who had made a name for themselves, they didn't see any race or creed.
"Now, we've got to look at it really seriously – because social media has a massive part to play in it. 
"It's all about education because all kids now are on social media and when they see another player getting abused, I'm hoping they think they have to call it out, report it and say it's not on.
"Most of the kids I coach are cleverer than I am! You have got to understand that they're not going to tolerate this anymore. All these people with bad minds and bad hearts – there is no time for you anymore. Your time is up."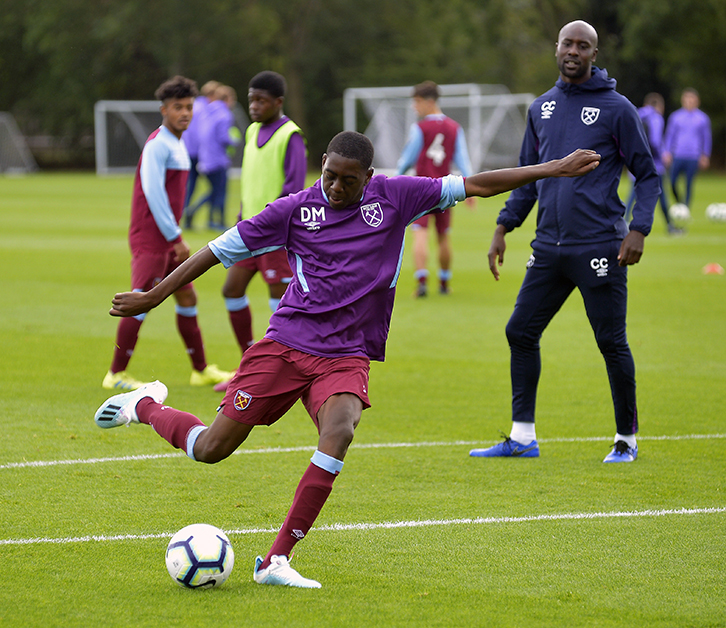 As the wider world of football demonstrated so powerfully in its recent opposition to plans for a European Super League, unity – this weekend, and forever – is our strength.
It is with pride, therefore, that West Ham United stand in solidarity with the Premier League, its fellow clubs, The FA, EFL, FA Women's Super League, FA Women's Championship, PFA, LMA, PGMOL, Kick It Out, Women in Football and the FSA with this weekend's boycott of social media channels.
"It's been a long time coming," Cole surmised. "What you find is there is a lot of people who think they can just go behind a computer and abuse people, and nothing gets done about it. 
"That's what social media does, it amplifies your voice, and if it's being used in the wrong way then it's not a good look for the social media platforms who are not doing anything about it.
"That's why we need to make a stand as a football community – because we hold the torch. 
"We saw in recent weeks how football can come together and can unite and show solidarity, and that's where everyone saw the power of football. 
"Doing the same again, in its own way, and showing that this kind of abuse will not be tolerated any more, is the right thing to do, and football is going to be a pioneer of that. 
"Yes, you've got the colours of West Ham on the shirt, the colours of Chelsea, the colours of Man United, all different colours, but the one thing we've all got in common is football.
"Football brings everybody together, the same way it brings people of every background together.
"Every colour in the world loves football. Every race in the world loves football. 
"There are no teams in this, just one team – and that's unity."
Find out more about why West Ham United joined the boycott here.