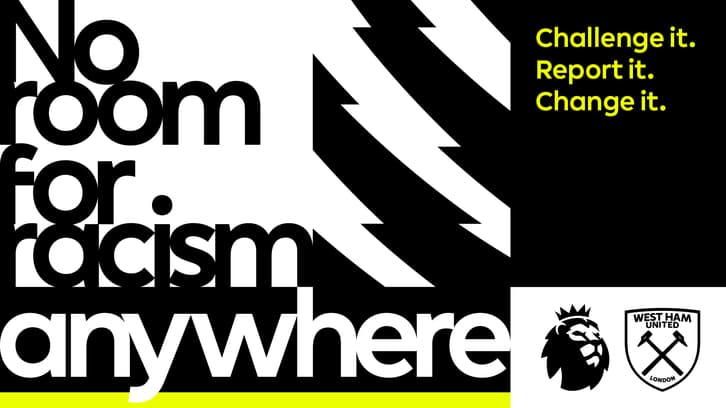 West Ham United is backing the Premier League's No Room For Racism initiative at Sunday's game against Arsenal, in support of the United Nations' International Day for the Elimination of Racial Discrimination.
"No Room For Racism represents our long-standing commitment to take action against discrimination and sends a clear message to fans that we all have an important role to play in challenging and reporting racist behaviour, wherever it occurs," said Premier League Chief Executive Richard Masters.
"The Premier League and our clubs will not tolerate any form of prejudice.
"We recently announced our No Room For Racism Action Plan to underpin all our work in this area and we will continue to work together with clubs, players and partners to tackle discrimination and promote equality and inclusion in all we do."
Hammers striker Michail Antonio said: "Having a diverse changing room shows that everyone all over the world can be in one changing room and get along," he says.
"Some of my closest friends are Angelo Ogbonna, who is Italian, and Pablo Fornals, who is Spanish. His English isn't the best but there's enough for me to understand what he's got to say.
"We can go out and have a meal and be able to speak to each other all the way through it. I'm trying to learn Spanish now because all these players are coming in and I shouldn't expect them to speak English, even though we are in England. I feel like I should try and make an effort to learn how to speak [their language].
"It doesn't matter what colour you are; black, white or Asian. Everyone's culture has taken in parts of different cultures and, if you really think about it, it's making the world a better place by these different cultures blending and becoming one."
The UN's International Day for the Elimination of Racial Discrimination takes place today, Sunday 21 March, and calls on each and every one of us to stand up against racial prejudice and intolerant attitudes.
The No Room For Racism Action Plan outlines a series of commitments aimed at creating greater access to opportunities and career progression for Black, Asian and other minority ethnic groups in football, and actions to eradicate racial prejudice.
These commitments build on the existing action taken by the Premier League and clubs throughout the year to promote equality, diversity and inclusion.
The League has recently worked with clubs to produce a series of No Room For Racism educational resources, available to more than 18,000 primary schools, while last year, the Premier League introduced a reporting system for players, managers and their family members who receive serious discriminatory abuse online.
Fans can find out more information on the ways in which they can report racist behaviour here.