Few announcements focus the football world like the release of fixtures for a new league season – and West Ham United Women's captain Gilly Flaherty was no different.
The typically diligent 29-year-old defender had a keen eye on Barclays FA Women's Super League channels last week as the fixture schedule was released for all 12 top-flight teams, revealing West Ham's schedule for the season ahead.
With the commence of matches for the Hammers being just over a month away with a trip to Brighton & Hove Albion on Sunday 5 September, Flaherty sat down with Sky Sports News to discuss a range of topics, including her excitement for the new campaign ahead...
 
On the squad's progress during manager Olli Harder's first pre-season in charge…
"Everyone's really excited for the new season. Pre-season's obviously always really challenging. We've all had a good break after a tough end to last season with the relegation battle, but I think now for us it's a chance to really crack on this year. 
"It's going to be Olli's first full season in charge. It's always hard for a manager to come in halfway through a season, and to come into a position where we were fighting relegation as well. It's exciting for him now to be able to implement his playing style. 
"We've made new signings, so he's bringing in his own players as well. Pre-season's never easy, but the countdown's on now for the first game of the season."

On the arrival of Australian international Tameka Yallop, who scored for the Matildas at the Tokyo 2020 Summer Olympics last week…
"Obviously Meeks [Tameka] is a great signing. I managed to catch a few games of hers initially when she signed. 
"Obviously she was playing in the Australian league, so they were on at super early times in the mornings on a Sunday, but I managed to catch a couple of them! 
"She's a great player. You can see she's tenacious, she's a box-to-box midfielder and obviously she scored a great goal as well at the Olympics, so we're excited to get her here and get her welcomed into the team."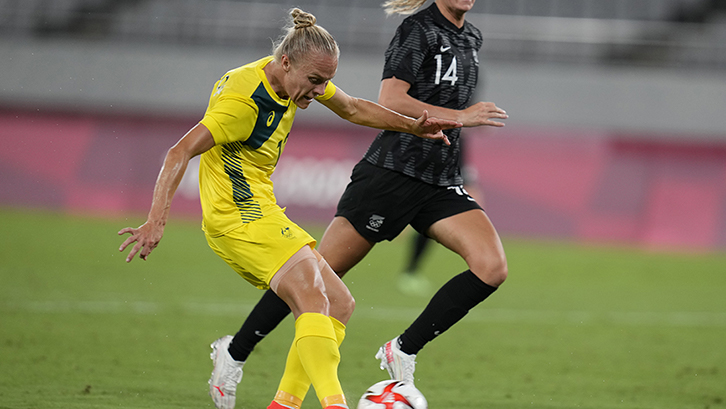 On last week's release of West Ham United's 2021/22 WSL fixtures…
"It's going to be an interesting season. Every year, the season gets a lot tougher, so obviously talking about the fixtures, for me it doesn't matter who we get the first game of the season, because any game is difficult now and that's how we want our league to go. 
"Every year, it gets stronger and stronger and new players come in. There are no predictable games. Our league threw up some surprises last year and I think it's going to be even more interesting – and even tighter – this season as well."

On the announcement that popular gaming title Football Manager is undergoing work to integrate women's football in future editions…
"It just shows the growth of the women's game. 
"I read Football Manager's statement, and just the depth they've got to go to to get women's football onto there is crazy – it's not just as simple as me, who doesn't have any knowledge of technology at all, doing it! 
"It's brilliant. I remember when women first got added onto FIFA and the hype around that. I actually downloaded Football Manager for the first time yesterday as I thought 'listen, as this is launching, I better learn how to play it!' Hopefully I'll increase my managerial skills with the men's game until the women get added on!"
 

On the signing of former teammate Danielle Carter by Brighton & Hove Albion Women – West Ham's first opponents of the new WSL season…
"I think that's a great signing for Brighton. Obviously, I played with Danielle previously at Arsenal and she's a goalscorer. She was only at Reading for one season, but she's obviously aware of [Brighton manager] Hope Powell and Hope Powell's aware of her, and I think she's a fantastic signing.
"Probably something that Brighton really lacked last year was having a finisher and a goalscorer. We know how tough they are to break down, especially how organised they are, but for us, whether it's Brighton or Chelsea, whoever it is, we're going out every game trying to win it. 
"That's the mentality of our Club as well, so it's irrelevant to me who they've got, we'll be focused – although obviously, I wish Dan all the best as well!"