Pride of Irons celebrated its sixth birthday on Monday 15 February 2021.
Originally formed in 2015 as the official West Ham United LGBT+ supporters' group, in order to give LGBT+ fans, their friends and families a voice throughout the year, Pride of Irons has become so much more than that to its members. 
A sense of inclusivity, welcomeness and community prevails throughout a group comprised of supporters from different ages, races and backgrounds – the only requirement for membership is that they support West Ham United!
Despite lockdown restrictions preventing the group from regularly meeting up on game days this year, Pride of Irons have continued supporting one another via their active WhatsApp group, Zoom calls and, of course, Friday night parties.
To celebrate the occasion, we caught up with Co-Chair, Jo Bailey, and member Kerry 'Kez' Harwood, to find out what Pride of Irons has come to mean to them.
 
For anybody who hasn't heard of Pride of Irons, how would you describe it?
Kez: We're all totally different people, but the one thing that unites us is West Ham United Football Club. 
Before Pride of Irons, I wouldn't have dreamt of having such a wild field of friends from different countries, from different cities and from such different backgrounds. 
I had my own little bubble of people just like me, and I thought I was quite happy with that, but actually with Pride of Irons, we can talk about football and talk about West Ham, but we can be as different as any other group of people, as well. I can't believe it's six years-old!
 
How long have you both been involved in Pride of Irons?
Jo: I came along as a member in 2016/17. I hadn't been going to games for a while, so I was a bit nervous about coming back to football, but I found Pride of Irons and then they gave me that courage. Now I'm Co-Chair – it's gone so quickly!
Kez: I was there at the beginning. I saw a tweet from our other Co-Chair, Jim Dolan, saying we were trying to get some LGBTQ+ fans along to Boleyn Ground just for a chat. 
I went along to that first meeting and there were maybe 15 of us. The thing I remember most was helping myself to beers from the fridge after a long day of work, but nobody else was getting any.
I slowly realised that, for a lot of the people there, that meeting was actually very important. It had been something they'd been thinking about for much longer than I had. 
I stopped opening the fridge quite as often then!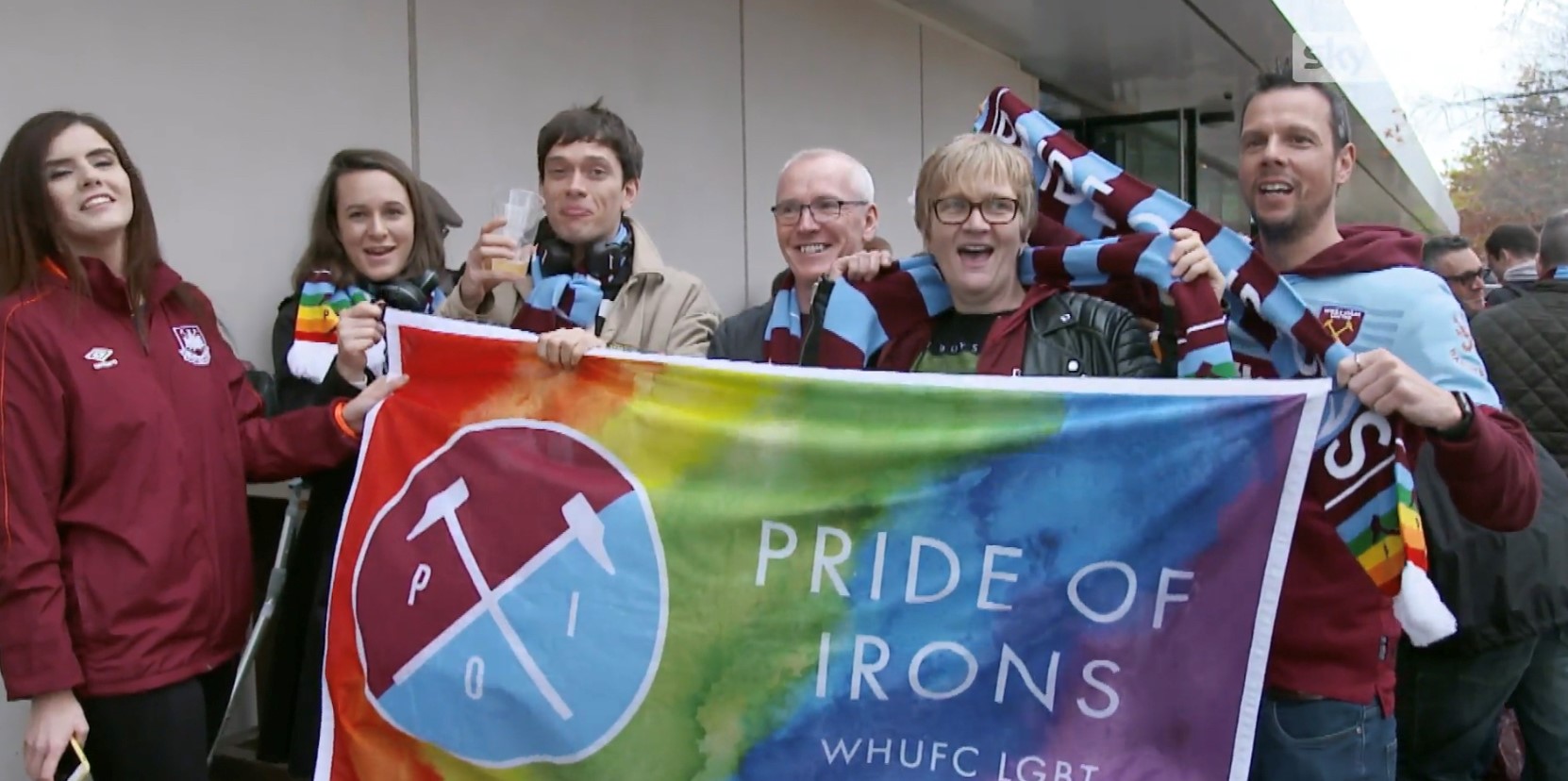 What has Pride of Irons come to mean to you both over that time?
Kez: For me, the importance of the group has changed over the six years. 
It started as a group of people who would meet up before and after a match, but the last year or so, it's become more than that for a lot of us.
Jo: It's so much more than a social group – it's about support, as well. 
During the very first part of lockdown back in March, when everyone was trying to figure out how to connect, we decided to hold a party over Zoom. As you can imagine, it didn't go well, with us trying to have the music in the background, all the WiFi delay and people trying to dance along! 
We just had fun. We had one every Friday night from then on, and it's now become a constant for all the West Ham United LGBTQ+ supporters. 
It opens at 8pm every single for Friday for people to pop in, whether they're newbies or not, or even just want to stay for five minutes. Over the year, we've had people working at home, alone, and it's become a solace for them – a bit of a constant every Friday night.
People even come along and have their dinner in front of us because they're just part of the family. Sometimes they just say 'hello' and that's it!
We also do a lot of work behind the scenes in other areas, such as education, but as most members see it, it's about being able to support one another. 
We have such a diverse group as well – all different characters having fun. We enjoyed our Zoom party so much that to bring more people in, we got in touch with another supporters' group, Any Old Irons, and have had some good fun with them on different nights as well. 
It's about connecting the LGBTQ+ community with our Allies and the wider West Ham United family.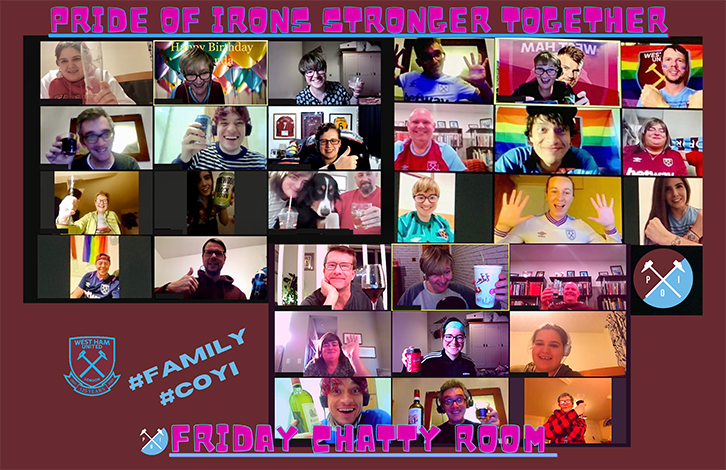 What's been your favourite Pride of Irons memory over the last six years?
Kez: My favourite memory was at an away game a few years ago.
We had one long row of Pride of Irons fans at this one away game, and we heard some stuff from some fans elsewhere in the stadium – stuff we didn't like, but have heard for years and years and have never faced up to.
On this particular occasion, we all called it out – together. 
It was such an amazing moment, and it's given me such power since then.
It's also LGBT+ History Month - for any supporters who aren't aware of its significance, why should they be?
Jo: Visibility is why it's there. It's more about young people, helping them to rise about adversity and help them be who they are. 
Football wasn't always a welcoming place. When I was around in the 1990s, there was so much inappropriate language, and it was just too much to take. There was that feeling of being uncomfortable or not being somewhere that you belonged.
It's really important to recognise the changes that have been made since then, but also to recognise that there's an awful lot of work to be done as well. 
It's about raising awareness and being aware of what's happened in the past to be able to move along in the future.
Kez: You're right that it's about thinking about young people. I know that people older than me have done a lot for me. 
Bringing it into football as well, I'm a primary school teacher, and if you get a class of Year Six boys and you're talking about football, suddenly you've got their attention! 
If you can then blend that into Pride of Irons, a football fan group who also happen to be LGBTQ+, it just opens up conversations that maybe, in years gone by, we wouldn't have been able to have. 
It's great to have that visibility in my workplace – that starting point, really.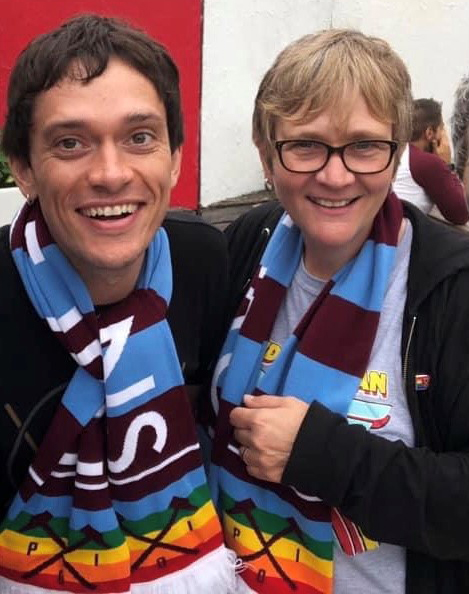 Pride of Irons turned six on Monday! How did the group celebrate that landmark?
Jo: Naturally, we just had a quiet one this year! There's so much we've been doing online anyway to try and stay visible, and there's so much activity going on with us for LGBTQ+ History Month. 
The committee had a celebratory Zoom call and raised a glass on there.

In celebration of LGBT+ History Month and Pride of Irons' birthday, the Club are raffling signed rainbow armbands worn by the players during the warm up ahead of the Manchester United fixture, with all proceeds going to akt, a homelessness charity supporting LBGTQ+ young people. To be in with a chance of winning one of the armbands, you can enter the raffle here. 
You can find more information on the raffle here. 
For more on Pride of Irons, and to get in contact with the group, head to prideofirons.com or @PrideofIrons.