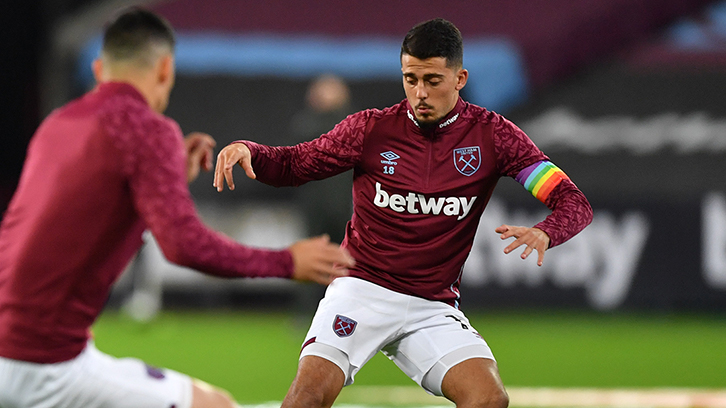 West Ham United first-team players have signed rainbow armbands which will be raffled off to raise money for charity.
Worn by the players in the warm-up to the Manchester United game on Saturday 5 December 2020, the Club's dedicated Rainbow Laces fixture, armbands have been signed and provided by Issa Diop, Pablo Fornals, Ben Johnson, Manuel Lanzini, Dave Martin, Angelo Ogbonna and Darren Randolph.
In celebration of LGBT History month and our own LGBTQ+ supporters group, Pride of Irons' sixth birthday today, the armbands will be randomly allocated to seven lucky supporters in the raffle, with tickets costing £5 each. 
Supporters can purchase as many tickets as they wish, with the raffle closing at 12pm on Monday 1 March. 
All proceeds will go to akt, an organisation committed to supporting LGBTQ+ young people aged 16-25 in the United Kingdom who are facing or experiencing homelessness or living in a hostile environment.
Coming out, or being outed as LGBTQ+, can lead to young people being made homeless. 24% of homeless young people identify as LGBTQ+. akt strives to prevent young people having to choose between a safe home and being who they are.
Money raised will help these young people to access specialist support, emergency accommodation and numerous opportunities to develop their skills and identify and achieve life goals. 
To purchase raffle tickets to win West Ham United players' signed armbands, with all the proceeds going to akt, click here.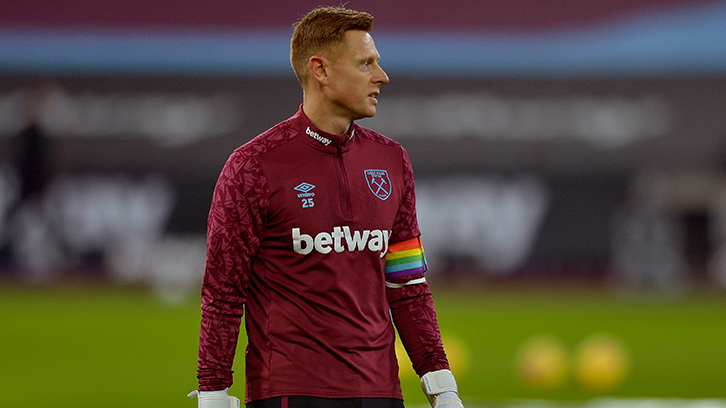 Celebrating its sixth birthday on Monday 15 February, Pride of Irons is the official West Ham United LGBT+ supporters' group, set up in order to give LGBT+ fans, their friends and families a voice and provide a sense of community on matchday and throughout the year. 
Despite lockdown restrictions preventing the group from regularly meeting up on game days, Pride of Irons have continued supporting one another via their active WhatsApp group, Zoom calls and, of course, lockdown quiz nights.
Jo Bailey, Co-Chair of Pride of Irons, said: "Every penny will really help a charity which, nowadays, needs that help more than ever. I was speechless when I saw the statistics.
"It's a really worthy cause, so thank you very much to West Ham United and the players for donating the armbands to us – it means so much, it really does – and thank you for your support."
Claire Linacre, Head of Data and Donor Engagement at akt, added: "As COVID-19 restrictions remain across the UK, we're seeing a really high number of LGBTQ+ young people needing support, either because they're homeless or because their living situation at home is becoming increasingly volatile.
"We're so grateful to West Ham United and Pride of Irons for supporting us with their fun and rainbow-themed raffle."
At West Ham, we pride ourselves on being an inclusive club where anyone, regardless of gender, age, race or sexual orientation can feel welcome and included and enjoy being part of the global West Ham family. Equality, diversity and inclusion sits firmly at the heart of our Club and we are committed to listening, educating, influencing and raising awareness.
We proudly collaborate with all of our supporter groups, to ensure that the needs of a diverse range of fans are considered across everything the club does.
Winners will be drawn at random and contacted before 5pm on Friday 5 March.