Foundation
How West Ham United have adapted their community work in 2020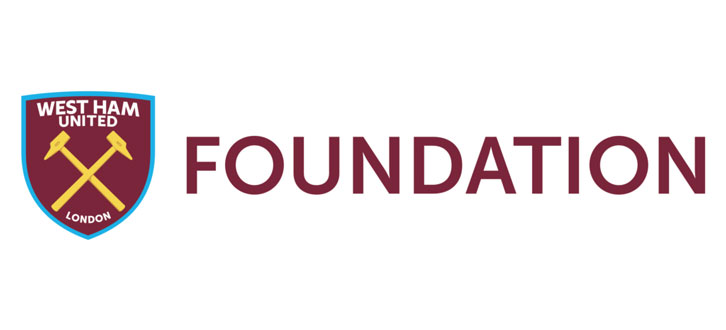 This year has been like no other with the world facing huge changes and new challenges as a result of the COVID-19 pandemic.
Throughout this time, West Ham United and its official charity, the West Ham United Foundation (WHUF), have continued their work to help thousands of individuals in the local community and seeing one of the busiest summers to date.
One year ago, the Foundation had just set their new five-year business plan, aimed at responding to local need, uniting the community and providing an environment where all can thrive. Shortly after, it would be tested in unforeseen ways with a pandemic declared, leading to their home Borough of Newham being named as one of the worst affected areas in the UK.
We've worked in new ways and some of these new practices will be permanently integrated into our strengthened delivery models moving forward; taking West Ham's community work to new heights

West Ham United Foundation CEO Joseph Lyons
The Club rapidly announced a pledge of support for local NHS Trusts across east London and Essex and committed to driving fundraising initiatives to help them deal with COVID-19.
The activities directly benefitted Barts Health NHS Trust and Barking, Havering and Redbridge University Hospitals NHS Trust. Each Trust received 500 replica home and away shirts, distributed to Hammers patients and staff, as well as signed shirts for auction and framed prints for both of the Trusts' hospitals, signed by the West Ham United first team. Players from both the men's and women's squads also made video calls to patients and doctors across the hospitals to boost morale at an extremely tough time.
As lockdown set in, West Ham United established an array of virtual engagement and partner support, such as: a range of volunteering, including production and delivery of parcels, Hammers at Home daily challenges, virtual Holiday Hammers camps, a virtual Claret and Blue Sports Day, educational tasks, fun quizzes, online workouts and challenges. Additionally, frameworks of support for all generations were established, incorporating the likes of friendly phone calls, newsletters, virtual group meetings and closed Facebook groups.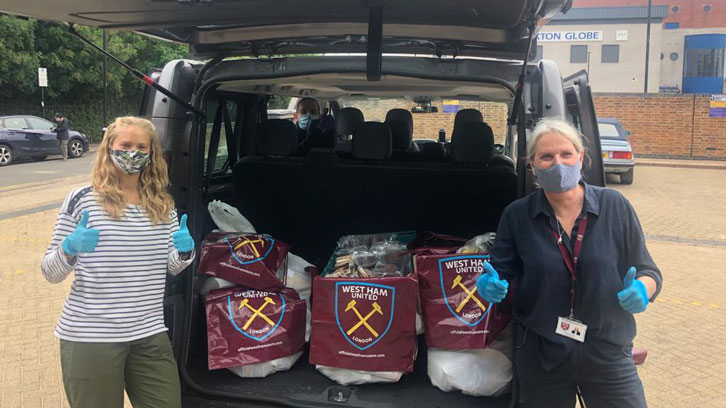 While this virtual outreach continued across the likes of the over-60s Any Old Irons scheme, the GP-referral 150Club, social mobility initiatives, higher education programmes and others, in the last 12 weeks as government restrictions began to lift the Foundation started to welcome a number of participants back to safe and secure face-to-face sessions.
At the forefront of initial outreach was partnership delivery with local councils, utilising physical activity to support the health and wellbeing of children. There were multi-sport sessions running across five parks in Newham, and in Tower Hamlets and Essex children received sports activities alongside a healthy lunch.   
Young players were able to lace-up again through some invite-only player pathway training sessions. Having been occupied by homebased technical, tactical and social engagement activities during the lockdown, the development sessions for eight to 16-year-olds saw an enthused return.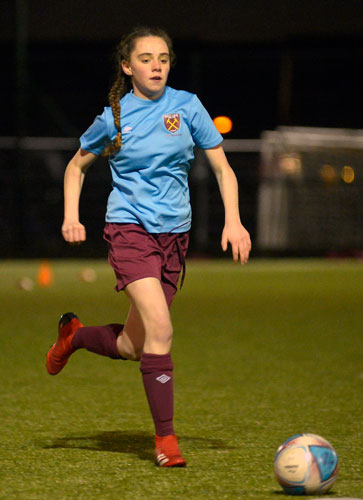 While the West Ham United women's team has gone from strength to strength, so too has the female element of this programme which is made up of four tiers; Skills Centre, Development Squad, Performance Squad and Academy Youth – the latter feeding into the professional women's squad. Recently there has been huge uptake with 250 girls now participating, and there are plans to expand the offering in 2021. 
Adding to this were the post-16 football groups including reigning quadruple champions, Second Chance Academy, who were thrilled to be back on the pitch preparing for the competitive season, joined thereafter by targeted youth engagement schemes, and a slower version of the game through the over-50s Walking Football.
A short distance from some of the Walking Football sessions at London Stadium's Community Track, the Foundation's Community department have been delivering interventions alongside the local Detached Youth Work Team. Staff have been attending the Queen Elizabeth Olympic Park weekly to speak with young people about the challenges they face; providing help and guidance, and signposting to appropriate local support services with the aim of curbing anti-social behaviour.
Meanwhile, other young people have been part of a socially distanced get together across east London and Essex for the first delivery period of the WHUF's National Citizen Service (NCS) programme, following its successful pilot last year. Thousands of young people across the country have been pledging their time as part of the NCS initiative to 'Keep Doing Good', with the aim of helping the country recover post Covid-19.
This two-week initiative saw young people volunteer over 16 hours each in their local community, working with organisations such as Age UK, Caritas Anchor House and local foodbanks including Newham and Thurrock. Additionally, in some of the sessions, participants developed other skillsets to work together to plan and lead on a social action project, raising funds for those in need. 
Connor Natella, NCS Manager at the Foundation has enjoyed watching the participants help kick-start the local community into a post-lockdown recovery, saying: "It's been great to see young people really throw themselves into helping the community. By being part of the Foundation and working with its partners, they've been able to see how the third sector is operating in these difficult times and the importance of people coming together to help – creating a deeper understanding all-round. 
"Although it isn't the project we had planned at the start of the year, the adapted scheme has been incredibly positive and, ultimately, we're trying to broaden young people's horizons and help to establish them as well-rounded conscientious individuals with tools to fulfil their potential, and that's been brought to life in the last few weeks."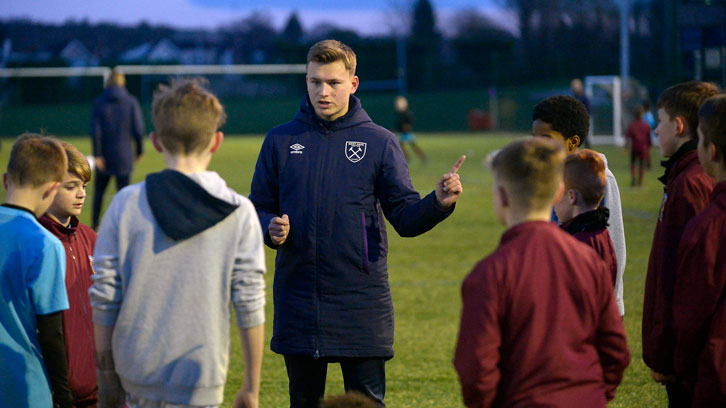 As schools return and we head into autumn, things are only getting busier for the Hammers; the men's Premier League and Women's Super League and have begun and in the areas surrounding their home stadiums community outreach is continuing to excel despite the changing restrictions.
Coinciding with this, the Foundation launched their redeveloped website – offering a fresh, user-friendly, informative platform which details the charity's efforts and impact.
Speaking about the Club's community work in 2020, Joseph Lyons, the West Ham United Foundation CEO said: "While we couldn't have anticipated what's occurred over the last few months, I've been extremely proud of everything we have achieved. We've worked in new ways and some of these new practices will be permanently integrated into our strengthened delivery models moving forward; taking West Ham's community work to new heights.
"Supporting our ongoing efforts is our newly developed website which reinforces the tremendous growth and progress that has been made in recent years and we hope this leads to even more engagement."