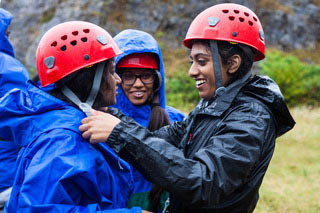 The West Ham United Foundation is excited to launch the delivery of the National Citizen Service (NCS) programme for Summer 2020, after a successful pilot last year.
The Foundation joins 65 delivery partners across the country, with NCS becoming one of the fastest growing youth programmes, engaging 500,000 young people since it began in 2009. This partnership will see the Foundation young people aged 16 and 17, by delivering the four-week programme funded by the Government. 
In Summer 2020, the West Ham United Foundation will offer the NCS experience to over 500 young people from across east London and Essex. There are multiple start dates across the summer to suit all schedules, with participants able to sign up with their mates or go it alone. The initiative offers opportunities to socialise with a new mix of people and take on fresh challenges together whilst supporting each other. 
The first week of the project consists of the away residential; taking participants to the Dorset coast. This involves a week packed full of activities such as rock climbing, coasteering, abseiling and much more. It's designed to take young people out of their comfort zone and show them just how much they can do when challenged! 
Week two involves participants staying at University halls, having to cook for themselves, set flat rules and experience a taste of what it's like to be at University. On the last night of this week there is a 'Come Dine with Me' challenge, with NCS Staff Members rating each flat on cooking and entertainment, with a prize for the winning team. 
Along the way, participants get a taste for independence, and pick up skills that will help support any future ambitions, careers or goals. From the residential activities in week one, to university life and professional workshops in week two, to finally developing and designing a community project.
After completing the four-week programme NCS graduates will have the opportunity to be part of their local, regional and national youth boards - getting their voice heard in how NCS is run for future generations. As part of this Staff Members will support graduates to continue their social action journey and previous graduates have even visited parliament to talk about the issues they have tackled.
The Foundation's NCS Manager, Connor Natella, is excited to see the first of the cohorts begin in June, stating: "The NCS programme offers participants the chance to try so many new experiences, which can impact their life for the better. Taking part in a programme like NCS means young people can have more confidence when deciding what path they want to take and gives them more self-belief when moving away from home for University or work, which can be a daunting prospect for everyone.
"The best thing about NCS is the people you meet along the way and I'm excited to see so many new friendships begin."
You can secure your place by going to www.wearencs.com, or by emailing [email protected]