Interviews
David Moyes: The back three, keeping clean sheets, scoring goals and seeking consistency
West Ham United manager David Moyes has been on the training pitch this week, preparing his players for Sunday's return to Premier League action at Tottenham Hotspur. 
In the second part of an exclusive interview with West Ham TV, the manager reflected on a successful switch to a back three, discussed the challenge of beating the Premier League's top teams and finding a consistently high level of performance.
You can also watch Part One of the manager's interview here.
A tactical switch to three centre-backs has worked well for us in our recent Premier League matches.
We had done it before, but I felt that going into the games against Arsenal, who had played a similar system, who had changed to three at the back, and I knew that we also had Wolves coming up who'd played it. We had played them just after lockdown and lost in our first game back, and I just felt that we just didn't seem to do quite well enough.
It had been in my mind that we would have to change it. It felt as if that would be the way we would go. What it's done for us is given us something slightly different at the moment.
I knew we were capable of changing that way we had, but I think the performance against Arsenal gave us a lot of encouragement, and what came from that were good results against Wolves and Leicester.
Keeping back-to-back clean sheets in our last two Premier League matches was very pleasing.
We have to improve on our defensive record and it's something I hope: that all my teams are hard to beat and hard to play against. It's a big plus. 
I think we're seeing some really good form from some of the defenders at the moment, and no more so than probably Angelo [Ogbonna]. Getting himself a return to the Italian national team gives you an idea that he's getting recognised for his performances at West Ham.
It was also pleasing to see the team score seven goals in those two matches.
I think at the moment the biggest thing I would say is the amount of opportunities we're making, the chances we're making. I don't think anybody would be disagreeing if we said that against Wolves we could have scored more goals, and against Leicester we had other opportunities as well.
We know that it won't always be that way, but I'm really pleased. We look as if we're a threat. We've found a bit of a balance.
Michail Antonio is playing like a really experienced centre-forward now. We know about his power and strength, but he's also doing an awful lot of good things linking the play up.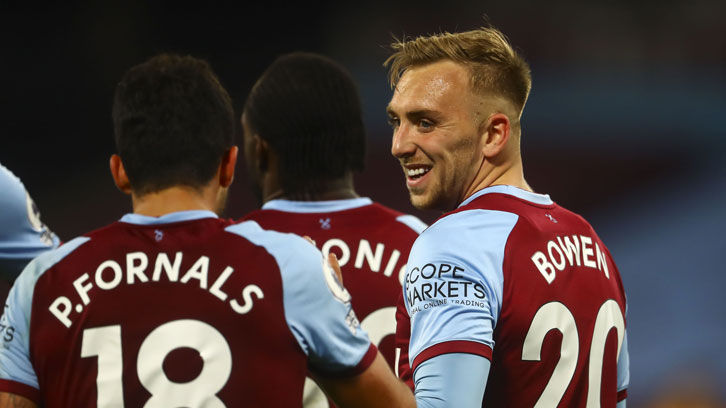 I think at the start of this run of games we were always a bit wary about what they were going to look like, but I always knew we had it in us to beat them.
We showed it at the end of last season: we beat Chelsea, we went up to Old Trafford and got a really good draw, so we've had some really good results. I think we've done it again, but probably, even after Wolves and Leicester, who are really top teams, I think we're going into another period.
Tottenham are very much a form team, then after that we've got Manchester City and Liverpool. We know how hard they're going to be – we're not daft – but I think we're also feeling that we've got a different feel about us.
Opportunities, if we can take them, and if we can defend well enough, we'll give ourselves a great chance of winning.
Our biggest focus now, one hundred per cent, is to try and make sure that we get consistency and get a level, and that's why we were really low after the first game of the season: because we hadn't seen that. 
We had played so well at the end of lockdown. We felt good in pre-season, where games, where performances, were good, but I think we're back on it. 
I think we just had a bit of a slow start, but we're on it now and hopefully with the levels the players are showing, we can keep that up.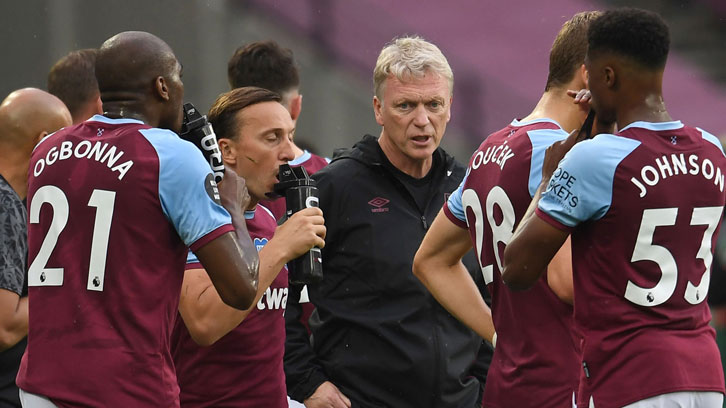 I think they West Ham United fans be enjoying what they're seeing. I think they'll have seen the goals, and we're winning good games.
To go to Leicester and win 3-0 and not have any away supporters there… my great memory of going to Leicester was when we stayed up when I was here before. We won at Leicester and the away support was fantastic that day, and we had a great bus journey back. Those sorts of things are things which stick with you.
I think just not having them at the stadium. At the Stadium, we've brought the ends in so we're hoping that helps the atmosphere behind the goals. I think the team's exciting at the moment. I think the supporters are seeing something beginning to form. 
I hope to build on it. I want to get it better. It's not easy to do it. I only came in in January. We've had a bit of this window which has been a bit strange, this transfer window, and everybody knows we've not had bundles of cash to spend, so we're having to try and take it step-by-step. 
I'm going to keep repeating myself here: we're not going to promise everybody the world, but we're going to try and deliver much more than we've done.