Academy
Dmitri Halajko: We must learn to execute big moments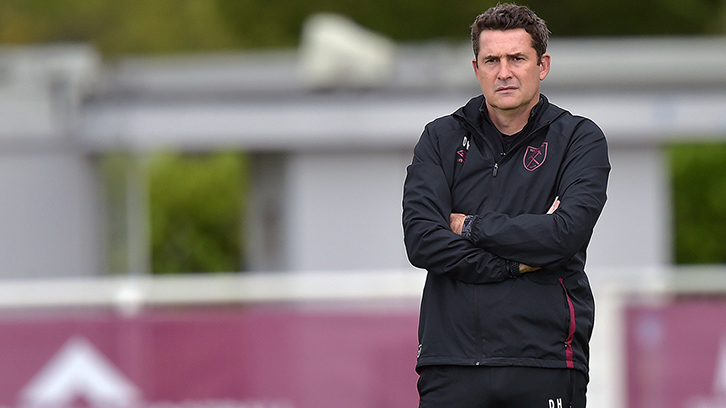 West Ham United Under-23s lead coach Dmitri Halajko admitted his players were 'frustrated' and 'disappointed' to see another Premier League 2 game slip by on Saturday afternoon, but backs them to turn around their league form.
The Irons' display against Brighton & Hove Albion was once again largely encouraging, which Halajko praised, but a late lapse in concentration allowed visiting winger Jose Izquierdo to plunder an 87th-minute winner.
Prior to that, the Hammers had enjoyed much the better of the chances, recovering from an early goal to lead 2-1 in the first half via a tap-in from Mesaque Dju and a penalty converted by Conor Coventry.
A freak West Ham own goal left the scorelines level at half-time, but Halajko's team continued to improve in the second half, attacking with intent and coming close on numerous occasions, only to slip to defeat via Izquiero's late lob.
"I think frustrated and disappointed are the two biggest words that I would use for them," Halajko said of his players. "They're really down because they know they've let another game slip through their fingers, which they should have put to bed. 
"Playing well and losing isn't a good habit to come by at this stage in their development. It's not too bad when you're younger, but these lads are now trying to push on into the first-team. They need to be able to both play well and execute the big moments that win games.
"It's another opportunity lost in terms of the result. However, we've created enough chances to win the game – but we've given away sloppy goals. 
"For large parts of the game we were better than them and played some good football, but then to give sloppy goals away and not take our chances is really frustrating. 
"It was a frustrating day in terms of the result, but with some encouraging moments in the performance."
The result leaves West Ham with just a sole point from their opening four Premier League 2 games this season, a tally which does not reflect the balance of their performances so far.
Nevertheless, with a two-week international between September's busy fixture programme and the Hammers' next match – at home to Blackburn Rovers on Friday 23 October – Halajko knows his players will put in the hard work necessary to recover and improve.
He explained: "I think it will start on the training pitch and in the analysis room. 
"We know the areas we need to get better at, we just haven't executed them yet, so it's not a factor of not knowing – the players and staff know the areas we need to improve on to convert these almost-chances into goals. 
"However, executing it in the big moments is just where we're currently falling short."