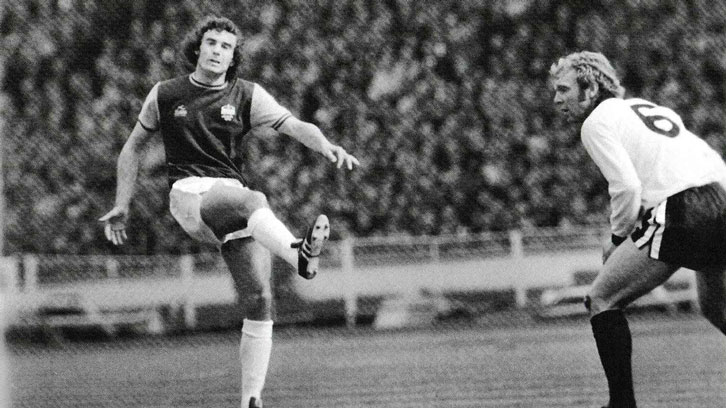 Capped 47 times by England, five-time Hammer of the Year Sir Trevor Brooking made 647 appearances in the Claret and Blue, scoring 102 goals, including his unforgettable match-winning header against Arsenal in the 1980 FA Cup final.
Today, he turns 72, and to celebrate his birthday he looks back on his favourite moments in Claret and Blue!
Come in number four!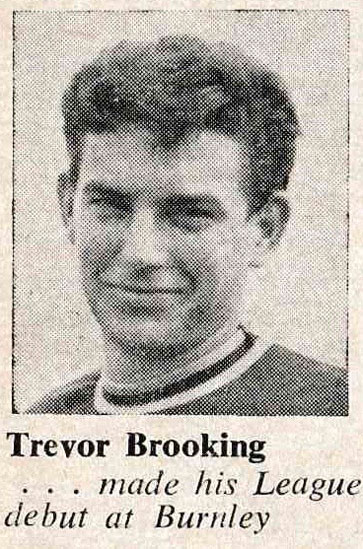 No West Ham United fan of my era will ever forget that golden period during the 1960s, when we won the FA Cup and European Cup Winners' Cup before Bobby Moore, Geoff Hurst and Martin Peters played their massive part in England's 1966 World Cup victory.
Barking-born, I'd been hoping to sign for my local team but while a dozen or so clubs showed interest, West Ham weren't on that list. That changed, when Ilford Boys played Oxford Boys in the English Schools Trophy.
The club's renowned chief scout – Wally St. Pier – brought manager Ron Greenwood along to watch other two players he wanted to sign. Oxford won 3-2 but I had a decent game leaving Ron asking: 'Why haven't we seen Ilford's number four?' That was me. And the following morning, Wally knocked on our front door. 'What took you so long?' asked my Mum, Margaret, in her usual forthright way!
Ron let me stay at Ilford County High School to take my GCE examinations and, after signing in July 1965, I soon saw the stark highs and lows of football.
Six weeks after being our goal-scoring hero in the Cup Winners' Cup final – with the lads messing around playing cricket at Chadwell Heath – Alan Sealey broke his leg tripping over a school PE bench set down for the team photo. Poor 'Sammy' played just four more games – it was a huge reality check.
On 29 August 1967, I made my own league debut for the Hammers in our 3-3 draw at Burnley, where Bobby, Geoff and Martin fittingly scored our goals.
East End ecstacy!
A massive influence, Ron inspired us to practice, get side-ways onto the ball and he'd always urge: 'Have the pictures in your mind'.
We were European-like in the way we tried to pass our way around the pitch but didn't always do that well in the league.
Certainly, there were few expectations for our 1974/75 campaign, when we only won once in our opening eight matches. The turning point came when John Lyall signed Billy Jennings, Keith Robson and Alan 'Sparrow' Taylor and we started scoring.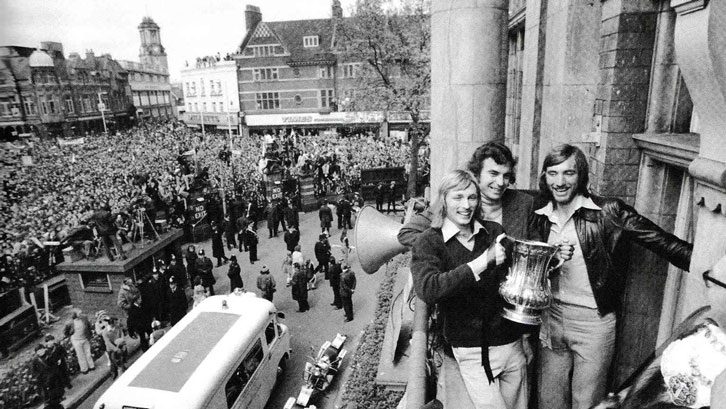 Our all-English team found itself on an FA Cup run that saw us beat Southampton, Swindon Town and Queens Park Rangers on the way to a sixth-round tie at muddy Highbury, where Sparrow scored two goals on his debut to beat Arsenal.
We then met a very good Ipswich Town side in the semi-finals, where we had to dig deep against the favourites, who we took to a replay at Stamford Bridge. 
Alan again scored twice in our 2-1 win and it was weird to find myself facing Bobby Moore's Fulham in my first-ever final.
Sparrow was on a magical run and it was a great to see him bag yet another two goals to get us over the line in front of 100,000 people at Wembley Stadium and a world-wide TV audience.
It was an exciting period for the club and a truly great occasion for our supporters, who then turned out for our open-top bus victory parade. Seeing 250,000 people pouring out onto the East End streets to welcome us home was a sight I'll never forget.  
Muddy marvels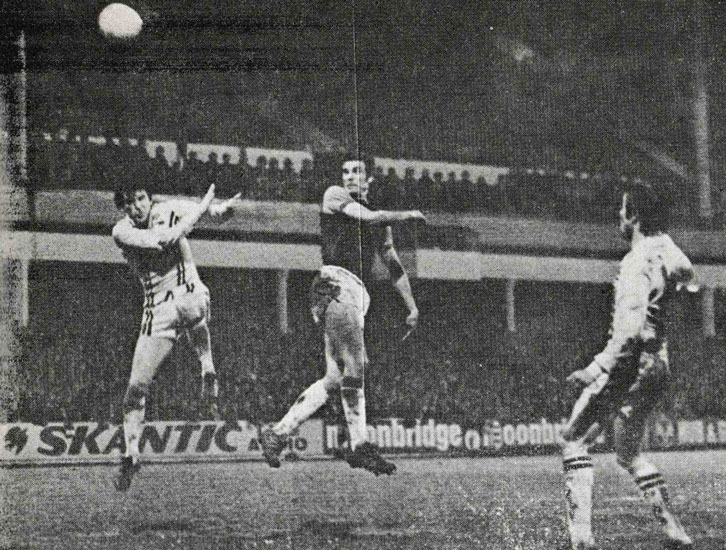 None of us had experienced European football but that FA Cup win meant Cup Winners' Cup qualification.
After progressing to the quarter-finals, gut rot meant I missed the away leg at Den Haag, where we were 4-0 down at half-time. Listening on the radio, it seemed all over, but Billy Jennings got two vital away goals and, in an Upton Park roller-coaster, we won 3-1 before meeting favourites, Eintracht Frankfurt in the semi-finals.
Graham Paddon scored another priceless away goal in our 2-1 defeat in Germany to set up one of the Boleyn Ground's all-time great matches.
It'd been raining all day on 14 April 1976, the pitch was skiddy and slippery and the crowd of 39,202 created an awesome atmosphere – the best I'd ever experienced.
The entire Chicken Run moved as our supporters sang 'Bubbles'… you could've shaken hands with the front row!
It was goalless at half-time but, on 49 minutes, I proved I could score headers (!) when I nodded home Frank Lampard's cross.
Then, I sent Keith Robson clear across the mud and he doubled the lead with a fantastic 25-yarder. I was chuffed for 'Robbo' because he'd been an important part of our 1975 FA Cup run prior to getting injured for the final.
With the ball zipping across the surface all night, conditions were perfect for me and, with a quarter-hour left, I wrong-footed their defence to put us 3-0 ahead.
Klaus Beverungen set alarm bells ringing, when he pulled one back late-on but we held on to go through 4-3 on aggregate and meet Anderlecht in the final.
Heading for the cup
Frank Lampard's unforgettable diving header against Everton in extra-time meant that we were in the 1980 FA Cup final.
He probably regrets his famous jig around the Elland Road corner flag to this day but that semi-final replay victory meant we'd beaten three top-flight teams, having also got past West Bromwich Albion and Aston Villa.
Despite being second-tier underdogs, we felt confident going into the final against Arsenal. And the 13th-minute proved lucky for me when Stuart Pearson struck Alan Devonshire's cross back across goal, where I diverted my stooping header past Pat Jennings.
Contrary to popular belief, there were a few headers in the 102 goals I scored!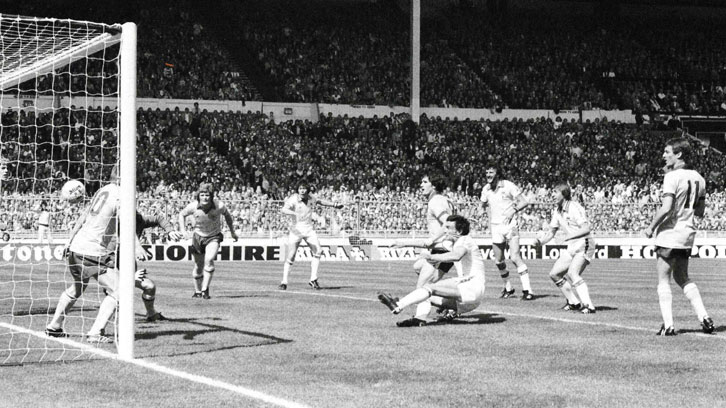 There was a long way to go but none of us thought we'd lose from that point onwards. With Phil Parkes in goal and our back-four comprising 'Tonka' Stewart, Frank, Alvin Martin and my minder Billy Bonds, it was the best defence I'd played in front of during my time at West Ham, while there was a fine mix of youth and experience across the rest of the team.
The final whistle signalled pure excitement, but I just didn't appreciate how significant my winning header would become over the next 40 years.
We're the last team from outside the top-flight to win the FA Cup and - forgiving Tonka for being Scottish – were an all-British team, too. Hammers fans, taxi drivers, Arsenal supporters… not one week goes by without mention of that header – a constant reminder of the enormity of what it means to everyone.
Saturday 10 May 1980 was a very special day, indeed.
Loyal Lion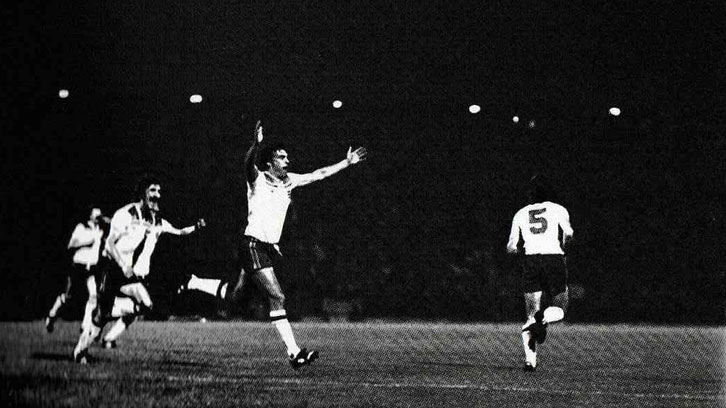 'Play well and you'll be fine,' said now England manager, Ron Greenwood after I'd voiced concern about my England future following West Ham's relegation in 1978.
Flying to Hungary in June 1981, England's World Cup hopes were in jeopardy. The press criticised Ron for playing a 'Dad's Army' in Budapest but I scored two goals in our 3-1 victory, including my 18-yarder that memorably lodged in the stanchion.
Those same journalists were now all smiles and handshakes with one paper giving me 10/10!
Flying home the next morning, our plane arrived carrying first editions of the Sunday newspapers, all printed beforehand and featuring huge crosses through photographs of us old 'uns.
Embarrassed, the press pack hid quietly at the back of the plane, while we were at the front persuading Ron to remain as manager.
Having qualified for my only World Cup finals, a groin injury meant that Spain '82 was massively disappointing and I only managed a substitute appearance – my 47th and final cap – in our last second group stage game against the hosts. Our goalless draw eliminated us despite being unbeaten in all five matches.
Later, I'd work at the Football Association, where my experiences on-and-off the pitch at West Ham helped in the quest to improve our nation's development and coaching.
We believed we could change things. And we did. Hopefully, opportunity will knock for Gareth Southgate and England. 1966 was a long time ago. 
From Directors Box to dugout!
On Easter Monday 2003, the Hammers beat Middlesbrough to keep their slim survival hopes alive. I'd said goodbye to Glenn Roeder before driving home and then getting the call that he'd been rushed to hospital with a brain tumour.
Two days later, the phone rang again – my fellow directors wanted me to come in and discuss our situation. A committee of senior players – Messrs Dailly, James, Lomas, Sinclair and Ferdinand – had mentioned Muggins here as a possible caretaker manager for our final three matches!
They'd hoped that I could get Paolo Di Canio – unavailable for the previous eight games – playing again but he told me he wasn't fit enough to go to Kevin Keegan's Manchester City, where it remained goalless at the break.
In my wisdom, I brought on Fredi Kanouté for Edouard Cissé, who didn't take kindly to his half-time bath. But going with my 4-3-3 formation, Fredi got a late winner and the mood changed.
I reckoned I'd be first at Chadwell Heath the next morning but, upon arriving, a car was already parked.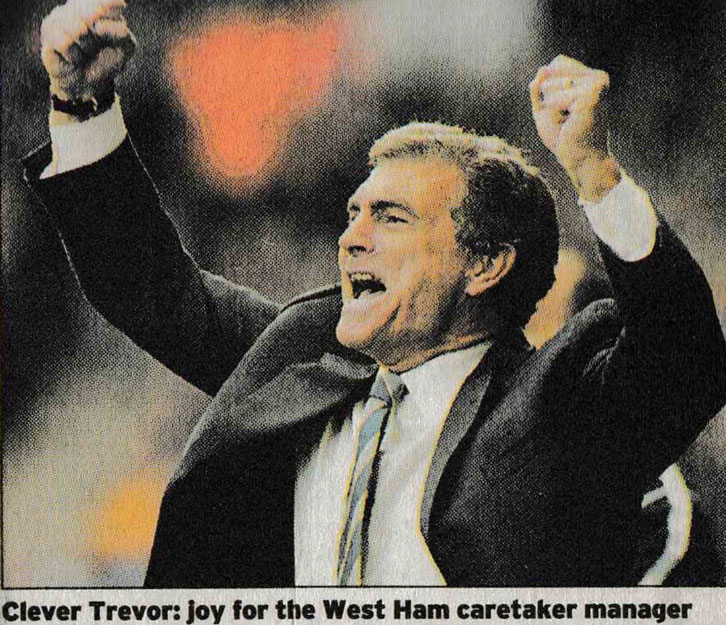 Miraculously, Paolo was fit again and the script was written, when he stepped from the bench to score the winner against Chelsea in our penultimate match. 'Why are they down where they are?' asked Blues' manager Claudio Ranieri graciously in defeat.  'A long story!' I replied.
Sadly, we'd left it too late and our 2-2 draw at Birmingham on the final day was not enough to keep us up.
I promised my wife Hilkka that I'd never take the job long-term but it'd certainly been an exhilarating, interesting, eye-opening three weeks.