West Ham Tv
Inside Irons: James Collins on double-signings, champagne at Old Trafford, and 'superb' Angelo Ogbonna

Two hundred and fourteen West Ham United appearances. Nine goals, across two spells in Claret and Blue. 
There's only one 'Ginger Pele'. 
West Ham United legend James Collins could only dream of the career he would have in east London when he, and best mate Danny Gabbidon, made the move from Cardiff to the Irons in 2005. 
Speaking on West Ham TV's popular Inside Irons series, the former centre-back admitted he still cannot get his head around how the side were able to strike a deal to sign both Gabbidon and himself. 
"Looking back, it was a mad time," the 37-year-old said. "We played for Cardiff against West Ham the season before, in the Championship, and beat them 4-1. Gabs was unbelievable that night and I did alright next to him, and then there were whispers it was going to happen. 
"We got told at Cardiff that we weren't leaving, so we were concentrating on pre-season. Then this bid came – I think Alan Pardew stumped up about £5 million for the pair of us - and I remember driving around the M25 with Gabs thinking: 'Is this really happening?'. 
"Going into the Premier League with my best mate, we couldn't believe it. It was all done together. Our medicals were together. We met the manager together, at the same time. It was like being with my wife!"
It was all done together. Our medicals were together. We met the manager together, at the same time. It was like being with my wife!

James Collins
The former Wales international played in some truly historic matches for West Ham United during his near-decade in Claret and Blue, over two stints with the Club. For 'Ginge', though, the stand-out memory comes from May 2007, when the Hammers secured their Premier League status with a 1-0 win at Manchester United.
On a day where the Red Devils were also crowned Premier League champions, Collins revealed he used his connections with international colleague – and Manchester United winger Ryan Giggs – to secure some post-match bubbly. 
"The last ten games of that 2006/07 season were when I probably played my best games I've ever played," he reflected.  "Carlos [Tevez] gets all the credit for the goals but I think we kept five or six clean-sheets in those last nine games.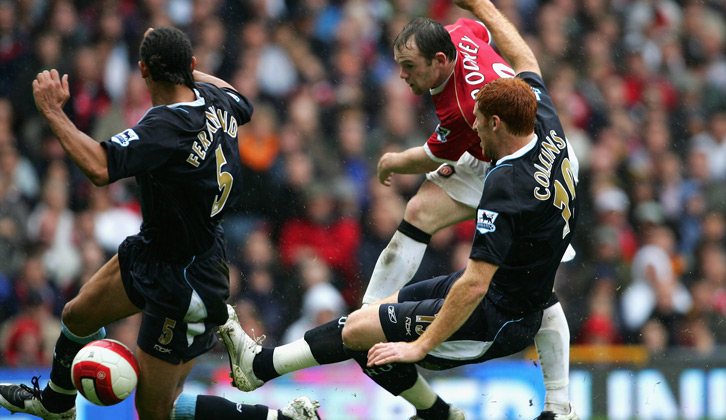 "That game, at Old Trafford in 2007, the last game of the season, is the one I enjoyed the most in my West Ham career. It's probably for all the wrong reasons, because it was a 'must-win', but the feeling afterwards, winning and with what we'd achieved, that stands out more than anything. 
"We were 1-0 up, I was blowing, and it was about 65 minutes in, and we were under the cosh. I looked across and Manchester United were making a treble sub; Cristiano Ronaldo, Ryan Giggs and Paul Scholes. I looked over at Anton Ferdinand and we knew we were in for a long 25-30 minutes. We got our second wind and held on for the 1-0. 
"Man Utd had won the league so they had bottles of champagne with the word 'Champions' on. Obviously, I played with Ryan Giggs for Wales, so I went up to Giggsy and said 'Giggsy, we've just stayed up. Any chance I can nick a bottle of champagne?' 
"I remember sitting in the away dressing room at Old Trafford, having just stayed up by the skin of our teeth, with a bottle of 'Champions' champagne!"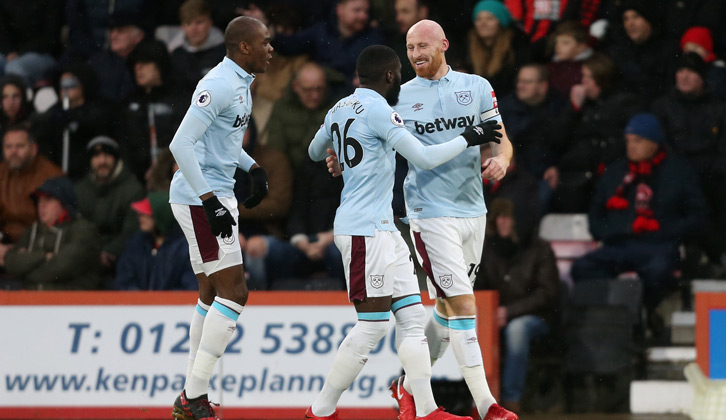 West Ham's early-season form this campaign has impressed Collins. With just six goals conceded in the last seven games, the former defender pointed out the efforts of one of his old teammates, Angelo Ogbonna, as outstanding since the start of the season. 
Collins also praised the impact of manager David Moyes, having briefly played under him during the boss' first spell in charge. 
"I think we've been excellent," he added. "I think David Moyes deserves massive credit. We look at lot more organised at the back. We don't look like conceding too many goals. I think Angelo Ogbonna has been phenomenal, and all the boys know their jobs and, knowing the manager, if they don't do it then they won't play. 
"I think Angelo has been superb. He seems to have taken on the role of main man; he's the main centre-back there and I think he's performing consistently well. He's always been a good centre-half but he's one of the best in the league at the minute."
Click here to watch the full episode of Inside Irons, featuring a fan Q&A with James Collins, Lukasz Fabianski looks ahead to Monday's match against Aston Villa, Carlton Cole, and much more!