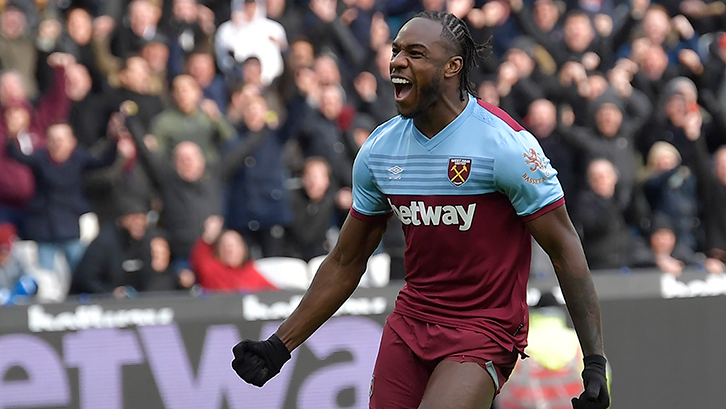 Even in difficult times, laughter can be irresistible – and laughter is exactly what Michail Antonio's been bringing to his home and West Ham United supporters alike this week!
The popular No30, whose pace, power, predatory instincts in front of goal – not to mention perfectly choreographed celebrations – have brought smiles to Hammers on the pitch for almost five seasons now, has continued to do so even amidst the recent COVID-19 outbreak.
From hilarious social media posts to the sheer entertainment of his recent FIFA match with Tottenham's Ryan Sessegnon – as well as kicking off our #HammersAtHome daily challenges – Antonio's character has continued to shine.
 
It's just about trying to find other things to do. Read a book, set yourself little tasks each day. Just try and think of crazy things to do

Michail Antonio

And it's such zest and zeal which, as he celebrates turning 30 today (Saturday), Antonio hopes will inspire supporters who are self-isolating at home.
"Exercise [during self-isolation] has helped me. Spending loads of time with the family… but obviously time with the family does get annoying as well!" he laughed, speaking on a video call with BBC MOTDx presenter Reece Parkinson.
"It's just about trying to find other things to do. Read a book, set yourself little tasks each day. Just try and think of crazy things to do. 
"My missus is already getting annoyed at me because when I get bored, what I try and do is play tricks on her and things like that!"
 

With it being a full fortnight since professional football was suspended across the country, Antonio and his youngsters have settled into a routine they all enjoy.
Doing so safely, and in accordance with government guidance, Antonio explained how the whole family is keeping sharp and ready to return to action when required.
"[I do] the same things every day," he explained. "I get up in the mornings – my kids are away from school, so we've got our homeschooling going on. We do that from nine to one.
"I've been going and doing runs, but obviously when I'm doing the runs I'm making sure I'm staying two metres away from people. I go out, do my run for an hour, come back in, and that's the only time I leave my house.
"My kids have been doing that Joe Wicks P.E. thing in the morning! They've been trying to get me to do it – I'm like 'nah, I'm saving my energy for when I'm doing my run' – and then I go upstairs, do a bit of a steam, shower, nap, and then I'll be playing with the kids afterwards."
With all fixtures currently suspended until 30 April, Antonio is confident that – upon resumption of fixtures – the Hammers are in good shape to further their recent momentum.
"For West Ham, obviously, we've started picking up form in the last three or four games. As long as we keep ourselves fit, we can keep pushing on," he said.
As for the aforementioned FIFA match – which ended in a 2-0 loss Sessegnon's Spurs, who stuck twice midway through the first half – Antonio was magnanimous in defeat.
"I obviously thought I was a decent player!" he laughed. "Even though I didn't really play it much, I thought I was a decent player, I could call out anyone, and I'd just beat them.
"So I was like, 'you know what? We were meant to play Tottenham. Obviously it'd been cancelled. We'll bring it online!' We went online and, to be fair, the boy [Sessegnon] played well. The boy played well."
With the online game – which you can rewatch here – witnessed live by thousands of supporters, the forward followed through on the pre-agreed forfeit of wearing a Tottenham shirt – but cleverly sported a West Ham kit beneath it for protection!
He revealed: "Obviously, it touched me when I took it off, it had to go over my hands, but I can wash my hands!"