Club
Win rewards with our #HammersAtHome daily challenges!
Calling all young West Ham United fans!
We want you to show off your skills and creativity by taking on our new #HammersAtHome daily challenges, with the chance to win special Claret and Blue-themed rewards!
The daily challenges form part of #HammersAtHome – a new online community initiative offering support, assistance and regular interaction with the Club's fans during this uniquely challenging and unprecedented time.
With the coronavirus (COVID-19) outbreak meaning many children are now at home, we want our #HammersAtHome challenges to act as a motivation for schoolwork and rewarding youngsters' efforts.
Our challenges, which will be announced on whufc.com and the Club's social media channels at 11am each and every weekday in term time, could be physical football or other sports-related exercises, or creative literacy or numeracy-based tasks, or something completely different!
To kick-off, we are looking for you to show us your best piece of work or demonstrate your best PE activity that you completed in the last week, but with a twist at the end – Michail Antonio wants to see your best celebration!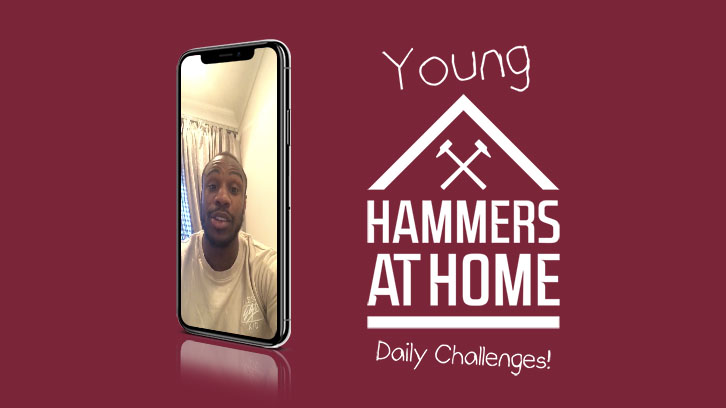 "Many of us are parents and we want to support the tremendous effort of our teachers, parents and carers at this time by giving children daily challenges to keep their minds and bodies occupied," said Antonio, who marks every goal he scores with a creative and unique celebration.
"At this time, it is important that we continue to stick together and support one another in any way we can so I made my challenge a nice intro into the challenges ahead.
"You need to come up with your best celebration and I will be looking for the most energic and creative, but I also want to see the achievement you are celebrating, so first I want to see evidence of the best activity you did to keep up with your school or your fitness work.
"A lot of the lads and staff here have kids at home too and we're all looking for the best ideas to stay on top of their learning and hoping we can support with a few ideas too."
Young Hammers have until 3pm on Saturday 28 March to send us your videos via social media using the hashtag #HammersAtHome or via email to HammersChallenges@westhamunited.co.uk, with the winner being selected by Antonio and taking on the popular No30 at FIFA20 this weekend!Keep an eye out for our daily challenges at 11am every Monday-Friday and, who knows, you could win a Claret and Blue reward!