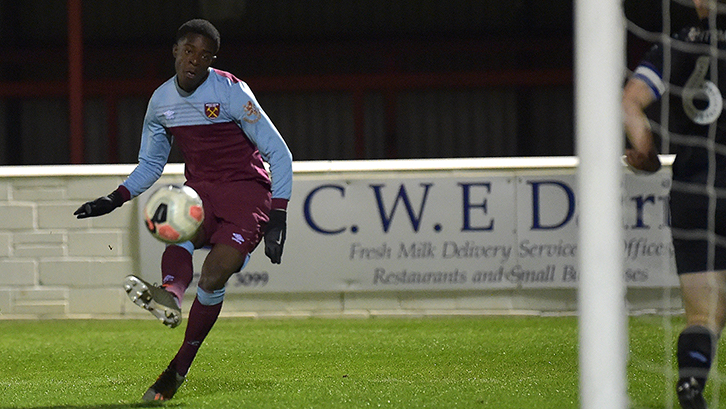 Four minutes, one chance, one goal - it didn't take Ademipo Odubeko long to introduce himself to Premier League 2 football.
But the softly spoken, steely focused 'Mipo' was merely doing what he does best: putting the ball in the back of the net.
The 17-year-old made an instant impact when he emerged from the bench after 70 minutes of West Ham U23s' 4-0 win over Norwich City at Dagenham & Redbridge's Chigwell Construction Stadium on Monday 2 March.
 
The Hammers were 2-0 up at that point, having fended off waves of the Canaries' pressure and struck through skilful finishes from Oladapo Afolayan and Amadou Diallo – half-chances, at best, but ones which both forwards had made count.
It seemed fitting, therefore, that Odubeko would follow suit.
"I was talking to myself on bench beforehand, saying 'you've got to come on tonight, and when you do, you've got to score,'" he recalled.
"I just saw the ball played in behind, and any time it goes in behind, I try to run onto it. I was outside the box, but my instinct told me just to chip the keeper, and it went over him and in. I turned around thinking 'am I offside?' but the linesman didn't call it, so I just celebrated the goal!
"I've stayed patient and when I got my opportunity, I took it, so I'm thankful."
A fittingly instinctive finish; if there were one word to describe Odubeko, 'instinctive' would most likely be it.
 

Born and raised near Dublin in the Republic of Ireland, the teenager's fledgling career has seen him transition from the Emerald Isle to the East End of London, via Manchester.
Odubeko spent his formative schoolboy years at Manchester United, making his U18s debut for the Red Devils last February. Lining up against Blackburn Rovers, it was an occasion which the then-16-year-old marked – unsurprisingly – with a goal.
 
I've found the move easier than I thought I would, just because I was just straight back in, playing and scoring goals again, so I've been really happy here

Ademipo Odubeko

The teenager had also previously led the line for Republic of Ireland's U16s side in their successful 2017 Victory Shield campaign, and went on to debut for the U17s last season.
After departing Manchester United last summer to take the next step in his journey, the chance to further himself at the Academy of Football proved too good to resist for Odubeko, who put pen to paper with West Ham United in October 2019. 
"It's been fantastic so far," he smiled. "Everyone's been so welcoming and everyone's looked after me.
"Obviously it's a whole different city and a whole different set-up, but West Ham have made me feel at home. In training spirits have always been high and everyone's always pushing to get better.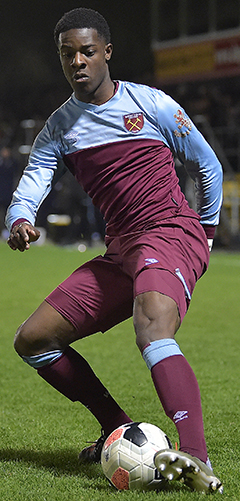 "I've found the move easier than I thought I would, just because I was just straight back in, playing and scoring goals again, so I've been really happy here."
After an initial spell acclimatising to his new surroundings and getting his fitness back up to speed, Odubeko made his U18 Premier League South debut for Kevin Keen's team at Swansea in November.
It was of little surprise, therefore, that just ten minutes into the match, Odubeko's name was on the scoresheet.
The 17-year-old collected Lennon Peake's through-pass and, utilising his signature pace and power to shrug off a challenge, fired into the bottom corner.
Since that day in South Wales, Odubeko has registered a further six goals in five games – including a hat-trick away at Southampton in early December.
Prior to the recent unexpected pause in professional fixtures, Odubeko was proving a crucial part of the U18s' Premier League South title tilt - momentum he will hope to maintain when games resume in due course.
"It's been good," he smiled. "We have a good team and we've been pushing at the top of the table, so we'll just keep trying to do our best to get us three points in every match and chase down Chelsea and Fulham."
Typically humble, however, Odubeko knows there is plenty of work still to be done to improve himself, his teammates, and his chances of scoring at the highest level for the years to come.
"My target is just to keep pushing on – whatever level I play at," he said. "I want to keep working hard to improve and, above all, help the team.
"I've been in good form and I've been scoring goals with the U18s, so I was happy to have the chance to come and do it with the U23s too. 
"I just want to work hard, get further opportunities to play – and just score more goals."