Seldom has a David Moyes-managed team created as many chances to score at Arsenal than West Ham United did on Saturday.
But a mixture of good goalkeeping and wasteful attacking play left the manager scratching his head and wondering just how the Hammers had slipped to a 1-0 Premier League defeat at Emirates Stadium.
West Ham outshot the Gunners comfortably, only for man of the match Bernd Leno to make six vital saves and Alexandre Lacazette's late VAR-awarded winner to condemn the visitors to a hugely frustrating loss.
At this moment in time, I'd rather not play well and win

David Moyes
"We created enough chances to win more than one game today; it's maybe the most chances I've had when I've come to Arsenal [in my career]," Moyes observed. "We did really well, but the result wasn't good. Our mistakes were up front today; we had chances to win the game, we had chances to score goals, but we didn't get them.
"We've made mistakes defensively at different times, but the chances were there today to win the game, and we didn't take them.
"We looked as if we could get a goal. We felt as if we could come here and score. I said before that, at the moment, the form the boys are in, we could score, but I'm disappointed with the opportunities we didn't take and I'm disappointed, when we had opportunities to make chances for other people to score, we didn't create them properly.
"But I've got to say that the players played very well, and I couldn't fault them. What we needed was the quality to make the difference today. When you play the bigger teams, when you get your chances, you have to take them, and we didn't quite take them today."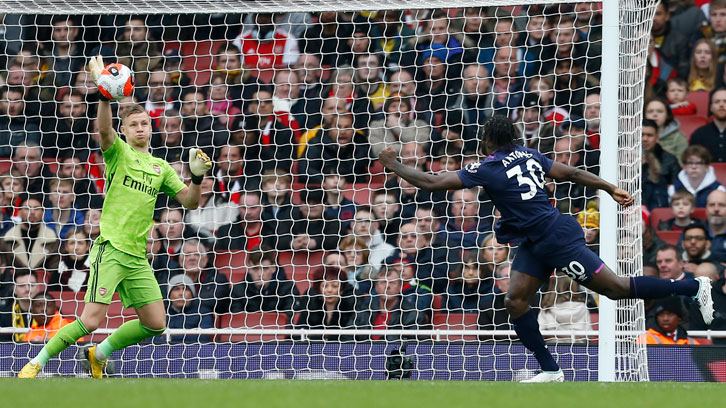 After impressing in defeat at Liverpool and a win over Southampton, West Ham won more plaudits for their performance at Emirates Stadium, but the manager would rather points than praise.
"No doubt, the way we've played has been very good, but I don't want it to be a hard luck story, with people saying: 'You were a bit unlucky'," he continued. "I've told the players I think they played well, but let's get rid of that, because I'm not taking just coming in and saying 'well played' and we lose, far from it. It's the opposite. I'm saying to them: 'We can't let that happen again. We need to be more ruthless'.
"At this moment in time, I'd rather not play well and win. That's what it's about, but I thought we played well today and were very unfortunate not to take something from it."
While the missed opportunities to score were regrettable, it was the decision by VAR official Kevin Friend to overrule assistant referee Sian Massey-Ellis's offside flag against Mesut Ozil and award Lacazette's goal that ultimately – but correctly – cost West Ham a point.
"I had a feeling when I saw it that it might be a goal," Moyes admitted. "I think there's a very good referee (Martin Atkinson) there and we've got a couple of good linespeople (Massey-Ellis and Lee Betts). She made a decision I thought would be good, but some other people in another room stick some lines on it and tell you it's a goal, so we can't do anything about that."
After another late kick in the proverbial teeth, West Ham will need to shrug off their feelings of disappointment and frustration before hosting Wolverhampton Wanderers at London Stadium next Sunday afternoon.