David Moyes spoke to members of the assembled media on Friday afternoon as he and his side look to build on last weekend's Premier League win over Southampton against Arsenal on Saturday
From the challenge of taking on the Gunners - and a familiar face in charge - plus the achievements of Declan Rice after 100 matches, read on for the manager's thoughts from his pre-match press conference…

Our recent performances give us belief
Every game in the Premier League is difficult.
Arsenal will cause us problems the way they do to most teams – they always have done over many, many years, but I think recently the way we've played gives us the belief that we can play well.
We think we can cause the opposition problems. At the moment we're in a good period and we always think we can score, so we'll try to take all those positives into the game and get something from it.
 
Arsenal manager Mikel Arteta will be a success
It's pretty strange, the prospect of facing Mikel Arteta as an opposing manager – it probably tells me I'm getting old!
He was a great player for me. He helped change Everton, he helped change the team, he helped change the way we played. We'd had so many good players at the time – Mikel, Steven Pienaar and Leon Osman were all terrific football players – and it improved us greatly.
As he grew and when he got to understand the Premier League – it took him a little while to settle in, but once he got used to it – he became a really good football player. He always was, but once he got used to the physical elements of the Premier League, he developed into a really good captain.
He was always a good professional but his professionalism rubbed off on a lot of the people around him at the time. I was really fortunate to have people like Mikel and other players like him around me.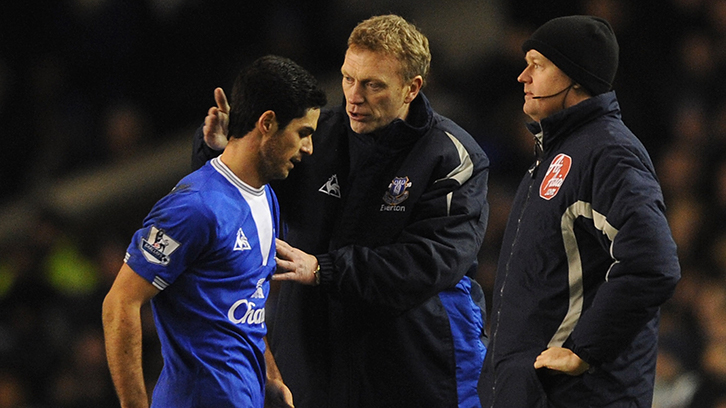 Probably the biggest disappointment was when I had to sell him to Arsenal. At the time he wanted to go, Arsenal was a good move for him, at probably the right time in his career, but I have to say we missed him because he was an exceptional player.
I know Mikel, and I know his assistant Steve Round very well. Mikel's now on another career path and doing really well. I think he's started well and he's learned under arguably one of the best coaches in the world in Pep Guardiola at Manchester City, so it'll give him a lot of information to go with into the club he's at.
I think he'll remember a lot from the early days as well and he'll go onto a very good and successful career as a manager, I've got no doubt. Hopefully I'll see him after the game.
 
Declan Rice has come on leaps and bounds
It's a great thing to get 100 games at his age, 21, under his belt, and the vast majority of them Premier League games at that.
I remember when we were here the first time he was young and breaking into the team. He was maybe more a centre-half at that time, but always had the ability to be a midfield player, and since then he's gone on leaps and bounds and become an England international
He's improving. He's had some ups and downs, but overall I think his form has been very good. We rely on him a lot, we need him, and he's a key player for us.