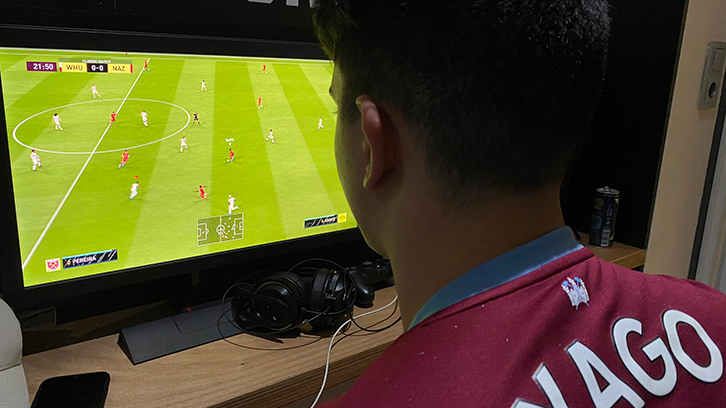 West Ham United will once again have representation on the global FIFA stage after 'Yago' Gabriel Fawaz secured his place at the fifth FUT Champions Cup of the season.
With only four spots open to South American competitors for the fifth showpiece FIFA tournament of the season, the Argentinian PS4 player was in stunning form over two rounds of qualification this week.
In the Swiss round group stages, Yago won seven out of his eight games, scoring 40 goals and conceding just 19 in a run of results concluded by a 9-2 thrashing of WLB_Eduardo.
He then carried such ruthless form into the knockout rounds the following day, beating JBTeam_Charko, SPQR_MarcosAB3, AbreuGallo13 and, finally, nicolas99fc – who later also qualified through the 'loser bracket' – by four goals to one, ratifying his place as one of the top four players on the continent.
 
I'm currently number nine in the global rankings, and I've still got the ePremier League and FUT Champions Cup to play, so it's probably been my best season ever

'Yago' Gabriel Fawaz

Yago's latest success marks a remarkable FIFA campaign for the young eSports star, who can now look forward to sporting Claret and Blue in Bucharest over the weekend of 3-5 April.
"I don't believe it really," Yago told whufc.com. "My performances this season in qualifiers have to be some of my best.
"Last season, I only qualified for two FUT Champions Cups, but this year, I've already made it to four out of five – so it's been perfect.
"I'm currently number nine in the global rankings, and I've still got the ePremier League and FUT Champions Cup to play, so it's probably been my best season ever."
Currently ninth in the PS4 Global Series rankings, Yago is virtually assured of his place in the top 64 players in the world, which would grant him access to the FIFA 20 Global Series Playoffs, a final chance to win big points.
Each and every victory could still prove vital, however, as he looks to secure his berth amongst the top 16 PS4 players on the planet – an achievement which would qualify him for the FIFA eWorld Cup in July.
Yago therefore has his sights set on more glory for his weekend in Bucharest in April.
"My target will be to get to the console semi-finals," he explained. "I want to play my game, win more experience, and get as many points as I can for my ranking."
 

The Hammers have enjoyed significant success in the top-level tournaments so far this season, with their strongest run coming when Yago reached the PS4 final in FUT Champions Cup Stage I (worth 1400 points).
The Argentinean and Jamie 'Jamboo' Rigden both then reached the Round of 16 at Stage II (300 points); 'Jas' Singh made the same point in Stage III in January; and Yago reached the Round of 16 at Stage IV, with Jas in the group stages.
Last week, Yago also qualified alongside Jamboo as West Ham United's ePremier League 2019/20 representatives.
The duo will wear the shirt at the ePremier League Finals, which will take place over two days, 27-28 March, at London's Gfinity Arena, vying for glory against 38 representatives from the other 19 Premier League clubs.
Don't forget to pick up your limited edition 19/20 West Ham United eSports Jersey - made for West Ham gamers everywhere - through our online store.