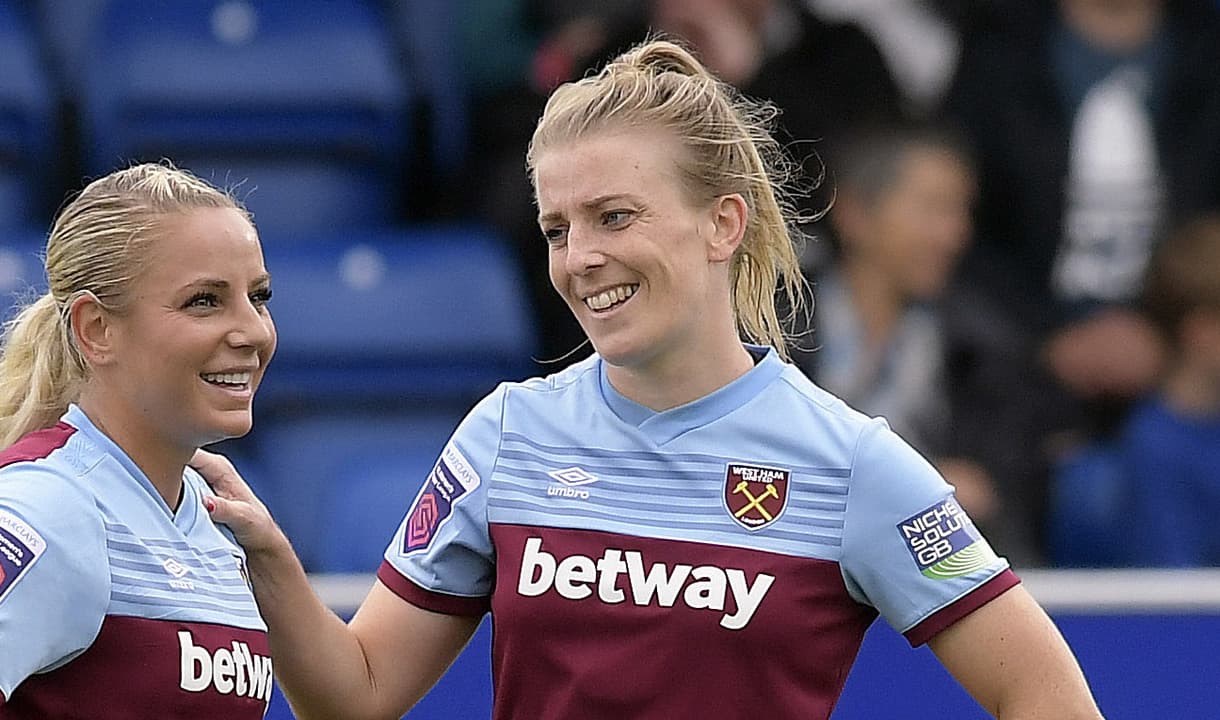 West Ham United star Kate Longhurst has claimed a Women's Awards Double, being named Players' Player of the Season and Fans' Hammer of the Season for 2019/20
Longhurst caps a superb campaign in Claret & Blue by landing the prizes, reward for her outstanding contribution from midfield, which saw her score twice and provide three assists in 19 appearances across all competitions.
The Hammers supporter, who joined the club in 2018 from Liverpool, won the acclaim of both her fellow teammates and supporters to lift the trophies, presented by Niche Solutions and ZO Skin Health respectively.
A host of Hammers were honoured in the end-of-season awards, following the curtailment of the FA Women's Super League campaign.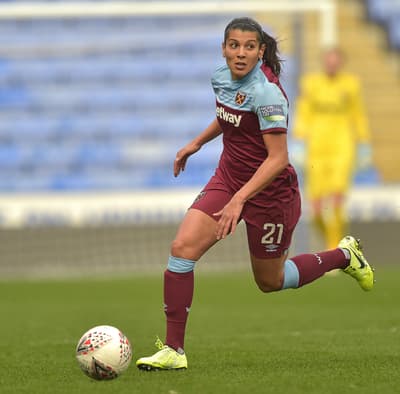 Kenza Dali was chief among them, winning three awards to close a successful first term in Claret & Blue.
The French midfielder won the fan vote to collect the Signing of the Season prize, presented by Rainer Hughes, while also coming top of the poll for Goal of the Season, presented by My VIV.
Her stunning second strike in the thumping 7-0 Continental Tyres Cup win against Crystal Palace saw off strong competition to win in this category.
Completing her awards hat-trick, Dali's seven goals for the campaign saw her win Top Goalscorer, presented by ICE Cleaning.
That leaves just three further awards to reveal. Match of the Season, presented by Vanquish Tech, was voted to be the dramatic 3-2 WSL win over Manchester United at Rush Green in December. 
The Hammers were 2-1 down with just seven minutes to play, but a brace of Katharina Baunach free-kicks turned the game on its head to keep the points in east London.
Courtney Brosnan is our next winner, with a fan vote picking her stop at Arsenal back in September as the Save of the Season, presented by Vision Consulting.
Last, but not least, exciting youngster Wiktoria Kiszkis is our Academy Player of the Season, presented by Aqua British.
The 16-year-old made three senior appearances, and is sure to continue making an impact at first team level.
2019/20 West Ham United Women's Awards Winners
Fans' Hammer of the Season, presented by ZO Skin Health Kate Longhurst
Players' Player of the Season, presented by Niche Solutions Kate Longhurst
Top Goalscorer, presented by ICE Cleaning Kenza Dali
Signing of the Season, presented by Rainer Hughes Kenza Dali
Goal of the Season, presented by My VIV Kenza Dali v Crystal Palace, 11/12/19 (second goal)
Save of the Season, presented by Vision Consulting, Courtney Brosnan v Arsenal, 8/9/19
Match of the season, presented by Vanquish Tech West Ham United 3-2 Manchester United, WSL, 1/12/19
Academy Player of the Season, presented by Aqua British Wiktoria Kiszkis