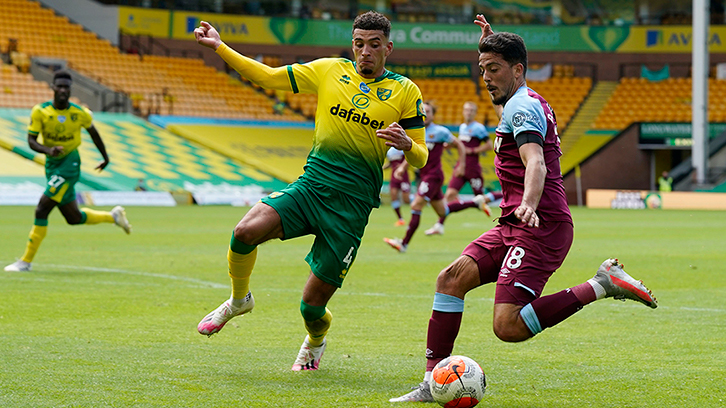 It is immediately apparent the growth that Pablo Fornals has undergone during his inaugural campaign in English football – not just in terms of getting to grips with the change in footballing style, but in his enthusiasm for his new country, home and language. 
Last summer's transfer marked a new chapter in the 24-year-old signing from Villarreal's life which the young, hard-working Spaniard has fully embraced – and, accordingly, West Ham United fans have embraced him.
Now, with three wins and two draws from their last six games, Fornals has called on his side to maintain their current momentum after the summer break and into 2020/21.
Aston Villa are the final team to visit London Stadium on Sunday afternoon before the 2019/20 Premier League season – 351 days-long for West Ham United – ultimately concludes, and Fornals wants to see it off in style.
"Wednesday was a massive game from all the lads," he reflected. "It's not easy playing at Old Trafford and taking a point, so we're very happy to secure safety at that stadium.
"For all the teams in the Premier League it is so important. For us as well, it's something we need to do – we are West Ham, we are a big club, so we need to stay in the Premier League.
"We are safe now but I think it would be a big mistake to go into the [Aston Villa] game too relaxed. We need to try to win, to keep playing as we are doing, and that's all. If we win we can finish a position higher [than if we go behind Brighton], so why not?
"It's not just next season – I think after the restart, we saw what West Ham United are. I'm sad and I think the fans are sad because now we are playing beautiful football, fighting with everyone, so I think if the league were still going we could continue growing. 
"It's a good thing for our fans. I think that this is the team they want, and the way to play for next season. Our fans are excited now."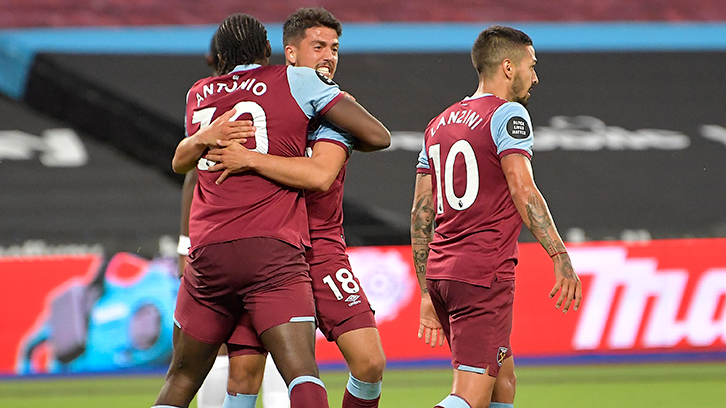 Ranking prominently high amongst their recent victories is the thrilling 3-2 win over Chelsea at London Stadium, a win which Fornals views as a catalyst for the Hammers' upturn in form.
One of the star performers that night – and indeed since the season restart – has been Michail Antonio, the No30 who has hit a league-high seven goals since the season suspension.
"I think Chelsea at home was the biggest win," he explained, "because they are the points that you could probably lose.
"When we got these points at home, I was sad honestly, because our fans weren't there. It's not the same feeling because it was a derby. The West Ham support is like an additional player for us. Hopefully they can return as soon as possible.
"Michy's form is amazing. I always say that Michy is, to me, like when at school you used to have a big friend, and you as a small kid try to do things. 
"When things are bad, you call your big friend; Michy is our big friend! When we need to run or protect the ball, we just need to find Michy, and he works very hard – not just scoring goals, but for the team."
As for Fornals' own position, the versatile forward has fulfilled a number of roles in the side – and hopes to continue to be a pragmatic part of manager David Moyes' plans moving forwards.
 
I'm not scoring a lot of goals and not making too many assists after the break – so if the fans are happy, they're happy because I am trying to work hard and help my teammates. I'm very grateful that the fans recognise this job

Pablo Fornals

He said: "I want to play, so it doesn't matter if that's on the left, on the right, as a number ten or centre midfield, I can play in all attacking positions. 
"It's nice because the gaffer lets me have free movement. Of course, I need to get back to defend as a left winger, but with the ball I can move all over the pitch. I'm very happy to play there, and I'm confident doing my job.
"I'm very happy to have these fans, because I'm a winger or forward player. I'm not scoring a lot of goals and not making too many assists after the break – so if the fans are happy, they're happy because I am trying to work hard and help my teammates. I'm very grateful that the fans recognise this job.
"I try to do the gaffer's words. For this reason, I've played a lot after the break, so I'm happy because I want to play, I want to be in the squad or in the team, and I'm working every day to be in it."
It's safe to say that after his first season in English football, Fornals is now not only a Spanish international, but also a fully-fledged east Londoner.
"I'm very happy in London," he smiled. "Me and my girlfriend have found a new city is like a new world for us because we are from a small town from Spain, so this is amazing to us. 
"There are a lot of things to know, to visit. Everyone from Spain wants to come to London to visit us because it's an amazing country and an amazing city, so I'm very happy and it is the place I want to be right now."