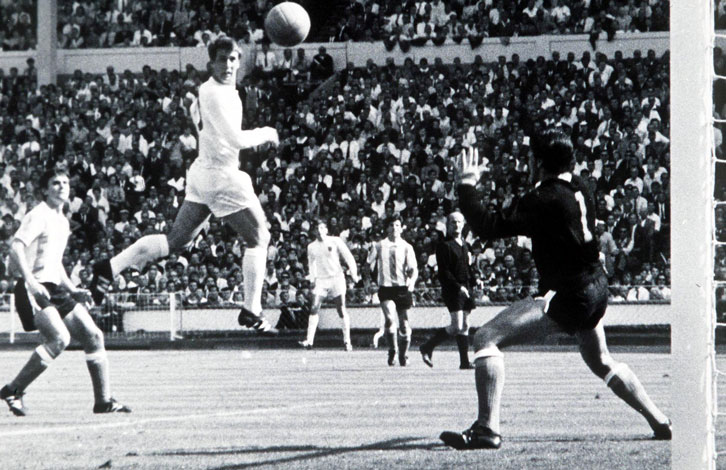 Going into the 1966 FIFA World Cup finals, Geoff Hurst had played for England on only five occasions, and scored just one goal.
But when Jimmy Greaves suffered a shin injury in a challenge by France midfielder Joseph Bonnel in England's final group match, the West Ham United forward was given his chance to shine on the biggest stage of all.
Then just 24, Hurst had played as a striker for less than four years, having been converted from left-half by visionary Hammers manager Ron Greenwood in September 1962.
Over the four seasons leading into the World Cup, which was of course hosted by England, Hurst plundered 101 goals in Claret and Blue, including 40 in the 1965/66 campaign, and helped his club win both the FA Cup and European Cup Winners' Cup.
Despite that prolific strike-rate, the presence of Greaves, Liverpool's Roger Hunt, his West Ham teammate Johnny Byrne and a host of other centre forwards, Hurst's senior international debut did not arrive until February 1966, in a 1-0 friendly win over West Germany at Wembley.
Four months later, of course, his hat-trick would fire England to a 4-2 victory over the same opposition in the World Cup final, but Alf Ramsey's side only got there because Hurst had found the target on his tournament debut.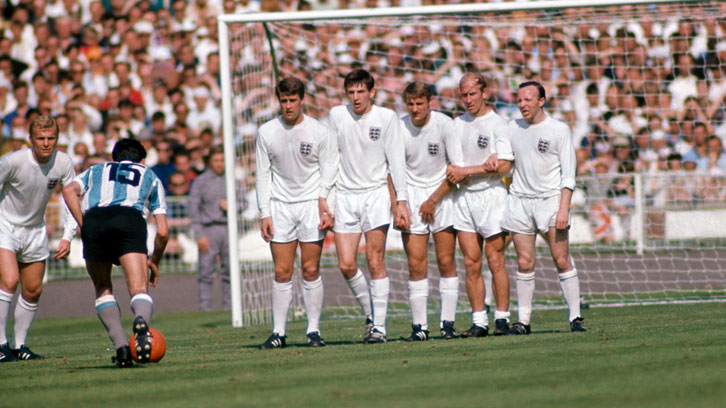 It was Saturday 23 July and the Three Lions were facing Argentina in the quarter-finals.
What played out was a competitive, tightly contested 90 minutes of football that is known in Argentina as El Robo Del Siglo – The Robbery of the Century.
The reason? The match was a niggly, foul-filled affair from the start and bubbled over on 35 minutes, when Argentina captain Antonio Rattin was sent-off by referee Rudolf Kreitlein for two bookable offences, the second of which was reportedly for dissent, despite the fact the Spanish-speaking Rattin could not communicate with the German-speaking official.
After an eight-minute delay, including Argentina manager Juan Carlos Lorenzo seeming to motion to his team to walk off the field in protest, and the intervention of FIFA referee liaison Ken Aston, Rattin was eventually removed with the help of the police.
The match continued to be scrappy and goalless until 15 minutes from full-time, when Martin Peters crossed and Hurst got in front of his marker to head past goalkeeper Antonio Roma to score the only goal of the game.
At full-time, there were further protests from the Argentinian players, while Ramsey ran onto the pitch try and stop full-back George Cohen swapping his shirt, before later criticising England's opponents.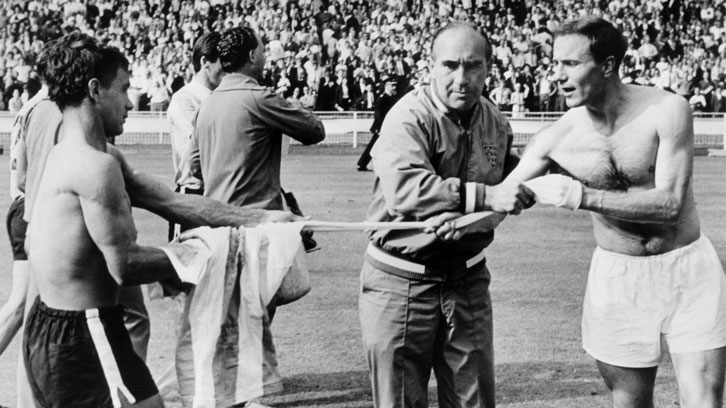 Although it would be 20 years before Diego Maradona's Hand of God goal at the 1986 World Cup finals, and 16 until the two countries clashed militarily over the Falkland Islands, the 1966 match is commonly considered the beginning of their footballing rivalry.
Less famously, but more importantly from a West Ham point of view, it was also the day that Geoff Hurst took a giant step towards footballing immortality.
Despite Greaves recovering his fitness, Ramsey kept faith with Hurst and, after two Bobby Charlton goals saw off Portugal in the semi-finals, named the Hammer in his starting XI for the final.
And we all know what happened next…