"We are delighted to welcome Tomáš to West Ham United. I think that he gives us a lot of different qualities, but most importantly he fits the profile of the player we want to bring to the Club. He is young and hungry but with an established pedigree and proven talent," said manager David Moyes.
"He was captain of Slavia Prague, he's played as a defensive midfielder but he's scored a lot of goals as an attacking midfielder as well. He ticks a lot of boxes. We are confident he will prove to be a strong addition to the squad."
The name Tomáš Souček may not have been familiar to many West Ham United supporters prior to his arrival in east London this week – but manager David Moyes is acutely aware of the Czech Republic midfielder's outstanding qualities.
Souček, who has arrived on loan from Slavia Prague, has been one of the standout performers in European football this season.
However, with the Czech First League not broadcast in this country, and Slavia's UEFA Champions League matches only available to BT Sport subscribers, his outstanding performances have gone largely unseen by a British audience.
After netting a career-high 18 goals last season, the 24-year-old has truly excelled this term, captaining an unbeaten Slavia to the top of the First League with a record points tally.
Souček's defensive talents saw the reigning Czech double winners concede just four goals in 20 league matches, in addition to the eight goals he scored and three he assisted to put his former club 16 points clear at the winter break.
With Slavia Prague I experienced top football and my ambition is to present my skills here

Tomáš Souček
In the Champions League, Slavia were drawn in an impossible-looking group alongside Barcelona, Borussia Dortmund and Inter Milan, but the 6ft 4ins midfielder raised his game to an even higher level, helping the Czech champions draw away to Inter and Barcelona, before scoring in narrow defeats by Inter and Dortmund.
And to complete an impressive hat-trick, Souček played every minute as the Czech Republic secured automatic qualification for UEFA Euro 2020, beating England to secure second place in Group A.
With 25 caps to his name, he will be part of his country's squad at this summer's finals, when they will take on Gareth Southgate's Three Lions again at Wembley Stadium in June.
Before Euro 2020, though, Souček is determined to make his mark in the Claret and Blue of West Ham United and show the Club's supporters what they have been missing.
"Thank you for your welcome," the Havlíčkův Brod-born player told West Ham TV, having completed his move to London Stadium on Wednesday morning. "I feel terrific.
"From the moment we arrived at the airport everything was beautiful. The people were kind. When we got into the Club it was even better. My feelings are great. And I believe that things will go even better."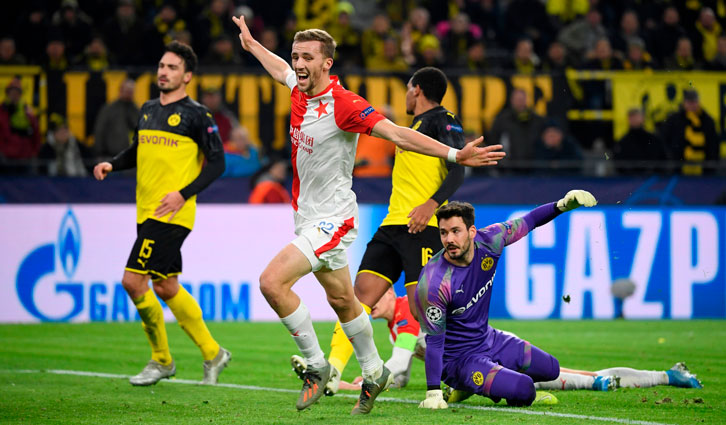 For Souček, who was introduced to the London Stadium crowd ahead of the Premier League fixture with Liverpool in midweek, completing a move to England represented a dream come true.
"When I was a boy I used to follow the Premier League and the Champions League," he explained. "West Ham United is one of the oldest clubs in England. And as far as the history goes, when I say the name West Ham United then it's well known in Europe and the whole world. For me, it's a very significant club.
"It's beautiful because I always used to say there are five top leagues (England, France, Germany, Italy and Spain) but England is the top, the best of those five leagues, and I'm looking forward to playing my part in the best league of the world."
Souček has tested himself against some of the best teams in Europe in recent seasons, including a sensational performance in a thrilling UEFA Europa League quarter-final defeat by Chelsea at Stamford Bridge in April last year.
"I think the Premier League has similar quality to the Champions League," observed the Czech star, who is a keen tennis player in his spare time. "With Slavia Prague I experienced top football and my ambition is to present my skills here.
"I'm looking forward to the Euros, especially because we will play in England," he confirmed. "We played England twice in qualifying and we know we can beat them, and now I'm looking forward to playing against them – and my new teammate Declan Rice – again in London in the Euros.
"I am very glad that this city will be my new home, too!"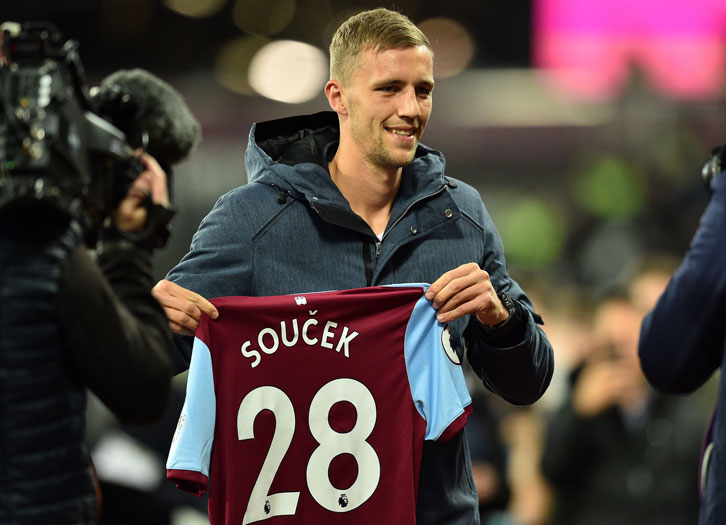 A hard-working midfielder with limitless stamina, Souček is also an astute reader of the game, often stopping an opposition attack before it can become too threatening.
The new No28 is also an intelligent user of the ball. He will collect the ball neatly and move it on quickly and accurately to a teammate.
And, as his goalscoring statistics suggest, he also knows where the net is, bagging 32 times for club and country over the last season and half.
Those qualities, he hopes, will help lift West Ham away from the lower reaches of the Premier League table.
"I feel sorry that the club is near the bottom of the Premier League but I know the club deserves to be in a better position and I'll do my best to make the team go up in the table," he confirmed. "I want to battle to higher position with West Ham."