David Moyes spoke to members of the assembled media on Thursday afternoon as he looked ahead to Saturday's Premier League match at home to his former side, Everton.
From rumours and transfer speculation to the importance of home games, and his thoughts on the Toffees and their new manager Carlo Ancelotti, the manager discussed a wide range of topics at his pre-match press conference…
 
It's important to bring the right people in
Having people with Premier League experience, who can come into the side and understand the speed of the game, makes a difference. I think the introduction of someone from somewhere else can take a bit more time. 
It's not so easy to get a British player. It may be a bit easier to get a Premier League player, and maybe even easier to go abroad and pick someone up from Europe. I think still trying to get the right ones in is important, and we'll try and do that.
 
We're not necessarily close [to confirming anything] but we're working on one or two things at the moment. If they're right, then hopefully we're able to do it.
 
[Regarding backroom staff] I'm having some conversations with three or four people. Nothing too formal, just telling them what I'm looking for and what we might be looking for them to do. But there's nothing happening just now. 
I'll take my time over it in the coming weeks. Ideally it would be the summer. We're also sure that, at the right time, we'll add other staff members to it as and when we need it.
 
The players have been positive after Sheffield United
[This week] I think the players have been really positive and I think the way they've gone about their work has been really good. 
The game against Sheffield United could have easily been a draw with a goal from us, or maybe us not giving away a goal, one way or the other, but I don't think we came away from the game feeling we were badly beaten in any way. 
I think we've got a lot of confidence we took from our home game where we beat Bournemouth 4-0, so we want to take that into the next game. We have to try and find that form, that level again, and hopefully we can do that.
I think winning our home games will be vital between now and the end of the season. We've got to get ourselves away from the position we're in, so every home game is vital - as is every away game, but I think your home games give you that added advantage.
We have to try and make that work for us. We need the crowd behind us and we need everyone willing us on. We want to get better, we want to continue making progress, and we want the supporters to be right behind us as well.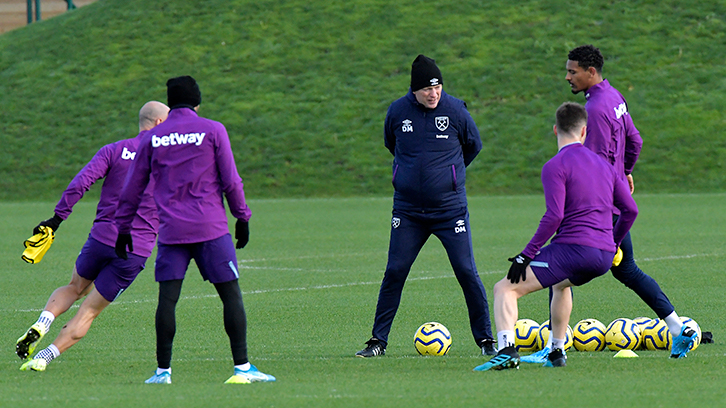 I want to replicate my success at Everton
I spent eleven-and-a-half great years there. We did some really great things at Everton, but everything now is geared towards West Ham. 
In many ways I'm trying to get West Ham to do something similar - get regular top-six football, regular top-seven, get to Europe - and I think there is a similarity in the clubs in many ways, so I don't see any reason why we shouldn't be doing that at West Ham. 
The one thing that's hard for a manager to ask for is time, but I think for me to do what I did with Everton, I needed a little bit of time at the start to put my design down, get a chance to bring players in and give them a chance to get ready. I hope I get that opportunity to do the same in the coming years at West Ham.
[Carlo Ancelotti] has had a very good start. I think [in the league] performances have started well. He's an incredibly experienced manager. I think it might only be José who might have more medals, or maybe Sir Alex if you put it that way, but I think he's up there with some of the most decorated managers there is, so obviously it's [the game's] a tough one because he's very experienced.
 
Joint-Chairmen David Sullivan and David Gold have always helped me
I've found the Joint-Chairmen very good. That might sound strange for someone who was let go by them 18 months ago, but I've always found them very straight. They talk correctly.
I've got to say that I think both David Sullivan and David Gold, since I've been here, have always been willing to help. They've always been seeing if there's anything I need and I would only say good things about them.