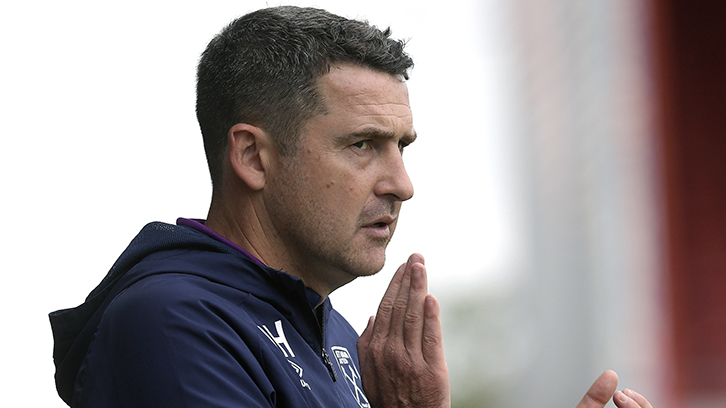 You might think that, with 14 wins from 19 games to choose from, Dmitri Halajko would go for a victory when prompted for West Ham United U23s' highlight of the season so far.
Yet, in typically grounded fashion, the U23s Lead Coach opts for the game he feels most benefitted the development of his players: a dramatic 2-2 draw away to Manchester United in August.
"That was the standout, just because it was such a high-level game from both teams," Halajko explained. "You've got quite a few players who were on the pitch that day who have gone on to play for either sides' first teams."
Progression is, after all, the name of the game.
"It was at Old Trafford and I think the quality of the game that night did the league proud," Halajko continued. "It did the stadium proud, and it did both clubs' youth development programmes proud.
"Although they scored a late equaliser, which was disappointing at the time, as a spectacle for youth development I remember it as a real high-level game of youth football. We want to be involved in as many tough games as possible. That was certainly one of them."
In an exciting opening to the New Year, Halajko and supporters will hope for a repeat: league leaders West Ham United U23s return to Premier League 2 Division 2 action on Monday evening, taking on second-placed Manchester United at the Chigwell Construction Stadium.
 

The Lead Coach's pick of August's draw with the Red Devils is demonstration of his natural passion for developing young players, helping them to become their best possible selves on a football pitch.
After a decade of service at Colchester United, before spells in a variety of developmental roles at Norwich, the Football Association and Leicester City, Halajko joined former Canaries' Academy Manager Ricky Martin at Chadwell Heath this summer.
His impact has been instant, working closely with his group of players to bounce back immediately after last season's final-day relegation; they now sit top of Premier League 2 Division 2 with just over half the campaign played, unbeaten in their 13 fixtures.
Their only defeats so far this season have fallen in cup competitions, the Leasing.com Trophy the sole tournament they have exited from the three.
 
We feel we've got better as the season's gone on. We're starting to dominate games more with the ball. Our front three are the top three scorers in the league, so in terms of creating chances we've been successful at that

Dmitri Halajko

Halajko's free-scoring players have plundered an extraordinary 58 goals so far this season, netting at least three times in each of their last eight league games, with Anthony Scully, Nathan Holland and Dan Kemp leading the line – and the scoring charts.
 "We feel we've got better as the season's gone on," Halajko said. "We're starting to dominate games more with the ball. Our front three are the top three scorers in the league, so in terms of creating chances we've been successful at that. They've all taken on ideas really quickly, and part of that is down to the good coaching that's been done here before me. Liam [Manning] and Steve [Potts] took the team last year, so that's made it easy for me to continue some of the good foundations they started.
"Some of these lads have been in the system for ten years, so they've obviously had a great upbringing and I'm in a really nice position to try and move them forward."
After such excellent results, it speaks volumes of Halajko's values that he prioritises his players' progression over their consistent availability, citing the January transfer window as a chance for them to reach the next level.
"I want them to learn how to play men's football," he noted. "I want them to learn about playing competitively in a league, playing for points, playing in front of crowds and with pressure from fans, from the press, from teammates. 
"The football's one thing, but I think playing in a professional environment, which league football will give them more of, is something that really develops you as a young player.
"The window is open and a lot of these lads are ready now. Can we get players playing league football out on loan or, like Nathan, making an impact at first-team level? Individuals progressing on into the professional game is always what we strive for."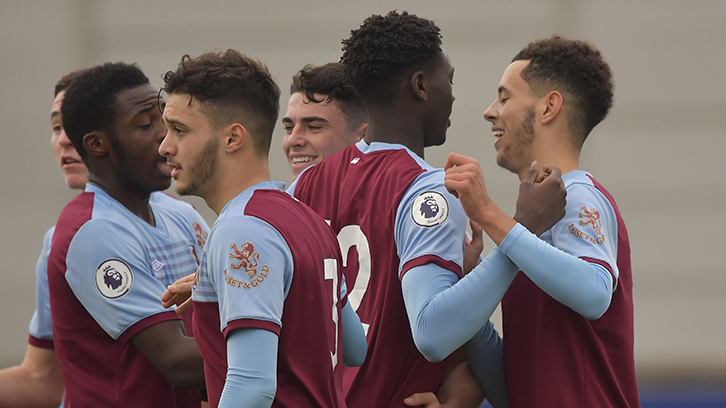 With the U23s benefitting from both the renovated Chadwell Heath facilities while often training alongside the first-team squad at Rush Green, the demands of the step up have rarely seemed clearer for them.
"I think every single member of the squad has trained with the first team at least once this season," Halajko pointed out. 
"We've played training games against them as well, so that's let us show what we can do. We work side-by-side with the first team and they see our lads every day in training, which is a credit to them.
"Now, I want the U23s to continue to work as a team and develop as young professionals, learning that they have individual roles and responsibilities they have to execute in order for the team to succeed. 
"I want them to continue to learn that and further the team togetherness and success that they've enjoyed so far this season."
West Ham United U23s take on Manchester United U23s in a top-of-the-table clash at the Chigwell Construction Stadium at 7pm on Monday 6 January. Men's Season Ticket Holders can attend free of charge. Tickets are available on the gate, with concessions costing just £3 and adult tickets at only £5!