West Ham United is delighted to announce that Conor Coventry has signed a new contract with the Club until the summer of 2023.
The three-and-a-half year deal also includes the option of an additional year for the 19-year-old midfielder, who first joined the Club at just ten years of age and has shone throughout his Academy of Football career thus far.
Having signed his first professional West Ham United contract in 2017, Coventry impressed on his first-team debut last season – the second half of the 8-0 Carabao Cup thrashing of Macclesfield Town – and went on to assume regular captaincy of the Under-23 side last year.
Coventry has continued to skipper the table-topping U23s over 15 appearances this season, while also making his second appearance for the first team in the Carabao Cup win over Newport County in August.
The 19-year-old is also enjoying a fine campaign on the international stage, completing all seven games as Republic of Ireland Under-21s have put themselves in a good position to qualify for the 2021 UEFA European U21 Championships.
 
When you come through, and you're here every day from such a young age, it means more to you than you can really imagine

Conor Coventry

On the deal, Coventry said: "It's a very proud day for me, and obviously something I've dreamed of since I came to the Club at ten-years-old. It's something that I've worked towards for a really long time.
"When you come through, and you're here every day from such a young age, it means more to you than you can really imagine. It means everything to me. I first came to the Club as a kid and now I've become a man.
"Obviously the most important thing is the time - it's another three-and-a-half years at the Club, so that gives me confidence that, in those years, I can break through as a first-team player."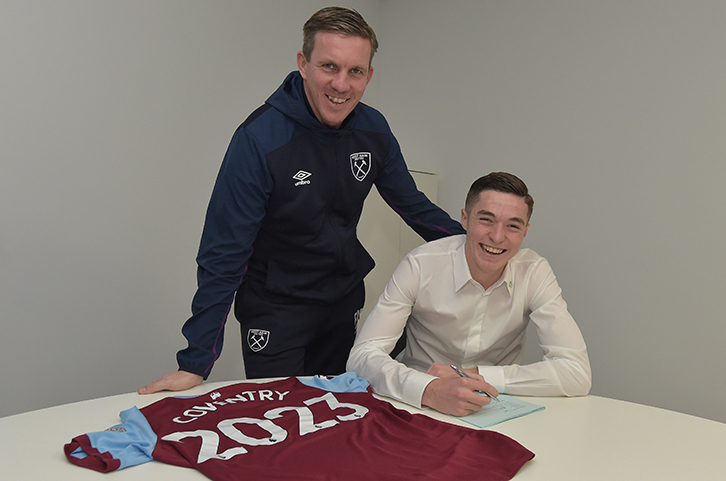 Academy Manager Ricky Martin added: "I'm absolutely delighted, and I think everyone at the Academy will be really pleased for Conor. It's something that he fully deserves.
"He's a fantastic young player, but also a great person who takes his career very seriously and leads by example on and off the pitch. That's testament to him, to his professionalism, to his commitment and his dedication.
"When you have a young player who has those ingredients, and who is really focused and determined to develop himself, there's nothing more pleasing to reward that than with a three-and-a-half-year contract.
"It's our job at the Academy to provide him with opportunities, but ultimately I've seen him make some great strides already, and I'm sure he will continue to give himself every opportunity to fulfil his potential."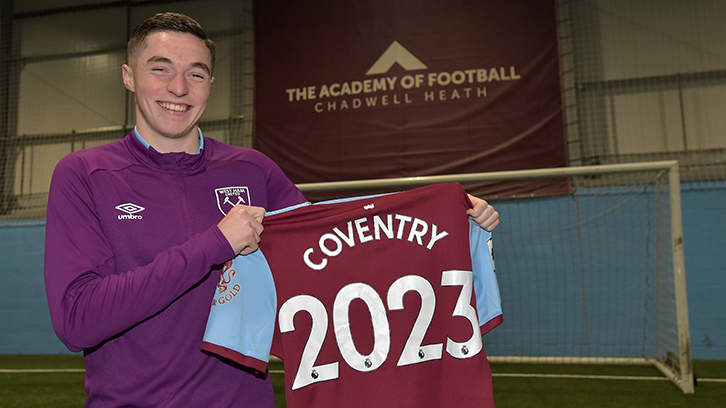 With the future bright in Claret and Blue for Coventry, the midfielder took the opportunity to thank the numerous youth coaches who have seen him progress from schoolboy to scholar, and from starlet to skipper.
"I don't want to miss anyone out!" he said. "Right from when I was young, the likes of Jimmy Tindall, Tony Carr right through, then Terry [Westley], Liam [Manning], Ricky [Martin] now, Dmitri [Halajko], [Steve] Pottsy, Mark Phillips… we could be here all day! With all the coaches I've had, there've been so many positive influences at the Club who've helped me so much.
"I want to play in the first team for West Ham United. That's what I've signed the contract to do, so hopefully in the next coming years I can be a first-team player for West Ham."
Martin also took the opportunity to express his thanks to Coventry's extended family for their continued support and dedication during his youth career.
West Ham United would like to congratulate Conor on signing his new contract, and wish him well for his future career in Claret and Blue.