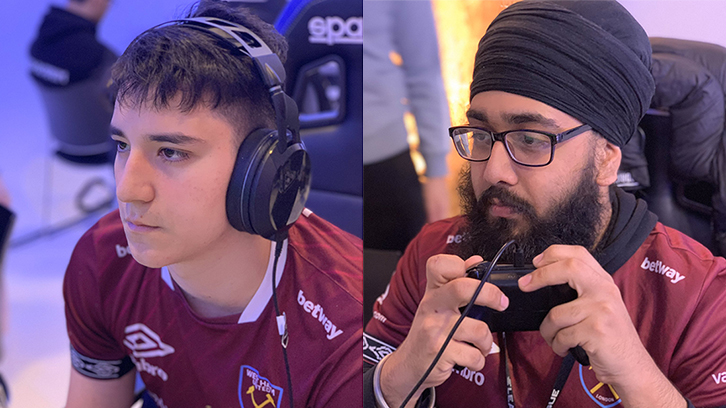 West Ham United's eSports stars 'Yago' Gabriel Fawaz and 'Jas' Singh enjoyed productive FUT Champions Cup IV tournaments in Paris this weekend, both accruing valuable Global Series points.
PlayStation 4 representative Yago stormed through the group stages, winning three of his first four group stage matches to reach the Round of 16 in style.
There, he fell to a narrow 2-0 defeat on aggregate to eventual PS4 finalist, VfB Stuttgart's Lukas; the game proved a showcase of tense, tactical FIFA, both players defending superbly as a 0-0 draw in the first leg saw Lukas score with his only two shots in the second fixture. 
Nevertheless, having finished as one of the competition's top 16 players, Argentinian competitor Yago gained 300 Global Series points, putting the Hammer in pole position to reach the Global Series Playoffs and, from there, likely the eFIFA World Cup in July.
Xbox player Jas, meanwhile, came up against tough odds with the opponents he faced in the Swiss-style group stages; three of his five group stage games saw him take on players ranked inside the top eight in the world, including eventual Xbox winner and grand finalist, Msdossary.
Nevertheless, the 21-year-old came within one win of qualifying for the following round and can take plenty of pride in his performance in Paris – as well as 150 valuable Global Series points, which reinforce his position inside the top 64 players in the world and, as a result, put him in a strong position to also reach the Playoffs.
The overall tournament was won by Benfica's Brazilian PS4 player Zezinho - the first South American player, and the first PS4 competitor, to win a FUT Champions Cup event.
 
The positive is that I have reached 2100 points in the rankings, and I'm getting closer to my objective each time

'Yago' Fawaz

Reacting after the competition, Yago admitted: "Lukas played better than me and it was very difficult to compete with him. It was a game where whoever scored would win.
"The positive is that I have reached 2100 points in the rankings, and I'm getting closer to my objective each time."
Jas also tweeted: "I want to say thanks to the people that supported me and want me to do well.
"Some will say that my matchmaking was really unlucky… but I genuinely believe you have to beat the best to be the best, so I won't feel sorry for myself.
"I always believe in myself and I think if I really work on my weaknesses, I'll be back better for the next cup."
Both players continued West Ham United's superb record at top-level tournaments so far this season: Yago reached the console final in Stage I (worth 1400 points); the Argentinian and Jamie 'Jamboo' Rigden both reached the Round of 16 at Stage II (300 points); and Jas made the same point in Stage III last month.
Jas, Yago and Jamboo will now all turn their attentions to Tuesday evening's ePremier League Play-Offs, postponed by the organisers last week following server outages.
The tournament offers winners the chance to represent West Ham United on the grandest domestic FIFA competition around: the ePremier League finals.
You can follow West Ham updates on Twitter @WestHamEsports and hear from the players on Instagram.
And don't forget to pick up your limited edition 19/20 West Ham United eSports Jersey - made for West Ham gamers everywhere - through our online store.