David Moyes was philosophical after seeing his West Ham United team produce a spirited performance at Liverpool, only for defensive mistakes to see them leave Anfield with a 3-2 defeat and no points to show for their efforts.
After conceding an early opener to Georginio Wijnaldum, the Hammers came from behind to lead through goals from Issa Diop and substitute Pablo Fornals, only for an uncharacteristic error by Lukasz Fabianski to allow Mohamed Salah to level for the Reds
And, to add further insult, Joe Gomez's wild shot deflected off Mark Noble's back into the path of Trent Alexander-Arnold, who crossed for Sadio Mane to score the winner. Even then, Jarrod Bowen had a late chance to snatch a point, only for Alisson to make a vital save and leave West Ham empty-handed.
On his team's performance at Anfield…
"For a period, we were winning 2-1 and I didn't think we were desperately under pressure. We had to deal with Liverpool, but I thought we'd done a really good job. It's really disappointing to come here and say individual mistakes have cost us because Liverpool, with the quality and the players they've got and what they've done this year, they have the ability to score from everywhere and in all different ways.
"I have to praise the players for their effort and their commitment and even at the end, we looked like we were going to get a third right at the end. We have to take something positive from it, but taking no points means there is no real positive.
"I have to say the players are getting better and doing a lot of good things, but we have to cut out the individual errors because they are costing us.
"I was pleased in a lot of aspects. I thought we did a really good job. I thought it was a game you come into and nobody has enjoyed coming here at the moment because of how well they're playing, but I thought, for long periods of the game, we did a decent job.
"We were up against really good opponents, as everyone is aware of, but I'm more disappointed that, after getting ourselves in the position we did, we didn't in some way hang on to take on point, if it wasn't three points Unfortunately, we didn't. A lucky deflection goes against us for the third goal and it makes it really difficult."
On his tactical approach to the game…
"I felt as if we did a really good, disciplined, organised defensive performance at Man City which we had to work. This was a different game as they way they played and the way Liverpool are different.
"But I felt tonight we could try and go another way and try and see if we could get a result here, but it's not easy because, whatever you do, Liverpool have got the ammunition to do something different, so we had actually made plans that we would chop and change two or three times in the game and try to change the game and change our shape if we needed to, but in the end it wasn't good enough."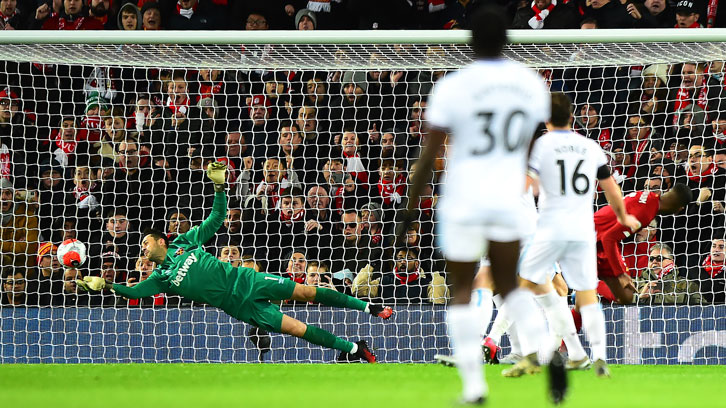 On Lukasz Fabianski…
"He has done great for us but, when you're in our position, when you make individual mistakes, you need to quickly get over them and get on with it and not let it happen again. That's the important thing.
"He had a couple of really good saves. He had a couple of worldies when Liverpool hit a couple of good shots, but if I'm being honest, I think we should stop the first one as well.
"When you come to Anfield, I think you're always going to need your goalie to play well, whatever team you are, you're goalie's going to need to play well because of their ability to get chances and shots.
"But Lukasz has done great for the Club and he's done great for us, and it can happen, but for us to get where we need to go, we need to cut our individual mistakes out, whether it be the goalkeeper, the centre-half or a centre forward missing a chance, we've got to be able to do that."
On Tomas Soucek's injury…
"He was struggling at half-time. I thought he was fabulous in the first half. He was a big loss to us because, especially in the second half, we didn't have an awful lot and any way of tightening up, really. It was a loss. We hope he's going to be OK, but it looks like an adductor or a groin injury from over-stretching in the first half.
"I'd love to say it was a precaution, because it wasn't. It was a genuine injury. He did well to get back out for the second half and we thought, with a bit of luck, he would get through it, but he couldn't."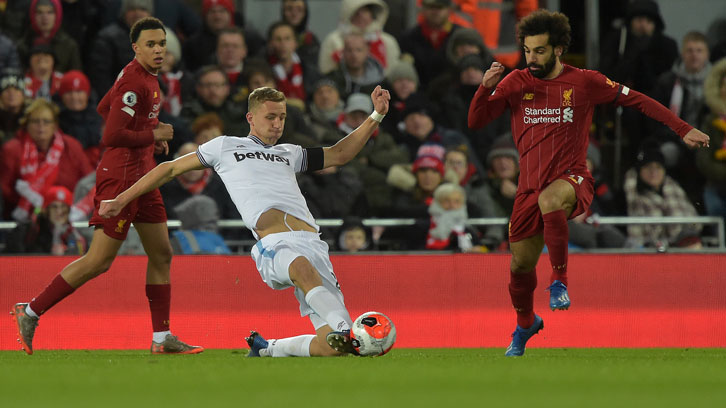 On the Premier League run-in…
"Our really big games start now, and we've got big games over the next eight to ten weeks, so I need everybody in the best form they can be in.
"I believe we will play better. I think we should play better, I think we should be better with the ball, I thought we had opportunities to pass the ball even better than we did tonight and we didn't do it, so we need to work on doing that even better.
"Tonight's a positive, but I've got to say, I think since I've been at West Ham, there have been a lot of positives. It's hard to show because you don't win. We got close but close isn't enough.
"Three of our last four games have been Liverpool twice and Manchester City away, so I've got to say that the players have players have done really well, but we're not getting any points and it's points we want. I'd rather be standing here saying it was rubbish tonight but we'd picked up a point, if I could have done, but a lot of teams have said that after coming here."