History
Ludek Miklosko: I was a mystery man on my West Ham debut!
Amazingly, it is 30 years to the day since a tall, athletic goalkeeper sporting floppy brown hair and black tracksuit bottoms made his West Ham United debut on a surreal afternoon in Swindon.
The Hammers arrived at The County Ground with their new stopper but without their manager, as speculation over the future of Lou Macari shrouded the Second Division fixture.
Macari had been investigated and fined for alleged betting irregularities during his time in charge at Swindon and he would resign the following day, 19 February 1990, ending an eight-month spell in east London.
As for the match itself, a struggling West Ham were grateful to earn a point from a match that Ossie Ardiles' Robins had the better of, with two goals from former Swindon striker Jimmy Quinn coming against the run of play and debutant Miklosko making an error for the home side's second.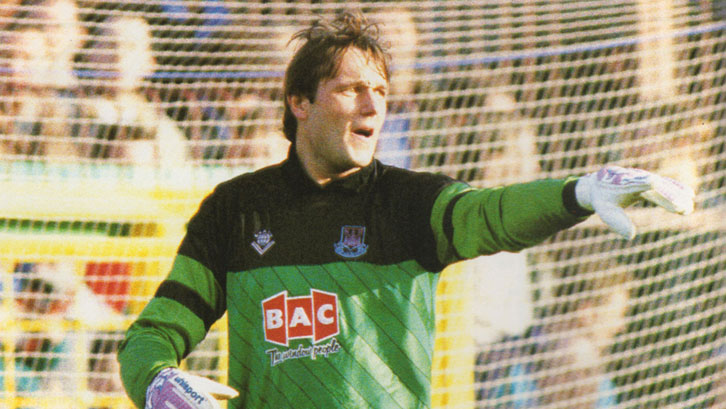 "I had signed for West Ham from Banik Ostrava in what was then Czechoslovakia," Miklosko recalled. "Back then, before the internet and social media, players from outside the top European clubs were something of a mystery to English fans.
"So, I made my debut at Swindon Town and most of them didn't know too much about me and then they saw me make a big mistake for one of Swindon's goals!
"The goalkeeping coach Ernie Gregory, who was a fantastic man and great character, had been teaching me to catch the ball in the old style. There was a slight deflection off the wall from a free-kick and I tried to catch it his way, but the ball went between my body and my arm and into the net. That was the last time I tried his style of catching the ball!
"In the end, the game finished two-all, which wasn't that bad, but from that time I said I was going my way and carried on making saves how I was used to and it worked out OK!"
That was something of an understatement, as Miklosko went on to become one of the most beloved West Ham players of the last three decades.
The amiable goalkeeper who 'came from near Moscow' made 373 appearances across eight years between 1990-97, winning promotion in 1991 and 1993, appearing in FA Cup and League Cup semi-finals and being crowned Hammer of the Year in 1991. He later returned to the Club as goalkeeper coach.
Thirty years on from his surreal debut, Miklosko's name is still sung loud and proud by the Claret and Blue Army, with the 'My name is Ludo Miklosko, I come from near Moscow, I play in goal for West Ham' chant heard at every game, home and away!
"I can't remember exactly when it started, but I think I heard the fans sing the 'I come from near Moscow' song for the first time two or three years before I left," the man himself smiled. "It's really amazing that they are still singing it 30 years later!"