After joining West Ham United from Rochdale in November 1974, rookie striker Alan Taylor etched his name into East End folklore thanks to his half-dozen goals that helped the Hammers lift the FA Cup with victory over Fulham, less than six months later…
Forget Roy of the Rovers. 
There was nothing fictional about Alan of the 'Ammers, whose heroics will never be forgotten down West Ham way.
After kicking off the 1974/75 season for fourth-tier Rochdale, Alan Taylor proudly ended the campaign with an FA Cup winner's medal after his three double-barrelled blasts in each of the sixth round, semi-finals and final memorably shot the Hammers to Wembley glory.
"Saturday 8 March 1975 at Highbury was where it all started for me," the former Claret and Blue goal-getter tells Steve Blowers, 45 years on. "Back in mid-November, I'd signed for West Ham on my 21st birthday and, with Rochdale due to play Marine in the first round just over a week later, it was fortunate that I joined when I did, otherwise I would've been cup-tied.
"Itching to play for my new club, I'd made a couple of substitute appearances before damaging my medial ligaments on my first start up at Stoke City over Christmas and that knee injury put me out for two months.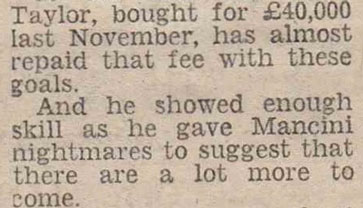 "Certainly, it hadn't been the ideal start but having got back to full fitness, on the eve of the quarter-final at Highbury, John Lyall called me aside after training and told me that I was starting against Arsenal the following afternoon," recounts the 66-year-old, who had cost the Hammers a bargain bucket £40,000 when he moved from Spotland to the Boleyn Ground. "I didn't have too long to think about it. but I went to bed that night thinking: 'Just get hold of the ball, run at defenders and make sure you have some shots'.
"As a schoolboy, I'd only ever wanted to be a professional footballer playing at the highest level and knew from my early days at Rochdale that when you get a chance in the first team, you've got to go out and impress.
"Sitting on the coach to Highbury, Bobby Gould was clearly disappointed that he wouldn't be starting against his old side but being the true professional, he was a tremendous help to a young lad like me. Bobby really settled my nerves on the way to the ground.
"In my last home game for Rochdale, the crowd had totalled 1,116, but now I found myself out there in front of 56,742 fans and, looking around at the likes of Trevor Brooking, Billy Bonds, Alan Ball, Brian Kidd, John Radford and George Armstrong, it was amazing just to be on the same muddy pitch as those great players. 
"And if you can't muster the enthusiasm for an occasion like an FA Cup quarter-final then you shouldn't be playing football – certainly, everything was there for me to try and make my mark.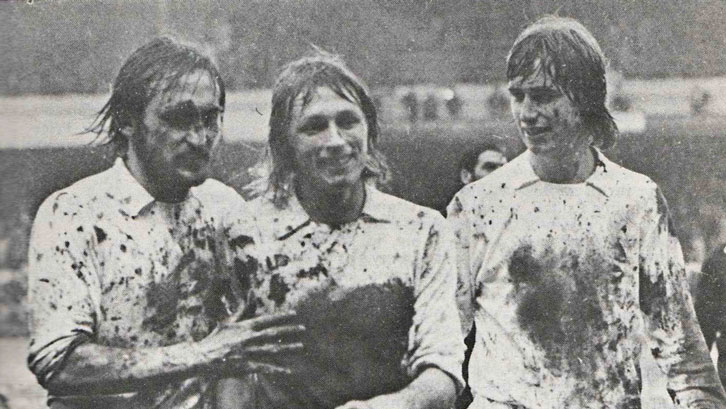 "The surface was the main talking point – there must have been two inches or so of water across it and there were puddles everywhere. In fact, I'm not sure they'd allow the tie to be played nowadays.  
"Within the opening quarter-hour, I'd tapped home Graham Paddon's cross at the far post before Mervyn Day made some truly outstanding saves, while we survived a tricky penalty scare when John Radford went down, too. Then, just couple of minutes into the second half, I scored again with a low 15-yard shot that gave us a 2-0 win.
"When we got back to the dressing room, Billy Bonds declared: 'After that performance, our name's gotta be on the cup!'. We were quite a young team so to hear that from our experienced captain was a massive confidence-booster for a new lad like myself.

"That night, I went back to Norfolk to see my future wife – Jeanette – and awoke to find my name splashed all over the Sunday newspapers, while the press then descended on her parents' village. Welcome to the big time!
"Jeanette knew nothing about football but it was an emotional weekend for me because I'd achieved something that I'd dreamed of doing since I was a young kid and having tasted it, I now wanted more, starting with our semi-final against Ipswich Town..."
Visit whufc.com on Friday for the full story of how Alan Taylor stalled the Bobby Robson's Tractor Boys and helped the Hammers continue down the road to Wembley…