West Ham United became the first team to both score and claim victory at the new home of Tottenham Hotspur on this day in 2019, courtesy of Michail Antonio's fantastic second-half finish. 
Prior to West Ham's visit to North London on April 27 2019, Spurs had won all four of their matches at the newly developed and opened Tottenham Hotspur Stadium, seeing off Crystal Palace, Huddersfield Town and Brighton & Hove Albion in the Premier League while also beating Manchester City in a Champions League quarter-final first-leg. 
With Tottenham scoring eight goals and conceding none against those four games, Manuel Pellegrini's Irons knew they would need to be at their very best to claim a famous win, and the travelling Hammers were more than up for the challenge their hosts would poise. 
Having battled superbly, the only goal of the game came on 67 minutes. Marko Arnautovic's cross was brilliantly chested into space by Antonio, before the No30 smashed home past Hugo Lloris.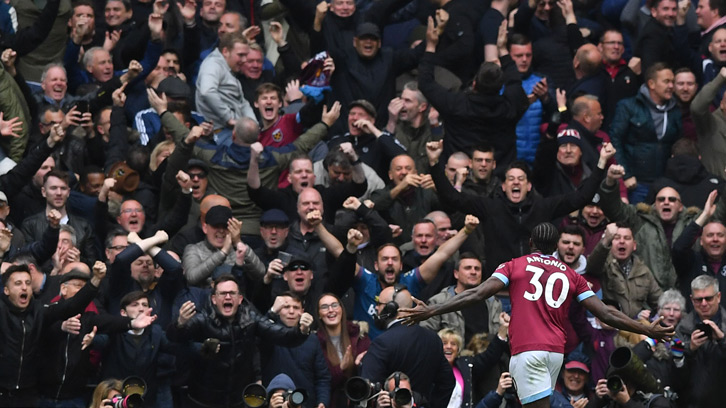 The then 29-year-old celebrated with the Claret and Blue Army in typically outlandish style, but admitted in an interview with West Ham United legend Tony Cottee earlier this season that his memories of the goal and following moments were a bit scrambled! 
"The goal is a blur for me right now!" he smiled. "Even on the day, I had to watch it back to realise what had actually happened. I was trying to explain it to someone afterwards, but when I watched it back, it was just completely different to what I'd described.
"All I remember now is Dec [Rice] running with the ball and finding Marko [Arnautovic]. I dropped a shoulder and ran in behind, and Marko found me with an amazing ball. It hit me straight on the chest, and I just hit it into the far corner."
West Ham United would finish the season in tenth in the Premier League last campaign, with Antonio scoring seven goals in all competitions.