Michail Antonio is hoping to return to action in Saturday's 'special game' against Tottenham Hotspur at London Stadium.
West Ham United's No30 has been out since suffering a hamstring injury in the Carabao Cup second-round win at Newport County on 27 August.
But, after making a goalscoring return in a training ground friendly with the Hammers' U23s, Antonio is desperate to help the first team end a run of six Premier League matches without a win by securing a victory over their nearest rivals.
It's one of those games where we feel like we need the win, because it's not just for us – it's for all the fans, and we know how special it is to them

Michail Antonio
"It's a special game for all the boys," Antonio told Saturday's Official Programme in an exclusive interview with West Ham legend Tony Cottee. "It's one of those games where we feel like we need the win, because it's not just for us – it's for all the fans, and we know how special it is to them.
"Obviously, it's another three points we're playing for so that we can climb higher in the league and if we beat Spurs on Saturday, we'd jump higher than them…"
Antonio, of course, was West Ham's match-winner last time they faced Tottenham, netting an historic goal as the Irons became the first visitors to win at Spurs' new stadium in April.
The 29-year-old celebrated with the Claret and Blue Army in typically outlandish style, but when Cottee asked him to recount the moment, Antonio himself admitted the memories were a little scrambled!
"The goal is a blur for me right now!" he smiled. "Even on the day, I had to watch it back to realise what had actually happened. I was trying to explain it to someone afterwards, but when I watched it back, it was just completely different to what I'd described.
"All I remember now is Dec [Rice] running with the ball and finding Marko [Arnautovic]. I dropped a shoulder and ran in behind, and Marko found me with an amazing ball. It hit me straight on the chest, and I just hit it into the far corner."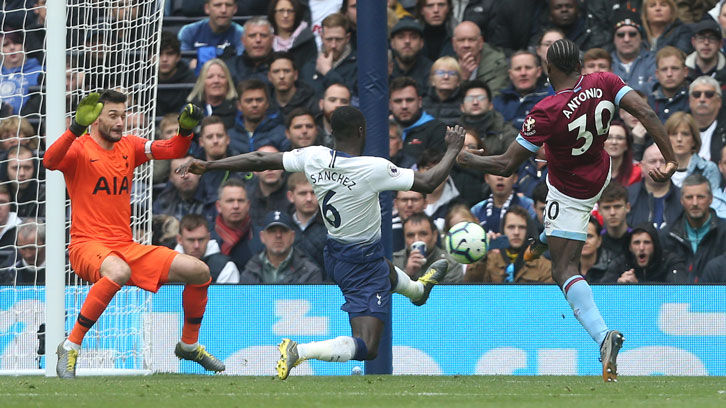 Of course, Antonio will only have the chance to score another important derby goal if he is deemed fit enough to play by manager Manuel Pellegrini.
And while the forward is naturally desperate to pull his boots on again from kick-off on Saturday, he admits he may be more likely to start the game on the bench.
"Coming back from injury is always difficult because no matter what you do, match sharpness is completely different to what you can replicate in training," he explained. "I'm looking to be around the squad. It's up to the gaffer whether he feels I'm ready, but I've done everything I've needed to do.
"I've got the fight and I want to play, so hopefully I can just continue where I left off because I'd started the season well. Hopefully I can just go back on the pitch and go 'yep, I'm back'. That's what my plan is, but it'll be difficult.
"I've been training with the boys, though, and I'm feeling good."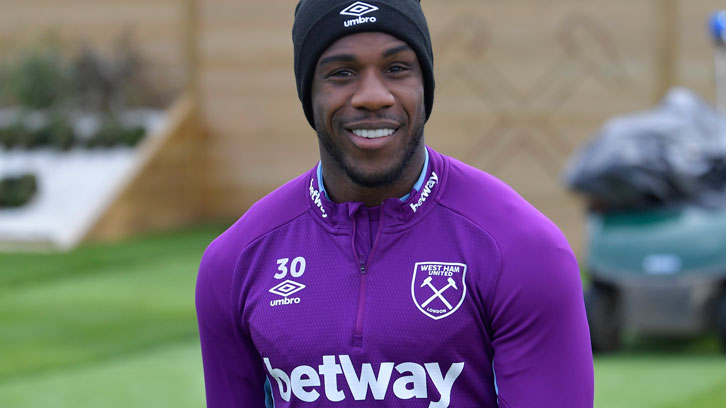 Antonio dons the cover of issue eight of West Ham United's 116-page Official Programme – Hammer – for the 2019/20 season.
The eye-catching publication sees the Club make a move away from the traditional format to produce a football magazine that will maintain supporters' interest long after the final whistle.
With cutting-edge design, exclusive interviews, attention-grabbing opinions and eye-catching photographs, plus the regular news, columns and statistics and insightful content from across all areas of the Club, Hammer is the definitive Claret and Blue publication for West Ham fans.
Priced at just £3.50, Hammer is also the best-value matchday magazine anywhere in the Premier League. Issue eight for Saturday's Premier League derby with Tottenham Hotspur is available to order now online.
The only way to guarantee every issue is delivered straight to your door is by signing up for a seasonal subscription!
Whether you are planning to be at the match, watch at home or are simply a loyal West Ham fan or collector, the easiest way to get your copy each week is to subscribe. The deal includes all home Premier League and FA Cup home fixtures, so subscribe now!
Prices start at just £110 for UK delivery, and they can be shipped worldwide regardless of where you follow Manuel Pellegrini's men from.
Subscriptions can be bought via ProgrammeMaster's online store now here, or over the phone at 020 7121 5000.
Digital Programmes
If you can't make it to the ground, you can still flick through the programme on a matchday by subscribing to our digital version via the West Ham United official programme app.
Once you download the app from the AppStore or Google Play you can snap up a seasonal subscription for only £24.99, which will automatically be downloaded to your device 24 hours before kick-off. Individual copies can also be bought for £1.99.
These digital programmes can be read on any digital device, such as phones, iPads and tablets as well as desktop computers and laptops.