Academy
Meet the Irons' Young Lions: Sonny Perkins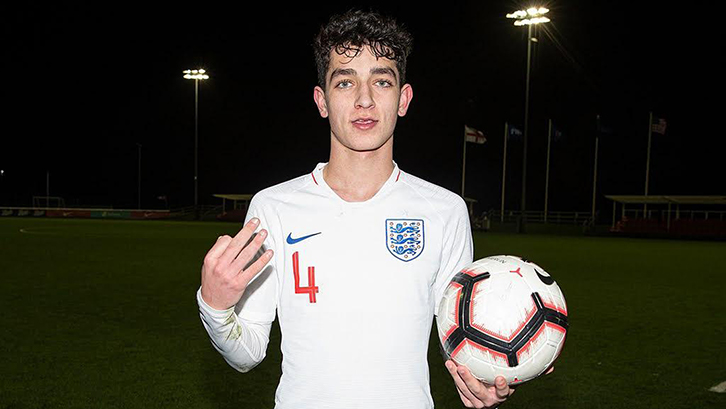 "It was quite incredible really. To be honest I couldn't believe I'd scored for England for the first time, so to get my third goal, I couldn't believe it…"
It is fair to say that Sonny Perkins is a young man who understands the importance of taking his opportunities when they arrive.
The West Ham United U16s midfielder has been an east Londoner his whole life, growing up in Hackney and initially having his talents nurtured by Leyton Orient from just eight-years-old.
Fast forward another seven years, and the chance of a trial at the Academy of Football came up – an examination which Perkins passed with aplomb, becoming a Hammer just over a year ago.
Since then, Perkins has continued to shine in a variety of midfield roles, and sometimes even defence, for both the U16s and – on three occasions off the bench this season – Kevin Keen's U18 side.
 
It was a very proud experience – and to win the trophy was a relief as well!

Sonny Perkins

But it's in an advanced midfield role where Perkins, who has been involved with the England U16 set-up since the first selection camps, but hadn't played since last season, had a match to remember – a hat-trick in a UEFA Development Tournament game in February.
"I think originally, I was on standby, to be honest," Perkins explained, "but I found out I was going about four days before the camp, so I was obviously very excited and grateful for the opportunity.
"It was a really good experience: a ten-day camp in which we played against Denmark, USA and Spain. Thankfully, we got three wins out of three, and it was a really good learning experience for myself.
"The Denmark game we won 4-0 and I managed to come on for 15 minutes at the end, but against USA, I started the game in midfield, played 90 minutes – and thankfully scored three goals! We won 4-1, and I got to keep the match ball. 
"Our final game, against Spain, was probably the toughest challenge. I came on for 35 minutes and thankfully we got another win, 3-1, to win the tournament.
"It just felt great to be part of a really strong team and to win the tournament against strong opposition as well, including a team we lost to earlier on in the season. It was a very proud experience – and to win the trophy was a relief as well!"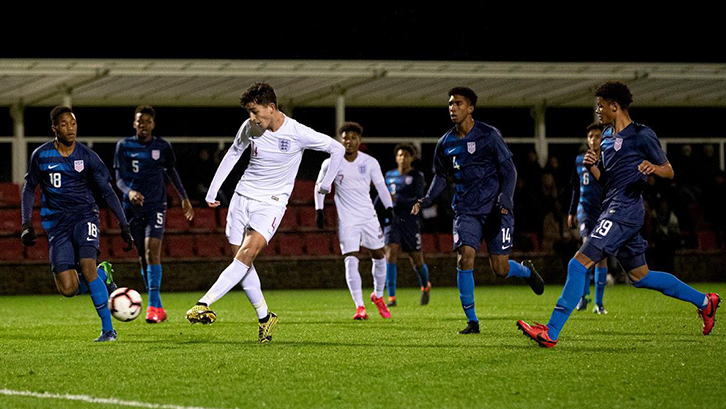 Considering trebles from central midfield can often prove a rarity, just how did that hat-trick against USA come about?
"It was really just about arriving in the box at the right time," Perkins smiled. "They were all quite similar goals. One touch, left foot shot… 
"As a midfielder, I believe it's important to think about scoring goals and creating chances at all times, so it's really just about arriving in the box at the right time, and luckily I did that.
"I knew that in football you have to take your opportunity when it comes, so thankfully I did this time. By the time my third went in, I was buzzing!"
Perkins' superb display stands amongst a number of success stories on the international stage within the Academy of Football this season – another seeing Perkins' West Ham team-mate, Divin Mubama, net in England's first game of the competition against Denmark. 
"I think everyone knows how much of an honour it is to play for England at any level, and it's always a massive honour for anyone who gets to be involved," Perkins added. "It was nice to celebrate such a good experience with my team-mate."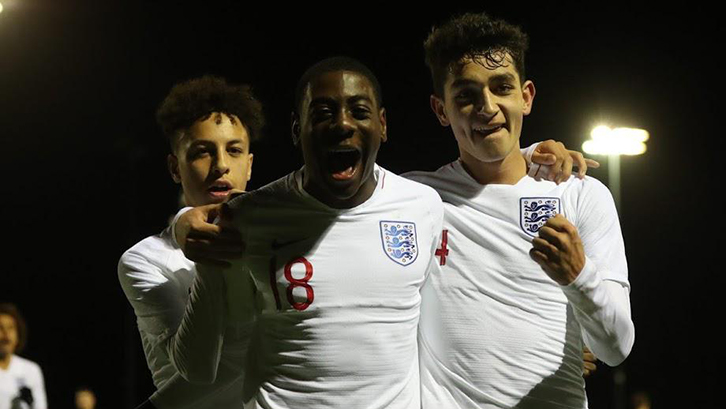 With pushing players onto the next level is always a focus of the Academy's coaches, it's no surprise that Chadwell Heath continues to progress and cultivate its young talent at pace.
Gerard Prenderville, U16s Lead Coach, explained: "We made a decision at the start of the season – [U15s Lead Coach] Harry Watling, myself and [Academy Manager] Ricky Martin – to push the U15 and U16 groups together. 
"As well as myself and Harry, we've got Carlton Cole and Paul Konchesky as coaches, so it's no coincidence we've got as many internationals as we have! We set the standards high, so I think intermixing them has really challenged the group.
"We work closely with the national team, so we know what the expectations are, and with Sonny and Divin, we're pleased they're making themselves better when they're away, bringing that back, and hopefully inspiring the other players to strive to get into the national team as well."
 
It was a big challenge to come to a club like West Ham... there are so many good players here and obviously good coaching as well

Sonny Perkins

As for Perkins, the midfielder has enjoyed his first year turning out in Claret and Blue – and is looking forward to furthering himself at the Club even further in the future.
"I think it's been a really good way for me to develop my career, the perfect step really," he noted. "Obviously Leyton Orient were good for me when I was younger, but I think it was a big challenge to come to a club like West Ham. 
"There are so many good players here and obviously good coaching as well. Gerard, my mentor, and all the other coaches do a lot to help me improve and have as big an impact on the team as I can. Everything they do for me I'm really grateful for.
"The dream is to reach the first-team one day, but I'm just taking each game as it comes really, and hopefully one day I can make it there."
Continue to take his opportunities in the manner he's done so far, and Perkins' talents might well be showcased on such a stage in the years to come.
You can also read Divin Mubama's account of the tournament here.