Academy
Meet the Irons' Young Lions: Divin Mubama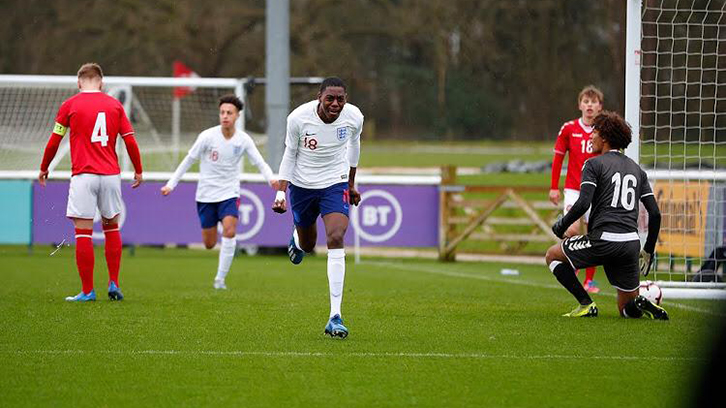 "Any goal, as a striker, gets you buzzing - but when you score for your country it's a special thing. You just lose your head for ten seconds!"
A divine moment for Divin Mubama, the 15-year-old striker whose love of finding the back of the net is immediately apparent.
Scoring is a feeling which Canning Town local Mubama has come to know well over his tender years, having originally joined West Ham United at eight-years-old as a left-back. 
At around age 12, Mubama was asked to move up-front midway through a game. He scored – and, before too long, made a habit of doing so with startling regularity.
Prior to the suspension of Academy football due to the COVID-19 outbreak, Mubama had 45 goals for the season to his name, form which saw him receive international recognition with England U15s in August.
 
I didn't realise that my Mum had called me, saying that I'd been called up. I didn't believe her!

Divin Mubama

Later in the campaign, he became a member of Justin Cochrane's U16s squad and, in late February – along with Academy of Football team-mate, midfielder Sonny Perkins – he was selected by the Young Lions for a UEFA Development Tournament at St George's Park.
"The manager emails your parents, and I think at the time, I was at home on my PlayStation!" Mubama laughed. 
"I didn't realise that my Mum had called me, saying that I'd been called up. I didn't believe her! When she came home she showed me the email. I was buzzing, I told everyone.
"At first, playing for England was really hard, because you don't know how everybody else in the team plays, but as you go to more and more training camps, you get used to how the manager wants you to play and what you need to improve on as a player.
"When you go over to England, you just bring everything you've learned from the Academy at West Ham. At first it was really nerve-wracking for me. I just tried to play it simple, just play my game, and as the camps went on, I saw the same faces, so I got less nervous."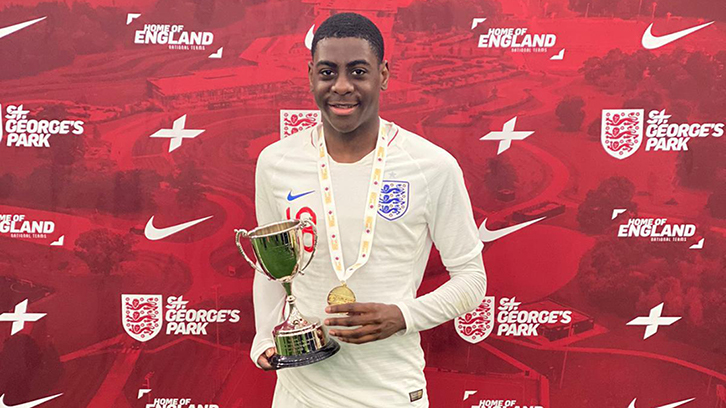 As for February's ten-day England U16 training camp – and of course the tournament itself – another grin spreads over Mubama's face as he recalls the events with pride.
"We played Denmark, the USA and Spain in a four-team tournament," he explained. "We were fortunate enough to win against Denmark 3-1, in which I scored a goal. One of our players managed to nick the ball in the final third and slide me in across the box.
"We then beat USA 4-1 – that was a good victory, I felt we needed that – and against Spain, in the deciding game, we beat them 3-1 comfortably.
"It was an amazing feeling. When you're with your country, winning something, whether it's small or big, is a good feeling and a great experience as well. It was a proud moment for me."
Three impressive wins against three highly-respected sides; for Mubama, Perkins – who himself netted a hat-trick against USA – and English youth football as a whole, the friendly tournament in February could hardly have gone much better.
 
It's quite a proud feeling to be honest, especially when the national anthem started playing and I could see them standing there in their England kits

Gerard Prenderville, U16s Lead Coach

"I drove up for the Denmark game, where Divin scored and Sonny came on the for the last 15-20 minutes," U16s Lead Coach, Gerard Prenderville, recalled. "As an Academy, we always have a member of staff to watch the boys on international duty.
"It's quite a proud feeling to be honest, especially when the national anthem started playing and I could see them standing there in their England kits.
"They're two really good lads – two really hard-working boys. They both have clear focus, train properly, and not only do things right on the pitch but off the pitch also. They're good members of the group, and it's no surprise they've gone away and done really well to be honest."
Clearly a popular character around the Academy of Football, Mubama speaks humbly but happily, his enthusiasm for the game evident.
Yet in keeping with the determination which has seen him receive his recognition, 15-year-old Mubama has his feet firmly on the ground, balancing scoring goals with studying hard. 
"When you're with England, it's always an honour," he smiled. "To play at any level for England is always a big thing, but when you come back to West Ham, you can't afford to drop your standards.
"West Ham help me a lot. Every member of the coaching staff here plays a key role in helping you. I do day release too – my school and West Ham have a good relationship, and we know my schoolwork is always important, so we have education hours here too.
"I haven't really got a favourite subject though. I never used to like Maths, but I enjoy it now!"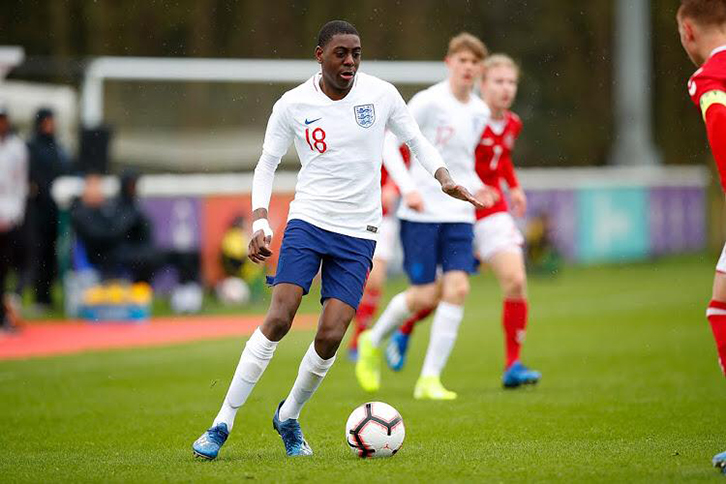 It seems fitting that, for a newfound Maths enthusiast, Mubama's numbers this season have been so impressive – poaching one goal just minutes into his West Ham U18s' debut away at Stoke in November.
"We were 2-0 down when I came on, so I didn't go mad that time!" he joked. "Inside I celebrated – but I had to grab the ball and get back!"
As for his good form, Mubama credits the Academy of Football coaching staff – including his U15s Lead Coach, Harry Watling; U16s coach Prenderville; and coaches Paul Konchesky and Carlton Cole – for the confidence they instil in him.
"Every day the coaches are helping me with whatever it is – on the pitch, off the pitch, they're always guiding me, supporting me, telling me not to drop my standards and keep working hard," he said. 
"Harry is my mentor and takes time out of his day to help me a lot, and so does Coley. Because we've coaches with a lot of experience in the Premier League, they know what they didn't have which they can help us with.
"It's been a really good season so far, scoring 45 goals! Obviously I'm trying to progress season by season, so I don't want to set unrealistic targets, but this season, why not try and go for the 50 mark?"
"We want them to sustain the standards they've already set and push them a little bit more," Prenderville added. "We want Divin, as an U15, to keep pushing himself, stay focused, keep knocking on the door, and who knows what will happen for him in the future?"
When Academy of Football fixtures eventually resume, few would bet against marksman Mubama hitting both of those targets.
Check whufc.com again tomorrow for an interview with fellow Iron and Young Lion, Sonny Perkins.