Roberto was called upon to make his Premier League debut after Lukasz Fabianski suffered a hip injury early in Saturday's 2-2 draw at AFC Bournemouth.
The Spaniard did not let West Ham United down, either, bouncing back from the disappointment of the Carabao Cup defeat at Oxford United with a performance that helped his team earn a deserved point.
The summer signing made two big saves from Callum Wilson with the Hammers trailing 2-1, enabling Aaron Cresswell to snatch a draw, and has vowed to do everything he can to keep Manuel Pellegrini's side near the top of the table during Fabianski's absence.
Roberto, you would not have expected to play, but you did, so how did you assess the game and your performance?
"It's part of the position that you have the situation where you are not in the first eleven, but we have to be ready every time as these sorts of things can happen, so I'm happy for my debut in the Premier League as it is something every player wants to do at least once in their life. I am also happy with the way the team played."
While you'd have been happy to play, presumably you wish Lukasz Fabianski a speedy recovery from injury?
"Of course, you're never happy when your teammate is injured, but it is very common in our position that when you have to play, it's because the other goalkeeper is injured. It happened to me before and now it happened to Lukasz. Now, we can only wish him a very fast recovery."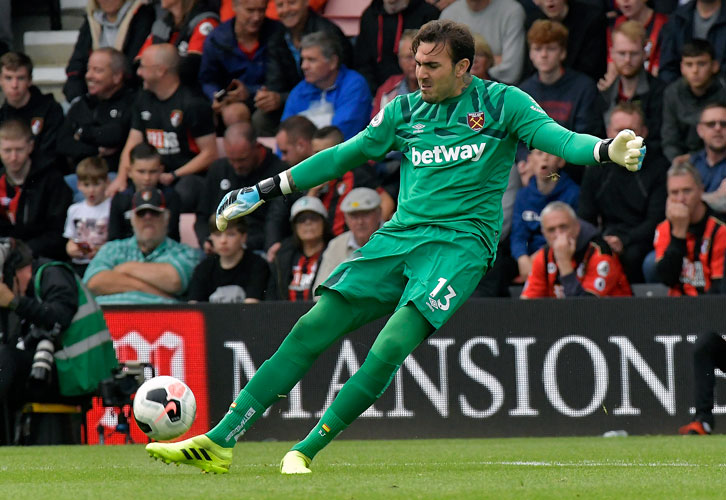 It was a tough, intense 90 minutes of football, so it would have been hard for any player to get up to speed after being introduced from the substitutes' bench…
"We knew from the beginning of the game that it was going to be a very hard, very tough game, but the team is showing a lot of pace, passion and strength and we got a good result."
And one big reason for us achieving that good result was the saves you made from Callum Wilson at 2-1 down…
"It could have been the end of the game if we went down 3-1, but I was lucky to make the save. I'm happy to help the team and we were lucky also to score our second goal after that action, so it was good."
Presumably after the disappointment of the 4-0 Carabao Cup third-round defeat at Oxford United, you were pleased to play again so soon afterwards and get that result out of your system? 
"When you lose a game and you're part of this, you just want to play again and show again that it was just a bad night for the team. I had the chance to do it and I'm happy for that."
With Lukasz's hip injury, you could play a few more games, so will you get more comfortable with every game you play in the Premier League?
"Yes, I work every day to make everything possible and now, if I have this chance, I feel absolutely ready, so I am not feeling nervous."
Lastly, we are up into the top three in the table as we speak, so should our target be to stay there?
"Well, we know our target for this season is to be in the highest part of the table and I think we are in the way to do it. The team is playing well and behaving well and I think we are in a good way."