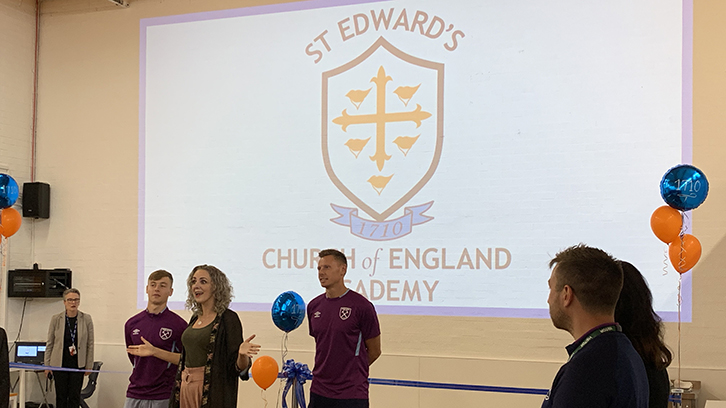 West Ham United goalkeeper David Martin and winger Dan Kemp were the guests of honour at a big occasion for Martin's old school in Chadwell Heath this afternoon.
Attending as part of West Ham United's partnership with the school, Martin and Kemp took centre stage, cutting the ribbon as St. Edward's Church of England Academy celebrated opening their new dining hall at a special school assembly.
Only a stone's throw away from the Academy of Football's base at Chadwell Heath, the players were given a short tour of the school's new facilities, before being introduced to star-struck pupils and snapping photos with them to commemorate the day.
For Martin, the experience was made all the more surreal when he was tasked with identifying himself and his siblings in an all-school photo – as well as in snaps of a drama production he was involved in, much to Kemp's delight!
"This is so weird – it's changed so much!" 33-year-old Martin smiled upon his arrival, before greeting staff who knew him from his time there.
"It's just so special for the students to have them here for the grand opening," commented headteacher Mrs Hassan. "It's proof to them that if you work hard, things like this – opportunities in football – can happen."
For me to go to a school that meant a lot to me and my family, and then come here and be part of an important day for them, is a great feeling.

David Martin
Martin described the visit: "It's been strange and surreal, going back to a place where I've spent five good years! For me to go to a school that meant a lot to me and my family, and to then come here and be part of an important day for them, is a great feeling.
"It's changed a bit, but obviously the buildings are very similar. There are different parts to it here and there, but it's a great addition now for them to have a new dining room.
"Chadwell Heath is just over the fence there. I can remember being in school and seeing Rio [Ferdinand] running around one day – he was kind enough to boot a ball into our playground, so it was obviously a mad rush to grab it! Today was a great thing to be a part of."

Kemp added: "Some of my school days were the best times of my life, so it's nice to give back – the smiles on the students' faces say it all.
"I looked up to loads of footballers when I was younger and always thought 'What would it be like to be a professional footballer?' That's what some of them are probably thinking today, so it's just good to talk to them and show them that it is possible."
The spirit of the day was perhaps best summed up when, with the players stepping through the door, one student took the opportunity to shake both players' hands before shouting after them "I'm going to tell my uncle I met you!"
St. Edward's Church of England Academy are holding an Open Day for prospective Year 6 pupils on Tuesday 8 October, and an Open Evening for Sixth Form students on Thursday 17 October. More information can be found on the school's website.