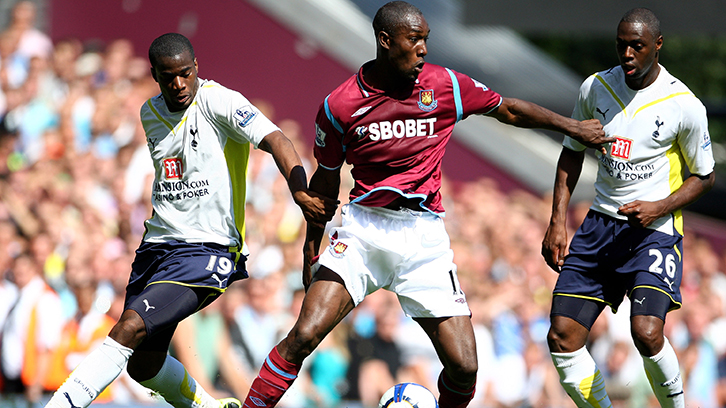 Some players have a knack of instantly endearing themselves to the supporters around them – and in the case of Carlton Cole, a goal seconds into his competitive West Ham United debut certainly didn't harm his case.
The former striker's pace, power and jubilant personality – not to mention his 68 goals – delighted the Claret and Blue faithful over the course of nine years in east London.
Growing into a true fans' favourite with the regulars of the Boleyn Ground, Cole's affiliation with the Club continues to this day, coaching the next generation of talent at the Academy of Football.
And, like every West Ham fan across the land, Cole is relishing the prospect of hosting London rivals Tottenham Hotspur at London Stadium this weekend.
"When I first joined West Ham, I got told by both the players and the fans that this was a massive game for us to win," he said. "There's no hiding that there's a general dislike of Tottenham by West Ham fans! 
"I didn't really know the magnitude of this London derby until I was involved myself, but for both sets of fans it's massive. If you win these sorts of games, score a goal or help your team, you can make yourself a cult hero overnight."
 
Even if you're going through a lull, if you put a good performance in against Tottenham, it could well turn your season around

Carlton Cole

West Ham go into Saturday lunchtime's crunch match looking for their first Premier League win in seven matches, having struggled to capitalise on some promising positions in matches prior to the international break.
Their last victory in the league came against Manchester United in September at a boisterous London Stadium, the Claret and Blue faithful roaring their side on to a memorable 2-0 victory.
Cole is backing those same supporters to repeat the trick on Saturday, with the nature of the opposition – and new manager Jose Mourinho in the dugout for the first time – the perfect source of inspiration.
"As long as the players put in 100 per cent effort, the fans will be the 12th man," he said.
"Even if you're going through a lull, if you put a good performance in against Tottenham, it could well turn your season around. It could boost us into the mentality where we can go on to win many more games in the Premier League.
"It's a great time to play them. We're on the other side of an international break, so hopefully they'll have some tired legs in there, and they haven't been in a good place recently either.
"It would give the whole Club a boost if we perform in the way the fans know we can. We really need to get behind the players for this game, because the confidence it gives us could propel us into an end-of-the-year surge."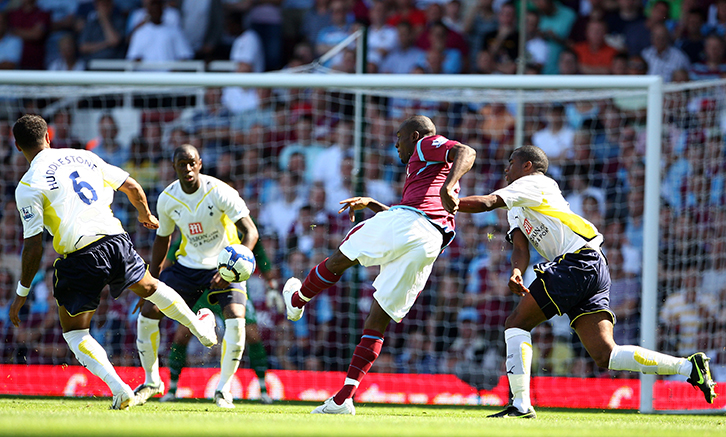 As for his own memories of the fixture in a Claret and Blue shirt, one match in particular jumps straight to Cole's mind.
"The goal I remember the most was my one against Tottenham at home," he recalls. "The ball sat up, and I span and hit it from outside the box with my left foot - top corner past Carlo Cudicini! It was a special goal.
"I also remember it didn't end in glory for me! I thought I'd passed back to Matthew Upson, but Jermain Defoe popped up out of nowhere. If it had gone to anybody else on the pitch, they wouldn't have scored, but he was such a poacher.
"One thing that the fans didn't do, however, is criticise me for it. They always talked to me about my goal, never about the mistake, and I was very grateful for that and their incredible support."
As for the Hammers players lining up on Saturday, Cole offers a word of advice: anything can – and probably will – happen.
"I'd imagine the players won't treat it like any other game – for both teams, it's like a World Cup final!" he laughs. "There isn't 'just another game' in the Premier League – every game is big – but the Tottenham one is like a final, because anything can happen on the day for either team.
"This is not just another game – this is massive."