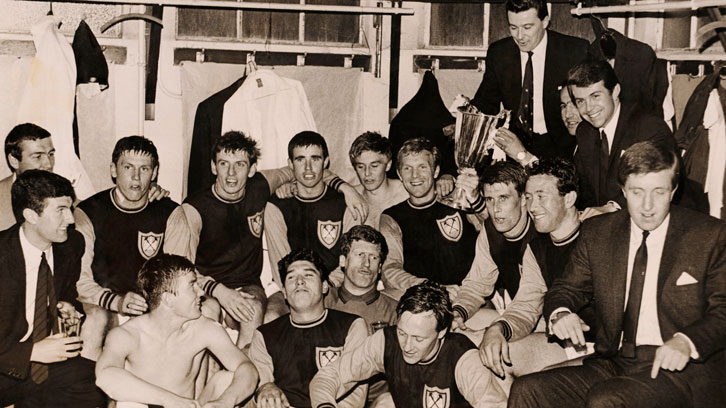 West Ham United players relive the Club's greatest achievement - winning the European Cup Winners' Cup on 19 May 1965
The night Sammy struck
West Ham United 2         TSV Munich 1860 0
Sealey 69, 71
European Cup Winners' Cup final
Wednesday 19 May 1965
Wembley Stadium
Attendance: 100,000
 
West Ham United: Jim Standen, Joe Kirkup, Jack Burkett, Martin Peters, Ken Brown, Bobby Moore, Alan Sealey, Ron Boyce, Geoff Hurst, Brian Dear, John Sissons

TSV 1860 Munich: Petar Radenkovic, Manfred Wagner, Hans Reich, Wilfried Kohlars, Stevan Bena, Otto Luttrop, Alfred Heiss, Hans Küppers, Rudi Brunnenmeier, Peter Grosser, Hans Rebele
 
Twelve months on from lifting the FA Cup, West Ham United were back under the Twin Towers for the European Cup Winners' Cup final.

Their opponents were the German Cup winners TSV Munich 1860, a fine side who had defeated US Luxembourg, FC Porto, Legia Warsaw of Poland and Torino of Italy.

As so seldom happens in the pressurised atmosphere of a final, both teams produced their best, sending the capacity 100,000 crowd home drooling over their collective skill and endeavour.

Described as a 'magnificent game' that was a 'triumph for West Ham and a triumph for the game of football', the showpiece was marked by 90 minutes of 'bold and imaginative' play by both sets of players.

Ron Greenwood's Hammers, in particular, were irresistible.

The Londoners created chance after chance. John Sissons missed an open goal, then hit the post. Geoff Hurst was twice denied by splendid saves from goalkeeper Petar Radenkovi?.

At the other end, Jim Standen was also called into action, saving acrobatically from Peter Grosser and Hans Kuppers.

West Ham were the better side, however, and their superiority was rewarded twice in the space of three second-half minutes.

Alan Sealey scored both, the first from Ronnie Boyce's pass and the second after Martin Peters knocked Bobby Moore's pass into his path four yards from goal.

A little more than 20 minutes later and Moore was climbing the famous Wembley steps for the second time to raise a trophy for his team.

Twelve months later, he would do so again, but that is another story altogether…
Ronnie Boyce
Ronnie Boyce took centre-stage at the Home of Football for a second time in May 1965

Ronnie Boyce will forever be associated with scoring West Ham United's dramatic late winner in the 1964 FA Cup final win over Preston North End.

Having clinched the Hammers' place in the European Cup Winners' Cup, 'Ticker' then played an influential role in helping West Ham lift a major trophy for the second season in succession.

The tireless midfielder scored the first goal of West Ham's glorious run – the winner in the first round first-leg win over Belgian Cup winners La Gantoise at the Jules Ottenstadion on 23 September 1964 – and went on to play every minute down the road back to Wembley.

Competitive European football may have been in its infancy, but Boyce and his teammates were already well-versed in traveling far and wide in Claret and Blue, having visited Costa Rica, Sweden, Rhodesia (now Zimbabwe), Ghana, the United States, Austria and Germany since the 1960s had begun.

The American International Soccer League saw the Hammers take part in a round-robin competition in the summer of 1962 and 1963, but the European Cup Winners' Cup offered a different challenge in the shape of a two-legged straight knockout.

"It was just two games, one at home and one away," Boyce confirmed. "We played some very reasonable sides. We played a Belgian side first, a Swiss side, that sort of thing. It was special for a lot of the players, to come away as winners was marvellous."

The crowning glory of West Ham's European adventure came at Wembley on 19 May 1965, when Boyce again played a starring role at the Home of Football.

After 69 entertaining yet goalless minutes against German Cup holders TSV 1860 Munich, the No8 stole the ball in midfield, raced towards the penalty area and slipped a perfect pass right for Alan Sealey, who controlled before firing a rasping shot into the top corner to give West Ham the lead.

Moments later, Bobby Moore's free-kick was laid-off by Martin Peters and Sealey converted his second to seal the Londoners' success.

"The final was the best game I've ever been involved with," Boyce recalled, speaking from his home in Norfolk. "It was a Wednesday evening at Wembley, a full house.

"Munich were a very good side, full of internationals. Rudi Brunnenmeier was a great player, while their goalkeeper Petar Radenkovic was also very good.

"My standout memory was Brian Dear, who came in for Johnny Byrne, got tackled by Radenkovic on the halfway line. Whenever I see Brian we have a laugh about it!

"It was a great game of football, and Alan Sealey, god bless his soul, scored two good goals. It was very nice to be part of the first team that won a European cup for West Ham United."

Boyce became a firm favourite with West Ham fans for his team-first approach to his game. Therefore, it should come as no surprise that while he can recall the team's Wembley glory, he had completely forgotten that he finished as runner-up to Peters in the 1965 Hammer of the Year voting.

"Was I runner-up? I don't remember that! What I mainly remember is just really enjoying my football. We had a great group of players who all enjoyed playing together.

"Unfortunately there aren't as many of us left any more – Bobby has obviously gone, Johnny Byrne, Alan Sealey and a few others. It's important to remember all of us, even if there aren't many of us left!"

The way they played that Wednesday night at Wembley, Ronnie Boyce and his teammates will surely never be forgotten.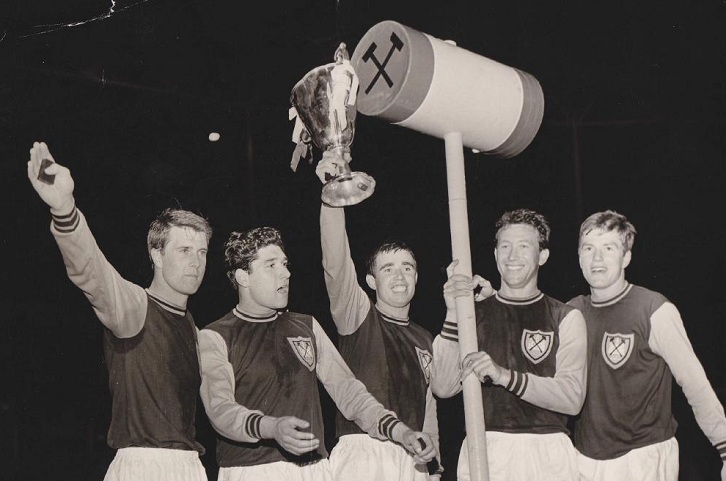 Geoff Hurst
Geoff Hurst says West Ham United's European Cup Winners' Cup success was the 'fulfilment of a dream'

Geoff Hurst will forever be synonymous with his FIFA World Cup final hat-trick of July 1966, but the striker also enjoyed a memorable – if goal-less – visit to Wembley 14 months previously.

With Hurst deployed in a less familiar withdrawn role behind lone centre forward Johnny Byrne, outside right Alan Sealey took centre-stage by scoring both goals in a 2-0 European Cup Winners' Cup final win over TSV 1860 Munich.

The victory capped a memorable nine-match run that many West Ham United fans could only have dreamed of when the club lifted the FA Cup in May 1964. In his autobiography 1966 And All That, however, Sir Geoff revealed that the Hammers' visionary manager Ron Greenwood had predicted that his team would go all the way again.

"Could West Ham become the second English club to win a European crown? Ron thought so," Sir Geoff wrote. "He was convinced that at our best we would be a match for anyone in Europe. He personally watched our opposition as soon as each draw was made. He prepared a little dossier for the players, telling each what to expect from their opposite number."

The players themselves also took the opportunity to watch their eventual final opponents TSV 1860 Munich as early as the summer of 1964, when they watched a pre-season between the West German Cup winners and Chelsea, and again in their semi-final play-off with Italian side Torino in Zurich, Switzerland.

"It's not often the manager has the chance to take his team to watch the opposition in action. From the players' point of view it gave us an invaluable insight into the individual strengths and weaknesses of the team we were going to face."

For Hurst himself, the only thing lacking from West Ham's glorious continental success was a goal.

"I had played in all the European matches but it was becoming something of a frustration because I hadn't scored a single goal. This was partly because Ron felt some tactical modification was needed if we were to adapt successfully to the different challenges."

Those modifications saw both Bobby Moore and Ronnie Boyce play in a sweeper role, and Hurst himself – England's centre forward – in a deeper position behind a lone striker, Byrne, in the away ties and the final.

Just as he would do more famously on 30 July 1966, Hurst enjoyed being part of an English team getting one over West German opponents.

"The final itself was an unforgettable evening," he wrote. "It was a truly tremendous match, ranked by many as one of the best games ever played at Wembley. The Germans were well organised, defensively disciplined and technically accomplished, but we were the better side and some of the football we played was magnificent.

"Bobby had a great game that evening, so did Jack Burkett at left-back and Jim Standen in goal. The real hero, of course, was Alan Sealey.

"You could argue that he provided Ron with the most glorious moment of his entire career. It wasn't just the result but the manner of our win that pleased him. He felt that his principles had been justified. We had shown that football, at its best, is a game of beauty and intelligence.

"For Ron Greenwood, it was the fulfilment of a dream."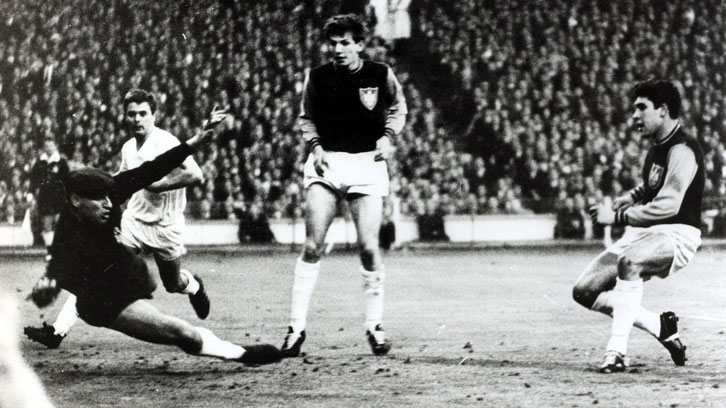 Alan Sealey
The late Alan Sealey was West Ham United's Wembley match-winner on 19 May 1965
 
The man who scored two of the most important goals in West Ham United's history is sadly no longer with us.

Alan Sealey, who passed away in February 1996 at the age of 53, netted two outstanding strikes in the space of three second-half minutes at Wembley, securing the Hammers' victory and their first and, to date, only European trophy.

Then just 23, Sealey had joined West Ham from Leyton Orient in 1961, working his way into Ron Greenwood's side as an outside right.

Although never a prolific marksman, the Hampton-born player could always be relied upon to net his share, although he had scored just three in 29 appearances that season when the 1965 European Cup Winners' Cup final came around.

After a goalless but entertaining opening hour, West Ham struck two hammer blows in quick succession. First, Ronnie Boyce nipped in to steal possession on the edge of the centre circle before strolling forward and sliding the ball to Sealey, who took a touch and rifled a shot into the top right-hand corner – before celebrating with a forward roll that has gone down in Hammers folklore.

Moments later, victory was completed by the No7 was in the right place at the right time again when Bobby Moore's free-kick was knocked into his path by Martin Peters and the man nicknamed 'Sammy' swept home from no more than four yards.

"I'm immensely proud of what he did," said Sealey's son Anthony. "It was a great achievement. It obviously takes eleven players to make a team but it just happened to be my Dad's night and it all came right for him.

"If you knew my Dad, he wasn't really a boaster or a bragger, which in a lot ways probably didn't do him a lot of favours because he didn't shout his name from the rooftops because that wasn't the sort of person he was, but he basically lived out a dream that night.

"I suppose it was one of those nights when everything went for him. You could just tell from the sound of his voice the buzz it must have given him."

Tragically, the striker suffered a broken leg in a freak training ground accident in the summer of 1965 which effectively ended his career at the highest level.

Sealey would play just five more first-team games for the Hammers before departing the Club for Plymouth Argyle in 1967. After spells with non-league Romford and Bedford Town, he retired in 1969.

"He was great around the Club, he was always chirpy and singing and got up to some incredible antics!" recalled teammate Brian Dear.

"It was just unfortunate that he broke his leg. It was a freak accident at the training ground and he never came back after that. It was such a shame."