Partners
Kidscape, West Ham United and Basset & Gold team up to beat bullying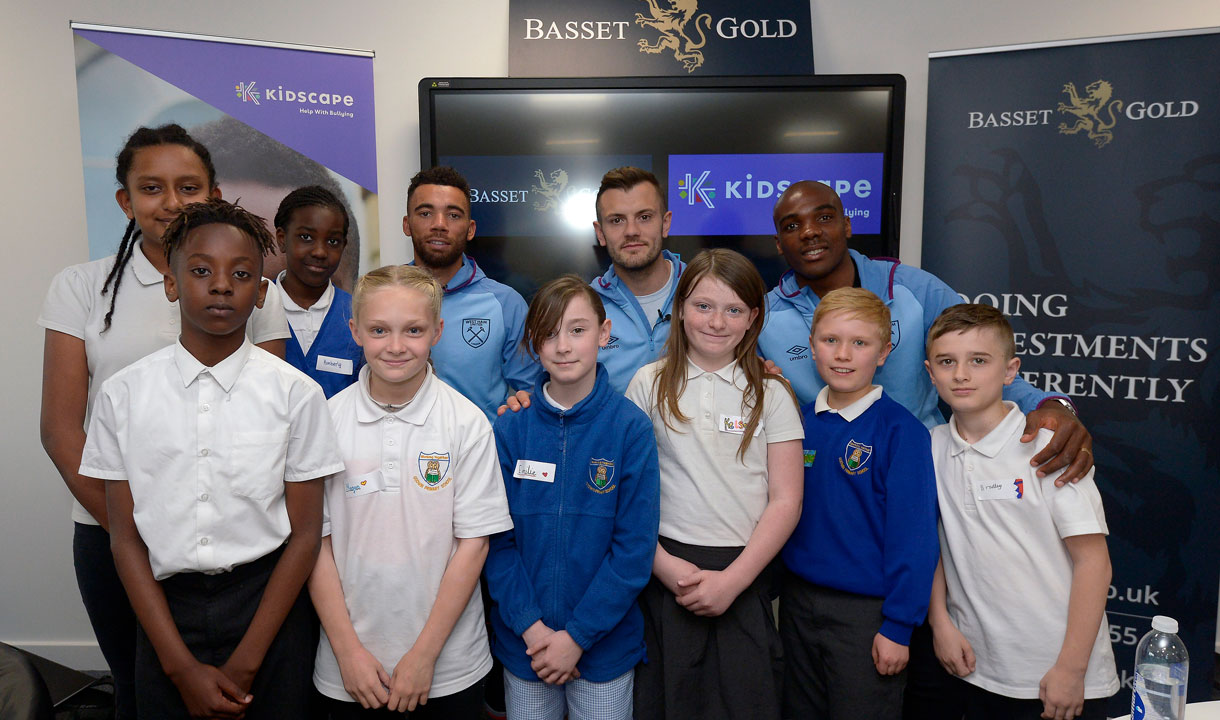 Anti-bullying charity, Kidscape, West Ham United and club partners investment company Basset & Gold have teamed up to beat bullying and help children make the move from primary to secondary school. 
Hammers players Jack Wilshere, Ryan Fredericks and Angelo Ogbonna, were joined by pupils from two neighbouring primary schools at the club's Academy training ground at Chadwell Heath. 
The players shared personal experiences, team challenges and how they've overcome them, to inspire the 11-year-olds and teach them about how to manage change and stand strong against bullying. Following the Q&A with the players the children were able to have a kick about on the brand new indoor facility at Chadwell Heath.
The event kicks-off Kidscape's RISE programme of workshops for children moving up to secondary school. The sessions, delivered in schools in England and Wales in June and July, are designed to build children's confidence and self-esteem as they transition from primary to secondary school. Kidscape will share strategies for managing change, making friends, dealing with bullying and conflict, as well as learning how to speak up. The workshops will reach over 225 children in the first year. 
Lauren Seager Smith, Chief Executive at anti bullying charity Kidscape, says: "The move from primary school to secondary school can be tough. Hearing positive stories and experiences from role models makes a huge difference to younger people's confidence and self-esteem, helping them to reach their full potential once they start secondary school."
Jack Wilshere, who took part in the event, added: "As a father myself I know the importance of giving kids confidence. The move from primary to secondary school is never easy and by talking to the kids from the local area we've been able to give them the confidence to really succeed and make the most of their time in secondary school."
Karim Virani, Digital and Commercial Director at West Ham United Football Club, commented: "As a football club we are well aware of the importance of coming together as a team in order to overcome challenges. By replicating this approach in the workshop with Kidscape and Basset & Gold, we're delighted we've been able to assist in teaching valuable teamwork skills which can act as a great springboard for those leaving primary school."
Daniel Smith, Director at Basset & Gold, added: "Bullying has no place in schools which is why the Basset & Gold Foundation is teaming up with Kidscape to deliver this session was so important to us. The skills taught in the workshop mean that children are now able to speak up and get help if they find themselves, or their friends, being bullied."